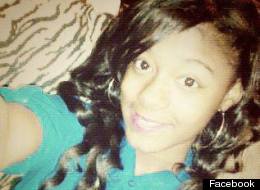 An 18-year-old woman killed during a drive-by was among the dozen people shot in just a six-hour span Monday.
April McDaniel, 18, and four others were struck by a spray of bullets during a drive-by shooting around 4:55 p.m. Monday, the Sun-Times reports. Struck in the throat, McDaniel died in the same Englewood block of 5700 South Sangamon Avenue where she lived.
Relatives tell CBS Chicago McDaniel was an aspiring singer and dancer; according to her Facebook page, she attended John Hope College Prep.
Among the others injured in the shooting was McDaniels' 15-year-old cousin. WGN reports a green Jeep Cherokee with Wisconsin plates suspected in the shooting ended up burned and abandoned in the 1400 block of West Garfield nearby.
Shooting injuries continued on the North and West sides from Uptown to East Garfield Park until around 8 p.m., NBC News reports.
The first shooting victim of the day was critically injured just before 3 p.m. in Englewood according to the Tribune. The man was shot multiple times and critically wounded in the 7000 block of South Bishop Street.
Area police are investigating the shootings.