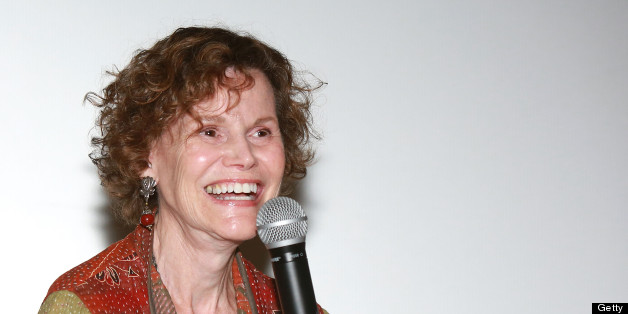 Blume appeared on HuffPost Live last week to discuss the movie adaptation of Tiger Eyes, which is now playing in select theaters, and took the time to demonstrate the proper execution of the "I must, I must, I must increase my bust" exercise. Suffice it to say, we think she's pretty great.
But that segment wasn't enough to keep us -- or the rest of the Internet -- satisfied. Last night, hundreds of Redditors logged on to post their questions, comments and experiences, many sharing the huge impact Blume's books had on their lives.
Here are nine things we learned about one of our all-time favorite authors from her Reddit question-and-answer session:
She didn't plan to become a writer: "Had no idea it was even possible to grow up to write books," she wrote. "I wanted to be a cowgirl, an actress, or a detective."

Beverly Cleary is one of the women she most admires -- but they haven't ever met. (We would give so much to attend a dinner party with those two.)

The character of Margaret from "Are You There God? It's Me, Margaret" is based on herself...

...but she doesn't think that "Margaret" -- which is arguably the novel she's best known for -- should be adapted into a movie. "But, hey -- if the right girl came along who knows?" she quipped.

She sees her talent at writing as a gift. "I've no idea how writing works," she wrote. "My son says I'm the least analytical person he's ever met. I think I'm just an instinctual writer. It comes and I go with it. It's from some other part of the brain. I'm just glad it's still coming..."

Her early views on sex were mostly shaped by her fear of getting pregnant:

I'm a 50's girl. We were supposed to be virgins when we married. I guess not everyone was because three girls in my high school class were pregnant at graduation. And that's what kept me and my friends official virgins -- fear of unwanted pregnancy. We were sexual without intercourse.

Her work helped her through a miserable marriage: "Writing saved me every time," she wrote.
Thoughts? Comments? Questions? Weigh in below, or join the conversation on Twitter @HuffPostWomen.

Also on HuffPost:
Readers Share: Books Every Woman Should Read
This Blogger's Books and Other Items from...
SUBSCRIBE AND FOLLOW
Get top stories and blog posts emailed to me each day. Newsletters may offer personalized content or advertisements.
Learn more