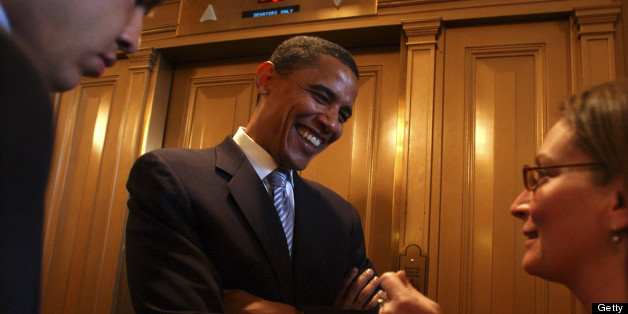 In a rare move, President Obama held an off-the-record with reporters on Monday.
Journalists from news outlets, including The Huffington Post, showed up expecting an off-the-record session with White House Chief of Staff Denis McDonough, BuzzFeed reported. Obama's attendance at the meeting was unannounced.
The attendees and discussion were not reported, and BuzzFeed said reporters were "loathe to discuss" the meeting given its off-the-record nature.
Monday's meeting came as the Obama administration dealt with yet another controversy. The White House came under fire last week after the NSA's secret surveillance programs were leaked to the Guardian and the Washington Post. Those leaks came on the heels of revelations about the DOJ's secret investigations into the Associated Press and Fox News reporter James Rosen, as well as the IRS' targeting of conservative groups.
Related on HuffPost:
Barack Obama Style Evolution
SUBSCRIBE AND FOLLOW
Get top stories and blog posts emailed to me each day. Newsletters may offer personalized content or advertisements.
Learn more