Spurs vs. Heat LIVE UPDATES: NBA Finals Game 3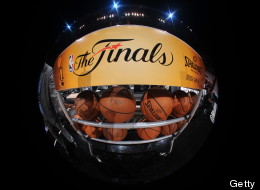 The San Antonio Spurs and Miami Heat split the opening two games of the 2013 NBA Finals in South Beach. With the series even, the Heat will look to regain homecourt advantage with a road win in Game 3.
Miami Heat
vs.
San Antonio Spurs
AT&T Center
San Antonio, TX
9:00 PM ET, June 11, 2013
Tony Parker's clutch circus shot in the final seconds of Game 1 sealed a win for San Antonio. But the Spurs' Big 3 was overwhelmed in the second half of Game 2 by an offensive explosion from LeBron James and Mario Chalmers.
Tied up at 1-1, the series shifts to San Antonio for the next three games, where the Heat are just 3-22 in their last 25 games.
"It doesn't matter," James said of the 2-3-2 Finals format, via the Associated Press. "Two best teams in the NBA at this point. Both teams have won and can win on each other's floor. So it's not a biggie."
Will LeBron's supporting cast come through again to give Miami a 2-1 series lead? Or will the home team give Screaming Spurs Lady something to shout about?
Scroll down for live updates.