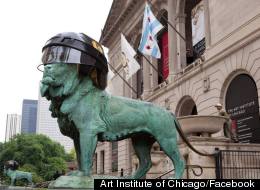 The Art Institute of Chicago got into the spirit of the Stanley Cup finals Wednesday by decking out the bronze lions guarding their Michigan Avenue entrance with some impressive new gear.
The Art Institute outfitted the two lions with massive Blackhawks helmets on Wednesday morning in honor of the team's run for the Stanley Cup, which begins in the evening with the series opener against the Boston Bruins.
(Scroll down for more photos.)
According to the Associated Press, the helmets were custom-made for the lions, which weigh in at about three tons apiece. They are the same ones the lions donned three years ago the last time the Hawks took home the Stanley Cup.
"We're extremely proud of our lions being an iconic piece of Chicago life, and we are just thrilled when Chicago's on the national stage with a sports championship," Art Institute spokeswoman Erin Hogan told CBS Chicago of the display.