 Cher and Amanda Bynes are truly in a Twitter league of their own so it was an especially exciting morning as Cher threw some "shade" Bynes' way and then apologized.
It all started when the Twitter account @skyfieri asked Cher if she was upset Amanda Bynes called her "ugly and a flop." Cher, apparently having no idea who Amanda Bynes is responded like this...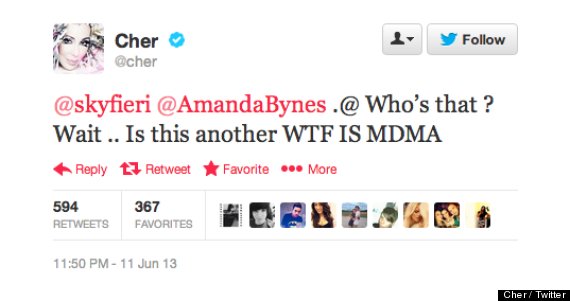 Later in the morning, Cher finally discovered who Amanda Bynes is and felt bad.
@amandabynesYou got That One Right! SORRY About shade,Sweet- Heart,it was unintentional… Promise💋
The two should hang out sometime and tweet us all the details.
SUBSCRIBE AND FOLLOW
Get top stories and blog posts emailed to me each day. Newsletters may offer personalized content or advertisements.
Learn more