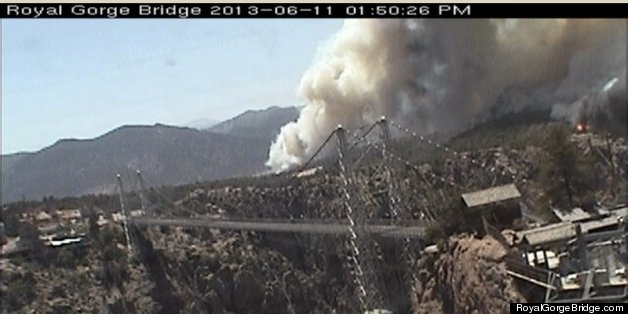 Firefighters are continuing to battle a 3,800-acre wildfire at and around Colorado's Royal Gorge Bridge and Park near Canon City. As of Wednesday morning, the blaze was zero percent contained, according to authorities.
"We have knocked a good portion of this fire down with some great firefighting work overnight, and throughout the day yesterday, but we are not going to call any of it contained until firefighters feel more confident about that," Fire Information Officer Gregg Goodland said during a press conference Wednesday, according to the Canon City Daily Record.
"Today, we are expecting a little less active fire, but make no doubt about it, with very low relative humidities, we will have some fire activity come up."
Alison Morgan, spokeswoman for the Colorado Department of Corrections, said it was the first time in the organization's history that an entire prison was evacuated.
"This was done as a precautionary, preemptive operation," Morgan told the Denver Post, adding that the wildfire had been only four or five miles away from the prison.
There are currently about 150 firefighters on the ground working to contain the Royal Gorge blaze, the Daily Record reports.
Authorities say no one in Canon City has yet been asked to evacuate. However, residents in the area have been warned to stay indoors with the windows closed.
SUBSCRIBE AND FOLLOW
Get top stories and blog posts emailed to me each day. Newsletters may offer personalized content or advertisements.
Learn more