Weddings just aren't as safe as they used to be!
Last month, a T-rex "terrorized" a Louisiana bridal party in a photo that went insanely viral. This month, the latest viral wedding villains are ones that "Star Wars" fans will likely recognize.
Toronto photographers Danielle and Tony Lombardo recently posted a photo to their website of three AT-AT walkers chasing their friends Leslie Seiler and Paul Kingston's wedding party. Check out the awesome photo below: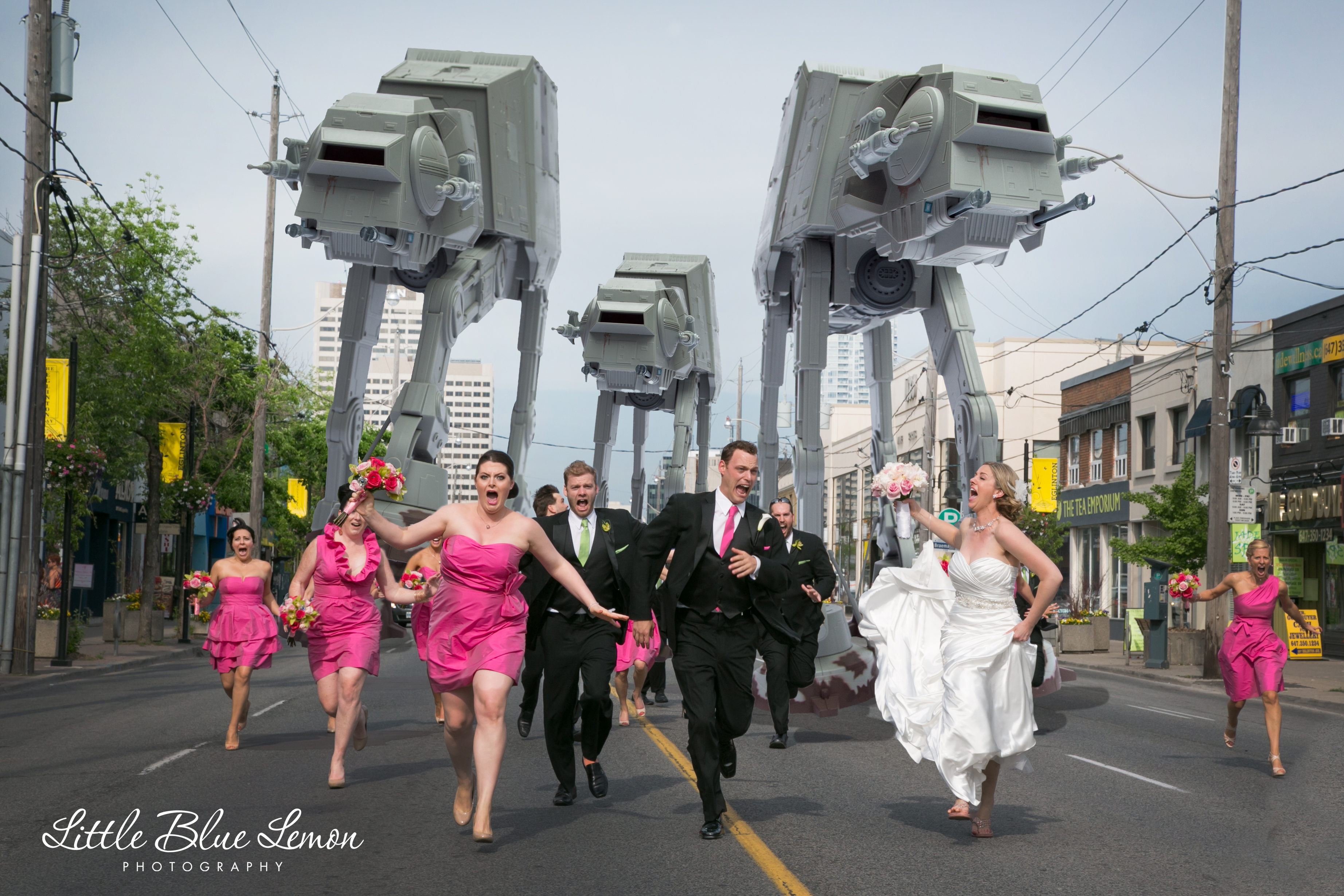 Photo credit: Little Blue Lemon Photography
Tony told The Huffington Post that they were inspired by the dinosaur-chasing-bridal-party shot and wanted to "kick it up a notch and do something cool," incorporating the couple's love of "Star Wars."
They stopped traffic on Eglinton Ave. in Toronto in order to get the photo. Later, they shot their son's AT-AT toy on a seamless backdrop and placed three in the background using Photoshop.
"[It's] funny how something that you have literally five minutes to shoot can turn out so awesome when the bridal party commits to the challenge," Tony wrote in an email. "You really only get one take when asking women in heels to run for their lives!"
Click through the slideshow below for eight more "Star Wars" weddings and proposals.
Star Wars Weddings And Proposals
A New Jersey tattoo artist proposed to his girlfriend with a custom-made ring that really does look like everyone's favorite droid, R2D2.

After years of bad dates and even worse boyfriends, "30 Rock" heroine Liz Lemon finally got hitched in November -- dressed as her favorite princess, Princess Leia.

In November, a Reddit user posted photos of the ring box he presented to his girlfriend when he proposed. Inside the box were two "Star Wars" figurines, one holding an engagement ring.

Cake decorator Lisa Seidling shared this photo of a "Star Wars"-themed cake she designed, and we think it's adorable. That's Princess Leia and Han Solo as the bride and groom -- may the force be with them!

May 4 is known to "Star Wars" fans as "May The Fourth Be With You," a day to celebrate the Galactic Empire. One California man organized a flash mob of costumed dancers to surprise his girlfriend on this special day. In Yoda-speak, "Yes, she said!"

This Ukrainian couple's wedding was pretty intense. Many of the guests wore intricately detailed "Star Wars" costumes, and judging by the photos, they all wandered around town after the wedding.

What better place to pop the question to your "Star Wars"-obsessed girlfriend than at a "Star Wars" convention? In 2005, this young Jedi proposed in front of dozens of fans at the Celebration III "Star Wars" festival in Indianapolis.

Everything from the music to the flower girls fit with the "Star Wars" theme of this couple's 2010 wedding, shared by The Offbeat Bride. An R2D2 projector acted as the ring bearer, all guests wore costumes and the wedding party walked down the aisle to John Williams' score.
Keep in touch! Check out HuffPost Weddings on Facebook, Twitter and Pinterest.