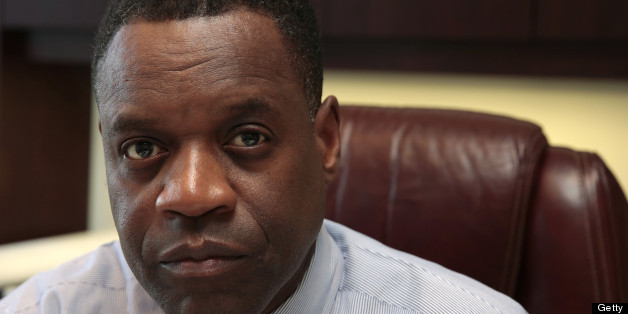 Detroit Emergency Manager Kevyn Orr has a restructuring plan that he says will keep the troubled city from landing in bankruptcy court. While bondholders may feel the pinch, active and retired workers vested in the city's underfunded pension system will be asked to take significant cuts.
The 150-page restructuring plan was released Friday, the day he planned to meet with creditors and bondholders to negotiate deals to lessen the city's long-term debt, which totals more than $15 billion. Orr, who was appointed by Gov. Rick Snyder in March, was a partner in the Jones Day law firm in DC who helped negotiate Chrysler's bankruptcy.
The plan also aggressively targets blight removal of abandoned structures around the city and calls for major technological upgrades across city departments.

(Scroll down to see a PDF of the restructuring plan released by Kevyn Orr)
A few notable highlights of activity the City of Detroit will undertake under Orr's restructuring plan, straight from the report:
According to the report, Detroit's pension liabilities are underfunded by $3.5 billion, requiring contributions of $250-300 million annually from the city. Orr's plan says the city will not continue to fund these payments, and says, "there must be significant cuts in accrued, vested pension amounts for both active and currently retired persons" (pg 109)
Invest $1.25 billion over the next 10 years in improving performance and infrastructure for the city's Police, Fire, EMS and transportation system; blight remediation of residential and light commercial areas; improvements to the city's electrical grid

Possibly transitioning to a "paperless" court for 36th District Court (pg 73)

Belle Isle would be leased to the state of Michigan and become a state park (pg 87)

Construction of new recycling centers to accommodate materials from demolitions; consolidate police and fire activity data to target demolitions, based on crime and arson information (pg 67)

Proposing legislation to withhold income tax for reverse commuters -- those who live in Detroit but work outside the city. (pg 81)

Creating a new metropolitan authority for the water and sewage system (MAWSA), which would "operate as a stand-alone public authority" governed by a board of commissioners. (pg 83)
Exploring a regional solution integrating emergency services with Detroit Public Schools, Wayne State, Metro Detroit's Downriver communities and Wayne County (pg 70)

Read the restructuring proposal created by Detroit emergency manager Kevyn Orr:
Kevyn Orr's Proposal To Detroit's Creditors
SUBSCRIBE AND FOLLOW
Get top stories and blog posts emailed to me each day. Newsletters may offer personalized content or advertisements.
Learn more