One young woman has told the world she'll be a "Girls" fan for life -- by getting a tattoo in Lena Dunham's handwriting.
On June 9, Tina Wargo tweeted to @girlsHBO asking for help in procuring a photograph of the words "All adventurous women do" -- a much-discussed line from "Girls" season 1 -- handwritten by Lena Dunham, the show's creator and star:

@tinabeenawargz @girlsHBO If you are serious I will obviously do that! I will instagram it tomorrow morning when I locate a pen!

— Lena Dunham (@lenadunham) June 9, 2013
Dunham, being the all-around awesome lady that she is, was into the idea and posted a few tattoo options on her Instagram account within 24 hours of receiving the request: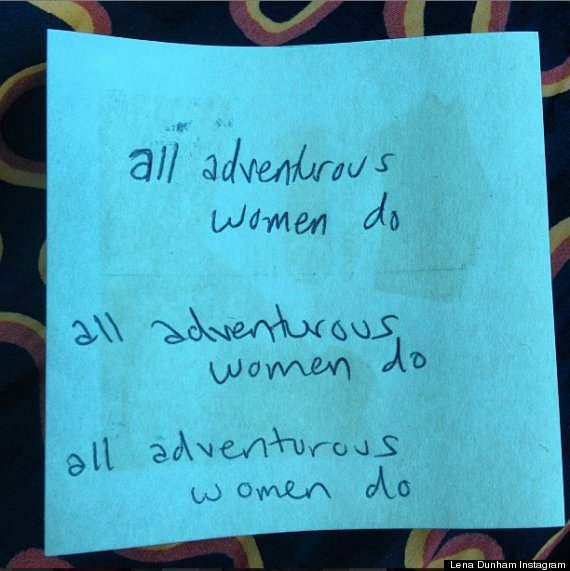 After Wargo got the tattoo this week, she tweeted a photo at Dunham and the star tweeted her excitement back:

Adore! My handwriting's never looked better RT @tinabeenawargz If you ever wanna see it in person, I'll buy ya lunch. pic.twitter.com/oXa5Zsh2TO

— Lena Dunham (@lenadunham) June 13, 2013
We sincerely hope that after Wargo got her tattoo, she retreated to her bedroom, blasted Robyn and had a dance party -- like all adventurous women do.
Also on HuffPost:
Loading Slideshow
Episode 1

Leave it to Shoshanna to wear a fascinator to a house party in Brooklyn (this is one of the most direct SATC references to date).

Episode 2

What is Hannah wearing? Is it a snuggie? A life jacket? A <a href="http://kigurumi-shop.com/what-is-kigurumi.aspx" target="_blank">kigurumi</a>?

Episode 3

"<a href="http://racked.com/archives/2013/01/21/girls-episode-2-recap-hannah-explains-shortalls.php" target="_blank">Slutty Von Trapp child</a>" or "a magician's assistant," your call.

Episode 3

This outfit was a combination of bad decisions: Drugs, high emotions and a gay ex-boyfriend's input can only lead to questionable wardrobe choices. Maybe Hannah should leave the power clashing to the pros.

Episode 3

Neon yellow mesh tank top. <em>Neon yellow mesh tank top</em>.

Episode 4

Charlie's "<a href="http://www.huffingtonpost.com/emma-gray/girls-lena-dunham-hbo-episode-7-gchat_b_1539567.html" target="_blank">tiny Navajo</a>" rebound confused us in her bohemian getup complete with a leather headwrap and a side ponytail.

Episode 4

What do you wear when you're going to meet your husband's parents for the first time? Crimped hair and chopsticks, of course! Even Jessa, the girl who rocks kimonos in the street, can't inspire us to revisit this '90s trend.

Episode 5

Ah, the romper. The item Hannah wears when she hooks up with the doctor in his Greenpoint mansion. We think this might be an example of costume designer Jenn Rogien putting Lena's character in <a href="http://www.huffingtonpost.com/2013/01/10/jenn-rogien-girls-lena-dunham_n_2441218.html" target="_blank">"intentionally awkwardly fitting" clothes</a>.

Episode 5

This has to be Hannah's most put-together look of the season -- which makes sense, given the cashmere sweater isn't hers.

Episode 6

When Marnie played hostess at her "boyfriend's" party, she looked more like she was auditioning for the role of Princess Leia -- sorry Marnie, <a href="http://www.huffingtonpost.com/2013/03/06/carrie-fisher-princess-leia-bikini-photos_n_2819575.html" target="_blank">Carrie Fisher already got that job</a>.

Episode 7

Braids are hot for spring -- you heard it from Jessa first.

Episode 7

Who knew mock turtlenecks were still a thing? Who knew "I really like the way you fold down your turtleneck" was a pickup line?

Episode 8

How many people cringed when they saw Marnie in this pigtailed look? This ensemble really marked the moment when her character hit rock bottom. And what this photo cuts out is her flip flops. <em>Flip. Flops.</em>

Episode 9

It wasn't Shoshanna's "social butterflyness" that had us distracted in this episode, it was her hair. What is going on here? It looks like she stuck a doughnut on her head. Crazy hair, and she don't seem to cur.

Episode 9

Season one flashback. Ray looks quite cozy in Shoshanna's snuggie -- the only thing that would have made this moment better is if they were playing "<a href="http://www.youtube.com/watch?v=cZor-ImMen0" target="_blank">Baggage</a>" (the game show Shosh was watching and playing the first time we spotted her in this cozy number).

Episode 9

Wait, actually, this is what rock bottom looks like. Hannah's OCD hit an all time high (or low, depending on how you look at it) in this episode. Although her ensemble was meant for lounging it quickly made an appearance in the emergency room and then again when she had a run-in with her ex boyfriend, Adam. Her mental state was so concerning, we barely noticed that she wasn't wearing any pants.

HBO 'GIRLS' Costume Designer Talks Fashion

From Hannah's "shorter-alls" to Marnie's sophisticated shift dresses, Jennifer Rogien is charged with the fun and challenging task of creating the looks for the hottest show on HBO.