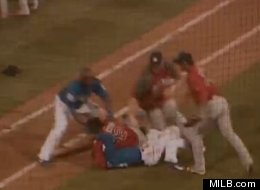 Even the Los Angeles Dodgers' Triple-A affiliate can't seem to get along with its opponents.
The Albuquerque Isotopes and Memphis Redbirds (Triple-A Cardinals) brawled during the fourth inning on Saturday night, which resulted in 10 ejections, per MILB.com.
Both benches cleared an inning earlier after an Isotopes player was hit by a pitch, but both teams returned to their dugouts before a fight could break out. When a different Memphis pitcher hit another Isotopes batter, benches cleared again and a massive brawl erupted.
According to abqjournal.com, eight players were suspended and 12 were fined.
The minor league brawl comes just days after the Dodgers and Diamondbacks duked it out, which was Los Angeles' second fight of the season.
WATCH VIDEO ABOVE