The first lady and her fringe headed to Belfast for this year's G8 summit, where she made a speech that sparked mass Twitter debate. Onlookers weren't concerned with the language Mrs. O used at the event, but rather the ill-received styling of her bangs. Yup, we're still not done talking about those.
Our verdict? Well, we can't really see what all of the hullaballoo is about. Check out Michelle's bangs and the reaction tweets below and tell us: Are they really that bad?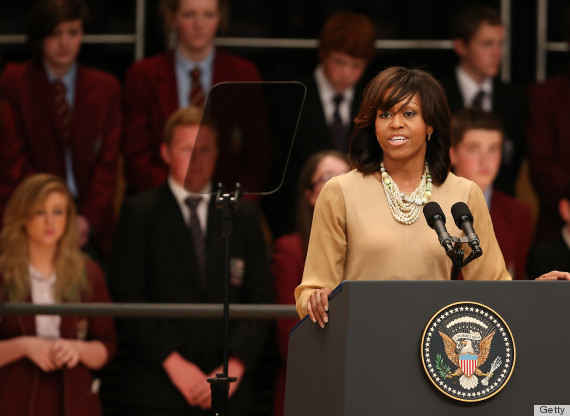 Michelle Obama needs to move those bangs out of her face. Bad haircut
Was anyone else distracted by Michelle Obama's fringe? (That's 'bangs' to you Yanks.) #Belfast2013 #TheSeriousIssues

— Cemile Alkış (@GemAlkis) June 17, 2013
Note to self - cut fringe (bangs if you're US) makes Michelle #Obama look cross-eyed trying to see through hair. Don't want to follow suit.
What's going on with Michelle Obama's bangs? Even her hairdresser can't cope with the Belfast damp #bangsfail

— Lisa Mitchell (@MissLise) June 17, 2013
Michelle Obama having terrible 'bangs' malfunction - even US styling can't compete with Belfast weather #G8
Somewhere Karl Lagerfeld is smiling in his sunnies right now...
Don't worry, FLOTUS, we think you always look great:
49 Of Michelle Obama's Best Looks
Want more? Be sure to check out HuffPost Style on Twitter, Facebook, Tumblr, Pinterest and Instagram at @HuffPostStyle.
FOLLOW HUFFPOST