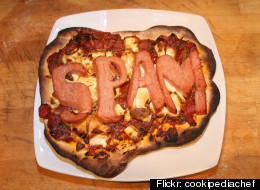 Homemade pizza should be easy, right? It's just dough (which you can buy already made), sauce and cheese for a basic pie. With those three simple ingredients you may think there's no way anything could go wrong. But you'd be wrong. Very wrong. Because when it comes to the happenings of a kitchen, disaster can occur at any turn. We've seen it with eggs and pasta too.
But here's the thing, no matter how bad your attempt at homemade pizza goes, you can feel better knowing that someone has screwed it up so much worse than you ever could. As long as you can still eat it -- or at least laugh at it -- we think you've done just fine. Look at the sad pizza fails below, and breath a sigh of relief that these were not made by you.
Want to read more from HuffPost Taste? Follow us on Twitter, Facebook, Pinterest and Tumblr.
We just want to know one thing: why even bother with carb-free pizza?!? Photo via imgur.

Pepperoni and pizza: great idea. Spam and pizza: fail. Photo via Flickr.

Just because it's creative, doesn't mean it's right. Photo via imgur.

You guys, this does not deserve to be called pizza. Ever. Photo via imgur.

Enough already. Enough. Photo via imgur.

Seriously, this looks like Pizza The Hut. Photo via imgur.

Let's not forget the baking sheet guys. Photo via Flickr.

Who knew that making a circle could be so hard. Photo via imgur.

Never a good idea. Photo via imgur.

The pizza topped with pizza topped with pizza... it's just too much. Photo via imgur.

Pizza's not suppose to be healthy. Stop trying to make it be what it's not. Photo via imgur.

Whoops. Photo via imgur.

Do we need to go over this again? You're food should never be made to look like it has eyes. Photo via Flickr.