WASHINGTON -- Look up, D.C.! It's a bird, it's a plane, it's a... drone?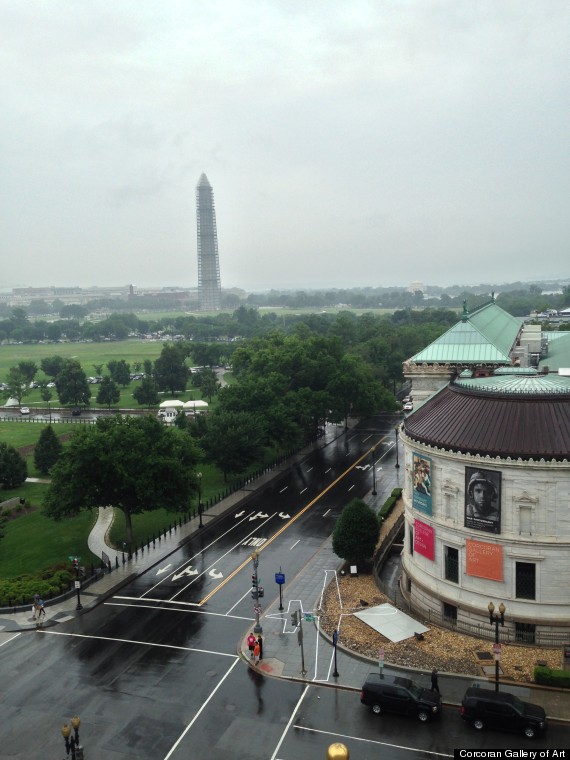 See it? Look more closely: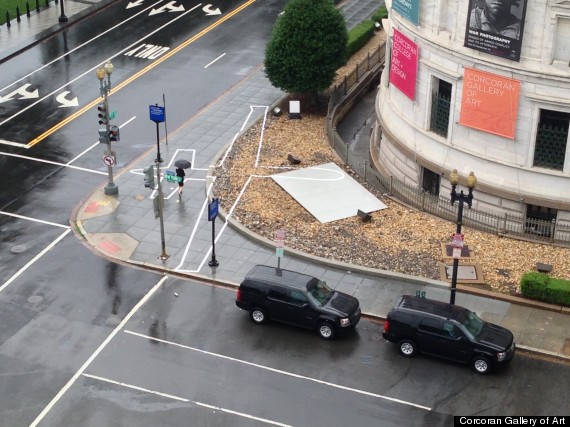 Not to worry, Washingtonians. The drone shadow -- "Drone Shadow 004," specifically -- is part of James Bridle's new exhibition at the Corcoran Gallery of Art, "A Quiet Disposition."
The exhibit, which opens Wednesday in Gallery 31, the Corcoran College of Art + Design's gallery space, explores the relationship between drones and technology, turning the traditional imagery of drone warfare on its head by creating art.
Bridle has previously shown similar work in Brighton, England, and Istanbul. He told The Wall Street Journal that he "considers himself an artist and activist, and sometimes culls his themes from protests with which he's been involved."
A recent profile in Vanity Fair compared Bridle's drone project to Andy Warhol's soup cans and Marcel Duchamp's urinal:
Here were the darkest ramifications of the New Aesthetic -- a portent of all that we've given over to machines. As a collection of found images that becomes a work unto itself, it slides in behind Duchamp or Warhol, seizing on the truth and beauty of what is most terrifying in our age.
"A Quiet Disposition" is Bridle's first exhibition at a major U.S. museum; the grand opening includes a 7:00 p.m. free lecture by the artist.
This isn't the first drone spotted near Washington, D.C.; last year, some sharp-eyed commuters spotted what appeared to be a UFO on the back of a truck on the Beltway. The object was later identified as "one of Northrop Grumman's X-47B drones, a type of aircraft often mistaken for a UFO."
Loading Slideshow
UFO On The Beltway?

UFO On The Beltway?

The X-47B Unmanned Combat Air System flew with its landing gear up for the first time on Sept. 7 during a test flight.

UFO On The Beltway?

RQ-4 flying over mountains and desert

UFO On The Beltway?

A model of a Boeing X-46 UCAV-N is <a href="http://www.ebay.com/itm/X-46-UCAV-Navy-NASA-Unmanned-Airplane-Wood-Model-Small-/120599120257" target="_hplink">for sale on eBay</a>

UFO On The Beltway?

UFO On The Beltway?

UFO On The Beltway?

UFO On The Beltway?

UFO On The Beltway?

Dennis Reyes

UFO On The Beltway?

UFO On The Beltway?