With your inbox overflowing and your to-do list trailing behind you like a tall, dark shadow, you might be prone to defending your time. But the truth is that we could all benefit from breaking up our busy days with a short meditation session.
Experts agree that your productivity will only improve from taking these breaks.
Routinely scheduling breaks, some argue, is your ticket to success. And it wouldn't hurt to sprinkle in some meditation: The practice has been shown to lower stress, improve focus and increase emotional awareness (along with a hefty number of other benefits).
Convinced? For many workers there's just one problem: Where, exactly, should this transformative meditation happen? We've rounded up seven sneaky places to clear your head -- both in and outside of the office. Check them out below, then tell us your favorite place to find clarity in the comments section.
On The Elevator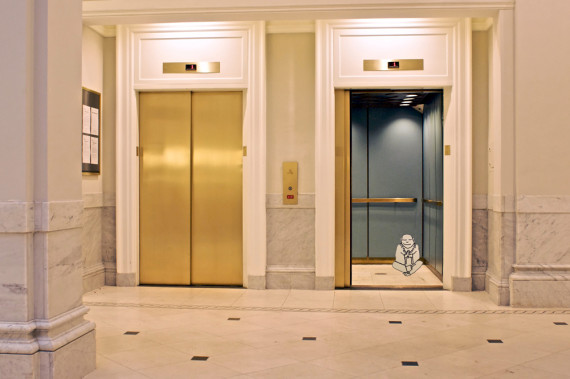 Photo Credit: Shutterstock
Your elevator ride is a perfect opportunity for a body scan. Just waiting for the elevator to arrive can be part of your practice, too. If the lift is empty, stand in one of the back corners -- this way, you won't be disrupted as people filter in. Find step-by-step instructions for this kind of practice from the Meditation Geek, here.
In The Bathroom Stall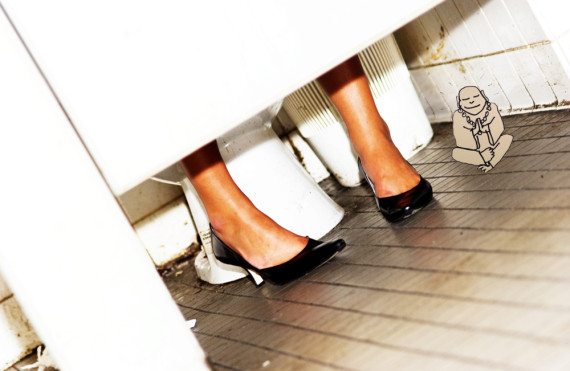 Photo Credit: Shutterstock
Here's privacy at its most natural state, perhaps. Sit with your feet flat on the floor and close your eyes -- it's the one place where you're virtually guaranteed to be left alone. As for those extraneous flushes? Consider them the elegant flow of a waterfall.
In The Shower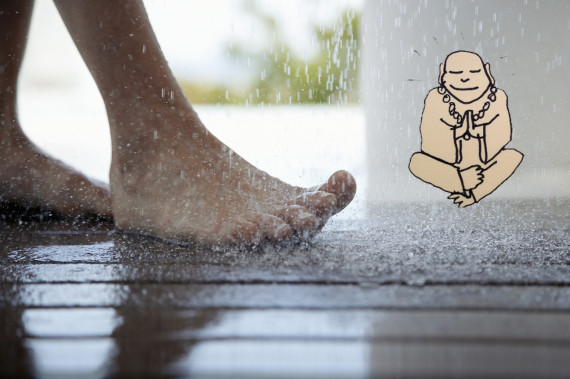 Photo Credit: Shutterstock
This is a sneaky move because you'll kill two birds with one stone: you'll achieve both physical and mental hygiene, all in one morning! The mindfulness experts at Headspace describe a practice that is pretty simple:
Be mindful of the need to set the temperature before getting into the shower; mindful of the wave of pleasure as the warm water washes over you; mindful of the smell of the shower gel, soap or shampoo; mindful of the mind jumping forward, imagining conversations that have yet to happen; mindful of the amount of water you're using; and mindful of the sound of the water coming to a stop.
On A Park Bench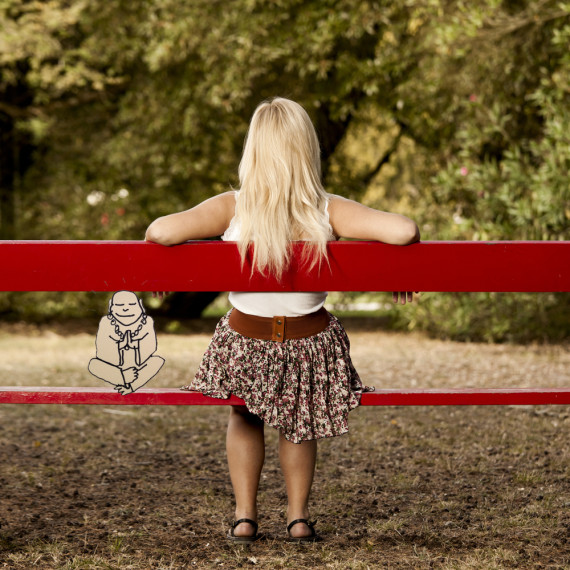 Photo Credit: Shutterstock
What's more zen than the sound of birds chirping or the shrills of happy children on the playground? Take a deep inhale and make these noises part of the soundtrack of your outdoor meditation.
In A Stairwell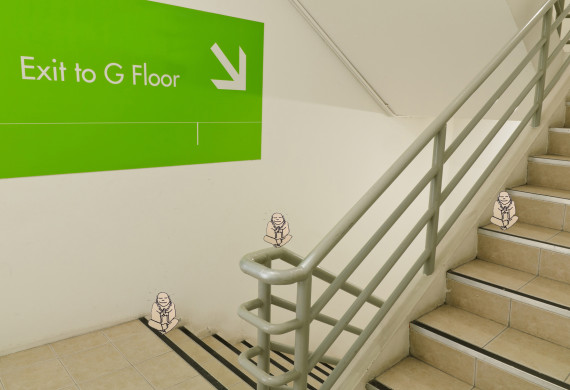 Photo Credit: Shutterstock
Your office may be the last place you'd think to find peace: Your cubicle at work is in the middle of all the action and the communal cafeteria could be better described as a jungle. But there's bound to be an unoccupied stairwell somewhere in the building. Find it, then claim it as your sacred stairwell.
At A Red Light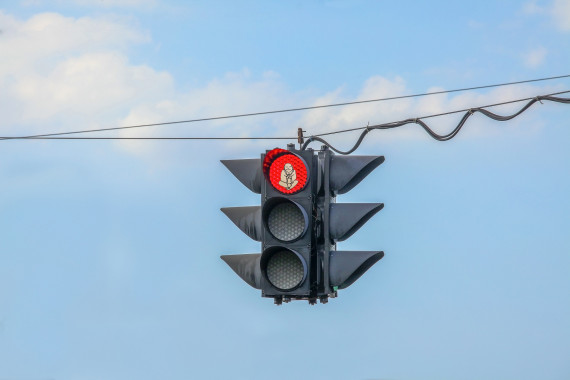 Photo Credit: Shutterstock
When you're running late, Murphy's Law will undoubtedly serve you up a series of consecutive red lights. But instead of gripping the wheel in frustration, you can take this red light as an opportunity to pause. As Donna D'Cruz puts it in her "Red Light- Green Light Meditation (watch it here), the light is a gift of time to find stillness. You don't need to close your eyes (in fact, we strongly suggest you keep them open when behind the wheel): By the time the light changes you feel a greater sense of clarity.
On The Subway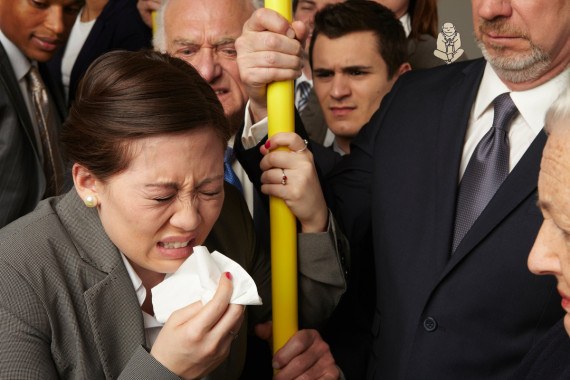 Photo Credit: Getty
Sweaty, sneezy, germy, hot and sticky are not the ideal conditions for a peaceful meditation. Or are they? This moment could be the perfect time to choose calm -- to be unaffected by all the hustle around you. If you're struggling to tune out the crowd, try a meditation app for some extra support.
For more on meditation, click here.
Also On HuffPost:
11 Ways To De-Stress At Your Desk
Choose one of your favorite vacation memories and relive it -- all while skipping the airfare! "Every single one of us has memories from our favorite places. You can relive the best moment of your life to feel like you did when you were there," author Jon Wortmann says. Why it works: It helps you recognize you have a choice in how you feel in a stressful moment.

It might seem counterintuitive to find solace on your screen (because unplugging is important), but you can do exactly that with the many centering sites out there. Here are 10 of our favorite URLs that inspire us.

Your smartphone might be partly to blame for the stress you're feeling (hello, non-stop emails and phantom vibes), but it's also a great resource for de-stressing tools. Try a couple of our favorite de-stressing apps, and download the GPS for the Soul app here.

Essential oils will do more than mimic an escape to the spa: A whiff or two could actually help you relax. Aromatherapy has been shown to decrease stress levels, so shop around for a scent you fancy and get sniffing.

Since work-related stress can be physically exhausting, you might benefit from a little movement for an instant energy lift. An action as small as swiveling in your chair with a couple of deep breaths can help you get back to business, Glamour reports.

If your employer allows it, you might consider swapping your desk chair for something a little more fun. While there is yet to be conclusive research that a stability ball improves posture, the ball does allow more room for fidgeting -- which can wake you up and help get you back into the zone.

Think of your handwritten to-do list as a sacred document, kept away from distractions of the inter-webs. You'll know exactly where to find it when you need to refer back to it since it won't be lost among the many open tabs of your browser. Plus, the act of physically writing down your tasks may help you organize your thoughts and remember them more clearly, which, in turn, will help you to be more focused and less stressed. Fear you'll forget your to-dos on your desk one rushed night? Make a point to snap a photo with your phone at the end of each day.

Your co-workers will think you're just craving a juicy mid-day snack, but besides satisfying tummy grumbles, you'll be reaping the benefits of the stress-relieving powers of citrus. A 2002 study found that a dose of vitamin C helped people bounce back more easily from a stressful situation.

You'll have to get up for this one, but it will be worth your while: Just a five-minute break from your desk will have you returning refocused and a little less anxious. Plus, your eyes will appreciate the rest.

Stress.org says breathing is one of the best ways to lower stress in the body. That's good news, since it's an exercise you can perform anywhere, sans candles or gongs. Try out a few of these techniques to see which you like best.

According to a 2013 study, listening to music can actively help to keep your stress in check. The (not-so-hard-to-fulfill) catch: You have to listen to music that you actually like. Check out our mood-boosting playlist here for some inspiration.
8 De-Stressing Meditation Apps
8 De-Stressing Meditation Apps
Kickstart your meditation practice with a 10-day starter program from Headspace, a free guided meditation app. The comprehensive guided meditation sessions offer clear and straight-forward mindfulness instruction for beginners, who can continue to access hours of videos and audio meditations by subscribing for a low monthly fee.

Sometimes, just remembering to be mindful is the hardest part of sticking to a practice. If you need a little nudge to help you stick with your meditation routine, try The Mindfulness App. The biggest perk of this $1.99 program is that you can set location alerts to remind you to stop and meditate at a particular time or day of the week, or even when you enter a certain location.

This $2.99 app describes itself as "the urban meditation app for modern life," and was named the number-one health app by UK news outlet The Sun. App Store reviewers rave about the app's clear, simple design and relaxing guided meditations. Customize your meditation to your location: It offers tailored guides for when you're at home, walking or at the gym.

Designed specifically for young people, Smiling Mind makes meditation fun, easy and accessible. Created by a team of psychologists who specialize in adolescent therapy, the app offers programs catered to different age groups, from 7-11 years old to adult, and also includes reminders.

This best-selling iPhone app by Mental Workout, designed by renowned meditation teacher and psychotherapist Stephan Bodian, provides guided meditations for both beginners and more experienced mindfulness practitioners. The app features an eight-week program, inspiration talks, body scans and relaxation instructions. According to one App Store reviewer, the app is the best way to learn mindfulness "short of finding your own personal meditation teacher."

Short guided meditations, with or without music and nature sounds, for relaxation and presence are the focus of this $0.99 app. Perfect for beginners looking for something simple, Simply Being is highly rated for being user-friendly and customizable.

If guided meditation isn't your thing, try going your own way with a basic meditation timer app that allows you to follow your own practice, either silently or accompanied by bells. The statistics feature also allows users to track their practice and chart progress.

This app by Meditation Oasis, the makers of Simply Being, is geared toward mediation on-the-go. With three different guided walking meditations, users can plug in their headphones and unwind in transit. The app comes with a diary for users to keep track of their progress.

Arianna Huffington talks about how to de-stress with the GPS for the Soul app.