Roll out your welcome scratching poles. A very mewly caravan is on its way toward Washington.
Bob Walker and Frances Mooney's home -- The Cats' House, in San Diego -- is famous for its brightly-painted, animal-friendly setup:
"Right now we're living in an RV in the driveway," Walker recently told The Huffington Post, explaining that the 30-foot mobile home, necessary while the Cats' House is being inspected by potential buyers, has not been retrofitted to be especially pleasing to cats or a chihuahua, though the animals seem not to mind their new temporary surroundings.
"They've adapted surprisingly well, except for one cat that meows like a peacock," says Walker. "And he's escaped five times on us."
In early July, assuming the feline dream house has been sold, Walker and Mooney and their pets will dispatch for Fredericksburg, Va. -- a destination chosen for its relative affordability and proximity to D.C. The couple, if not their animals, plan to take advantage of the city's cultural offerings, and Walker -- a photographer who specializes in pets, of course -- hopes to expand his portfolio of politicians once he's nearer to their natural habitat.
"If we purchased in D.C., there would be no money left over to build a catwalk or buy food," says Walker. "Thankfully, housing costs in Fredericksburg are about one-half to one-third of San Diego's."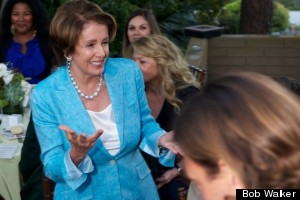 Walker recently photographed Nancy Pelosi in California.
In the meantime, Walker and Mooney have been scouring local real estate listings, searching for an older house with a wrap-around porch that backs onto the woods. The couple plans to keep the house's outside in a reasonably sedate, traditional-looking condition.
But on the inside, "the plan is to build a more wonderful catwalk," Walker says. "And offer my photography and cat habitat design services to East Coast animal lovers. Paws crossed."
Check out the Cats' House Zillow listing, which shows the now-whitewashed 1950s four bedroom, with bright colors gone but cat accoutrements still intact:
The Cats' House Zillow Listing
Also on HuffPost:
Living Large In Big Homes
SUBSCRIBE AND FOLLOW
Get top stories and blog posts emailed to me each day. Newsletters may offer personalized content or advertisements.
Learn more