The folks at Oreo must be going flavor-happy, because they've been cranking out new varieties like crazy. The latest: Watermelon Oreos, which feature a bright green-and-pink filling sandwiched between two vanilla wafers.
"We chose Watermelon because it is a fun, summer flavor that goes great with the Golden OREO cookie," explained Oreo spokesperson Kimberly Fontes to Time.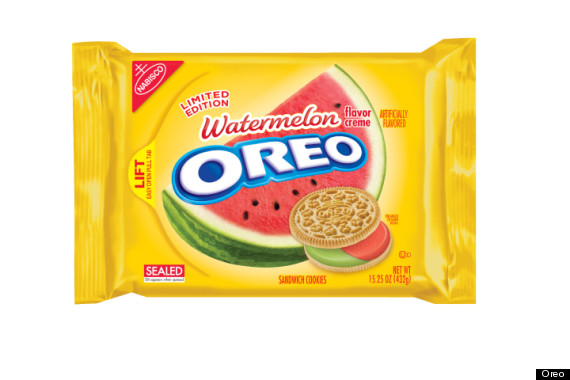 The snacks debuted on June 10 and are now on Target shelves nationwide for a limited time. According to Consumerist, they cost around $3 a box.
We're set to receive a box ourselves (stay tuned for a taste test!), and initial reports have us optimistic about the cookie's flavor. The blogger behind Junk Food Guy is clearly a fan, writing in a complimentary post that he "liked these. A LOT. These DIDN'T overwhelm me with artificial (well, overly artificial) watermelon flavor. Instead the immediate taste I got was a watermelon taste that tasted like, frankly, it had been blended with creme."
Stay tuned, and we'll let you know if these babies live up to the hype. Below, check out some other weird and wonderful Oreo flavors. Did we miss any?
Loading Slideshow
Candy Corn Oreos

This Halloween-themed offering <a href="http://www.huffingtonpost.com/2012/09/07/candy-corn-oreos_n_1865397.html" target="_blank">didn't get high marks</a>.

Birthday Cake Oreos

Released in honor of Oreo's 100th birthday, these <a href="http://www.huffingtonpost.com/2012/02/15/birthday-cake-oreos_n_1279659.html" target="_blank">babies were pretty delicious</a>.

Gingerbread Oreos

They were <a href="http://www.huffingtonpost.com/2012/11/14/gingerbread-oreo_n_2131134.html" target="_blank">surprisingly awesome</a>.

Rainbow Shure, Bert! Oreo

We heard they were <a href="http://sweets.seriouseats.com/2013/04/dear-oreo-what-in-the-what-are-you-thinking.html" target="_blank">kind of gross</a>.

Watermelon Oreos

They're getting <a href="http://www.huffingtonpost.com/2013/06/19/watermelon-oreo_n_3466729.html?1371662893" target="_blank">great reviews</a>.