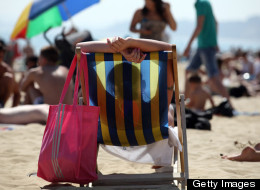 Summertime means beach trips, backyard barbeques and gorgeous suntans. But it also means that there are a whole new set of precautions to take that we don't have to think about in the winter. Everyone knows to wear sunscreen and to avoid handling fireworks but I checked in with a few experts (I love experts!) on seasonal problems. And what I found is some less obvious summer hazards and how you can avoid them. Take good care of yourself so you can really enjoy the summer. --MT, MarloThomas.com


Summer Health And Safety Tips
According to the American Cancer Society, certain medications can make your skin more sensitive to sun exposure. There is a long list of sun-sensitizing drugs, including antibiotics, antidepressants and non-steroidal anti-inflammatories. To best protect yourself, speak with your doctor about the medications you're taking if you plan on spending time in the sun.

Though most people aim to be thorough when applying sunscreen, there are still a number of areas that even the most diligent sunscreen appliers miss. The tops of feet, the backs of knees, hands, ears and the scalp are frequently overlooked, often resulting in unanticipated sunburn. Note these problem areas and make sure they're protected before heading outside.

Humans aren't the only ones who can get a sunburn. If your dog has light hair, light skin or short fur, they are especially susceptible to burning. The AKC recommends limiting your dog's sun exposure during the day and applying sunblock to your dog's ears and nose 30 minutes prior to going outside.

Sunglasses can be fashionable, but don't forget that their main purpose is to protect your eyes! Doctors recommend wearing sunglasses that wrap around to your temples, so that UV rays won't enter around the frame. Sunglasses should block 100% of UVA and UVB rays, and should be worn with a broad-brimmed hat for thorough protection. Most sunglasses that meet these standards should be labeled as such, so be sure to check that your sunglasses meet UV standards before buying them, no matter how expensive they are or how dark their lenses may be.

Recently, there was a story in the news about a man who applied aerosol sunscreen and suffered severe burns when he went near his grill. Sunscreens may not always have proper warning labels, so take your own precautions by making sure your sunscreen is completely dry before going near an open flame.

Grass and vegetation grow bountifully in the warmer months, which means if you have a lawn, you'll probably spend more time maintaining it. What many people don't realize is that the debris that is kicked up by lawn mowers can cause serious eye injuries. Other yard tools, including weed whackers, chainsaws or even pruners can also send rocks, clippings or wood flying straight for your eyes. The good news is that preventing these types of eye injuries is easy - just make sure to wear goggles or safety glasses while doing yard work.

Many of us are eager to throw on flip flops or sandals the minute that the temperature rises. Others are happy to stroll barefoot, especially near the beach. But beware of splinters and other sharp objects like nails that can puncture your skin. Splinters can usually be removed with tweezers, but if you step on a nail or another sharp object, the process is a bit more involved. A trip to the doctor may be necessary if the object is embedded in your skin, and if you haven't gotten a tetanus shot in the past five years, you'll need a booster. Watch where you step and wear practical footwear whenever possible to avoid this hazard.

Soaking up the sun will do wonders for your mood, but your hair may not fare as well. Sun, salt water and chlorine can leave your hair looking like a dry, frizzy mess. Those with color-treated hair may also notice their color fading or turning brassy throughout the summer months. Treat your tresses by keeping them moisturized - pick a shampoo and conditioner designed especially for dry hair. Many leave-in conditioners contain sunscreen, which will protect your color. Since your scalp may be irritated from sun exposure, ease up on the number of products you're using and refrain from abusing heat tools. And if all else fails, head to the salon for a professional moisturizing treatment.

According to the National Weather Service, the largest number of lightning-related injuries and deaths occur in the summer months. This is because there is a higher incidence of thunderstorms and people are spending more time outdoors. Tracking the weather can be your number one defense - keep an eye out for thunderstorms and seek shelter if you hear thunder, even if it is not raining in your immediate area. Once inside, turn of all electrical devices and refrain from using the phone. If you're stuck outside, the NWS advises that you avoid open fields, water, metal objects and trees or other tall isolated objects.

In the midst of summer barbeques and outdoor festivities, remember to keep a close eye on your food. According to the USDA, summer is the leading season for foodborne illness. This is because summer weather provides an ideal environment for bacteria to flourish and outdoor cooking becomes more commonplace. Make sure to wash your hands and the surfaces you're cooking on frequently. Separate raw meats from other foods and make sure meats are cooked to a safe temperature. Refrigeration is also a key component in avoiding foodborne illness - if a refrigerator is not available, place food in an insulated cooler packed with ice for safe preservation.

Dehydration, allergens, sudden thunderstorms and hot, humid weather are all common in the summer months, and can serve as triggers for migraines. To help prevent migraines, maintain your general health by staying hydrated, getting enough sleep, keeping your allergies in check and avoiding migraine-inducing foods like aged cheeses, artificial sweeteners and caffeine. Fluctuations in temperature (going in and out of air conditioning) can also induce migraines, so bundle up in air-conditioned environments to maintain a consistent body temperature.

Believe it or not, all dogs are not great swimmers. Never throw your dog in the water and make sure to equip them with a life jacket if you're on a boat or in deep water. When your dog gets out of the water, be sure to hose them down. Salt water and chlorine can damage your dog's coat and irritate their skin if they're not rinsed off with fresh water.
Add Marlo On Facebook:
Follow Marlo on Twitter:

Weekly Newsletter

Sign up to receive my email newsletter each week - It will keep you up-to-date on upcoming articles, Mondays with Marlo guests, videos, and more!

Sign up here