Look up the phrase "brutally honest" in the dictionary and next to it you'll find a photo of Chrissy Teigen. The swimsuit model is never afraid to get real, whether it's in the form of hilarious tweets.... or dating advice.
Teigen didn't hold back when lending her courtship wisdom to the men of GQ, filming an informative (and semi-naked, natch) video for the mag's website. Her own dating days may be over, seeing as she's engaged to the swoony John Legend. But she still has some tips for guys:
"The best place to pick someone up? I would definitely say work and at normal things, like the grocery store."

"I really think a home-cooked meal by a man is pretty amazing. Have some champagne, take her back, cook something, put me in front of 'Housewives' (if it was me) while you cook... Oh my God, that would be the best."

"The best exit strategy for when someone's trying to pick you up and you are not at all excited about it... is RUN."
As women, we can confirm that is excellent advice. A cooked meal and "Real Housewives"? Sounds blissful to us. We just hope the guys are listening, considering how distracting Chrissy's sexy video is. We doubt any of the dating tips will really sink in...
Check out Chrissy's video below and a photo from her new GQ spread, found in GQ's July 2013 issue and at GQ.com.
WATCH: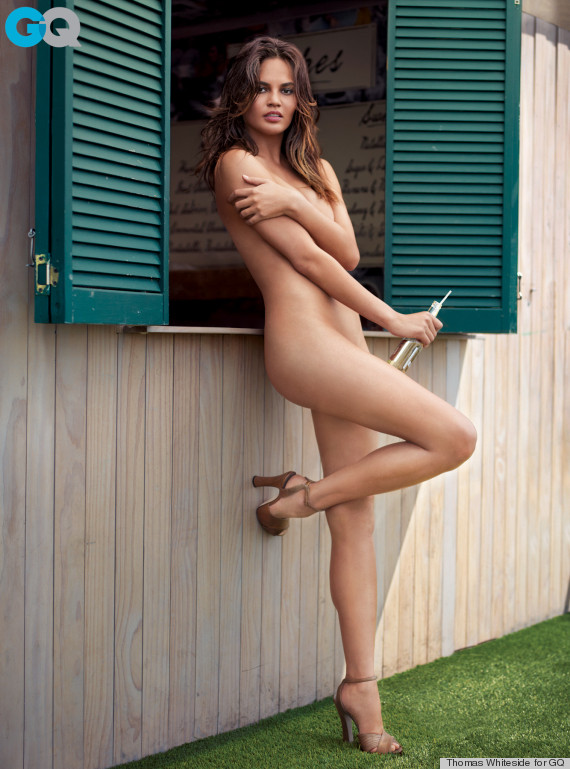 See more photos of our favorite model:
Indulge In Our Chrissy Teigen Obsession
With John Legend

Caption: "CREAM PUFFFFFFF"

Caption: "Pui 4 months ago. Dear god."

Caption: "engagement party. happy eyes!"

Caption: "Wake up, eyes! Highly recommend the SK--II eye pads. #notpaid #justlove"

Caption: "Heading to FEED event at Lincoln Center. Feeling a draft."

Caption: "This took many takes."

With John Legend

Caption: "Work."

Caption: "Another day at work."

Caption: "Making tuna nicoise like a g"

Caption: "Country club wall of white dudes!"

Caption: "Aah slits an wine are fun"

Caption: "my dad used to travel a lot for work and we would live out of motels. This sash was on the toilet. #MissSterilized #throwbackthursday"

Caption: "I got a sweet new outfit in harajuku. Great shopping there."

Caption: "I mades a spill"

Caption: "I have a dress fitting with @joycioci and am trying SLT Pilates which i, oddly enough, in the same building. I...didn't know I could do this."

Caption: "marchesa moments are the best moments. Thank you @leerittiner @amyrittiner!"

Caption: "I am having BBQ and I am drunk"

Caption: "bein sexy as usual"

Caption: "Dance machine"

Chrissy Teigen joins Marc in studio and tells us how much she enjoys HuffPost Live.
Want more? Be sure to check out HuffPost Style on Twitter, Facebook, Tumblr, Pinterest and Instagram at @HuffPostStyle.