It's pretty hard to upstage Princes William and Harry, but that's just what a 14-year-old girl managed to do at a polo match last week.
When Andrea Rubio, a Mexico native studying in the UK, came across the dashing British royals at a charity game at Beaufort Polo Club, she couldn't help but ask them if she could snap a photo. It was her priceless reaction afterwards, however, that caught the world's attention when pictures of it hit the Internet the next day. Andrea described the scene to This is Gloucestershire:
"I knew Princes Harry and William were going to be there but I never thought I would get near them, let alone speak to them. I asked them 'Please may I take your picture' and they both laughed and said yes. I couldn't believe it ... I think I may have shouted after because I was so happy."
Hey, we can't blame her -- we'd probably react the same way if we came face-to-face with the royal dreamboats. It also goes without saying that there were many ecstatic young ladies that came before her. Most recently, during Prince Harry's trip to the US, women on Capitol Hill giddily crowded the halls to photograph the 28-year-old.
And it turns out that Andrea has an affinity for the redheaded prince, too. "I never imagined all this would happen just because I took a photo," she said. "Prince Harry is my favorite -- I think he is really hot."
While choosing between Will and Harry is a decision we can't even fathom making, we tip our hats to this young gal for being 100 percent herself, even in the presence of royalty. Check out the now-infamous moment below.
PHOTOS: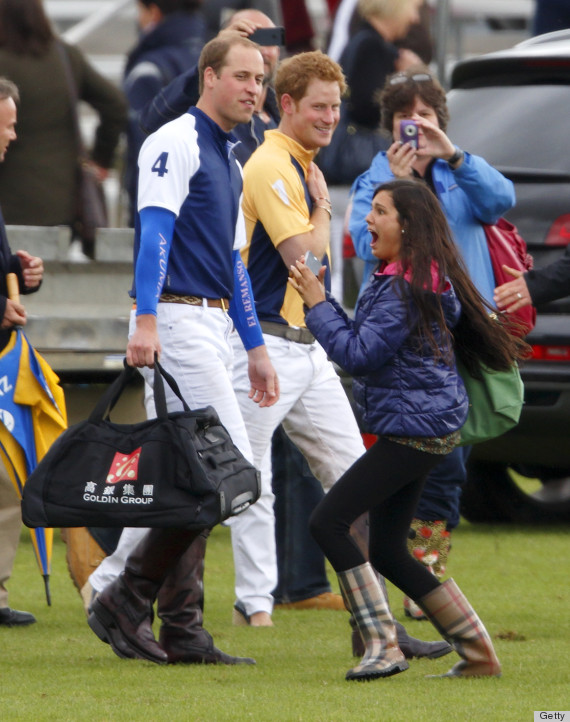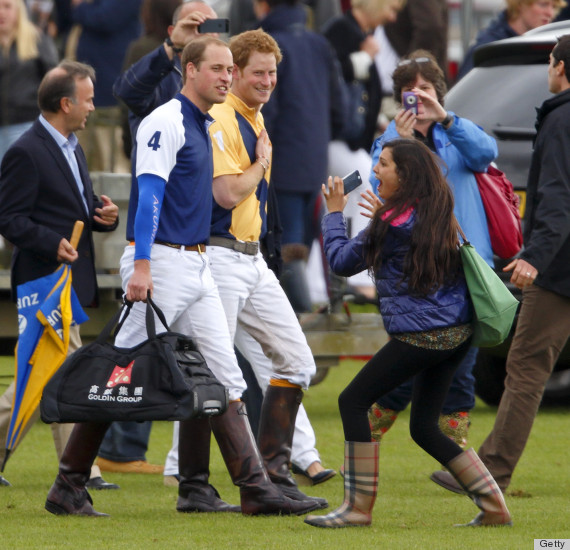 There are a lot of reasons to love Harry:
Loading Slideshow
May 2013

He chats it up with garden designer Jinny Blum and Sophie, the Countess of Wessex

May 2013

He graces Karolina Kurkova with a hug.

March 2012

Planting one on Fernanda Motta

March 2012

He just couldn't let her go.

March 2012

Wow, Harry <em>really</em> liked Motta.

May 2013

He swept Missy Franklin off her feet.

April 2013

He likes successful women. Here he congratulates Priscah Jeptoo on her win.

May 2013

He pays close attention to the US Air Force female cheerleaders...

May 2013

And even participates in a pyramid with them!

April 2007

He plays with Chelsy Davy's hair.

June 2001

The prince picked this girl up...

June 2001

And then he kissed her!

April 2013

Chit-chatting with Kate Philip

February 2013

He charms South African model Bonang Matheba at a gala.

May 2013

He makes "Makielab" company co-founder, Jo Roach, giggle.

September 2012

Here's the prince<em> completely surrounded</em> by girls.

August 2012

How could you not fall for Harry in his polo outfit?

July 2012

Female athletes and Prince Harry get along so well..

May 2012

He will even adore your baby.

March 2012

He will play volleyball with you.

March 2012

He flirts internationally. Here he dances with a woman from the Bahamas.

December 2010

Those are some intense stares Prince Harry and Sophia Thomalia...

March 2012

So many girls, so little time.

March 2012

Getting chummy with Sasha Joyce and Miss Bahamas, Anastagia Pierre

May 2013

He can even woo baby girls.

March 2012

He just really likes to dance. This time in Belize.

May 2013

He plays arcade games. How sweet.

September 2011

Laughing with model Eva Herzigova

May 2013

He just always knows how to make women laugh!

May 2013

Swooning the women on New Jersey's boardwalk

September 2012

He's just great with kids...

May 2011

The prince embraces a young woman at the Audi Polo Challenge Match

April 2011

Ever since Kate and Will started dating there have been rumors about Pippa and Harry. He got to walk her down the aisle at the Royal Wedding. Who knows what these two have been up to?

July 2010

With Fearne Cotton

May 2010

With Chelsy Davy at his graduation

June 2010

Just chatting with some girls on a rooftop

May 2009

He puts smiles on these ladies' faces at Ground Zero

May 2009

Just when we thought this woman's daughter may be the only girl to exist that isn't impressed by the prince...

May 2009

She, of course, <em>can't resist</em> the Prince's charm

May 2009

He even entices the older women.

November 2008

He makes Chelsy Davy laugh

June 2008

Again with the babies

May 2008

We wonder what Joss Stone and him are laughing about...

July 2007

Flirting it up with his ex Chelsy Davy at the "Concert for Diana" at Wembley Stadium.

July 2004

He hugs Jo Davies at a polo match

June 2003

A girl and the prince exchange something at a polo match in France.

June 2002

Always flirting at his polo matches...

July 2001

He can even flirt while riding a horse!

March 1998

Girls <em>freak out</em> when they see Harry -- even when he was a mere 13 years old.

Why Prince Harry's New Girlfriend Might Become A Princess

Reports suggest that Prince Harry might be getting married to his girlfriend Cressida Bonas.The couple have been spotted showing affection on vacation with family and Prince Harry is now set to join his new girl at a wedding, proving the relationship is serious.
Want more? Be sure to check out HuffPost Style on Twitter, Facebook, Tumblr, Pinterest and Instagram at @HuffPostStyle.