The controversial photo was taken in front of a taco stand at Hope for Firefighters, a recent benefit downtown that featured firefighters who cooked food and, in some cases, dressed in costumes.
"I sincerely apologize for any insensitivity or disrespect to anyone offended by posing for the photo from the Hope for Firefighters event," tweeted Cummings, who also deleted his retweet after inquires from the Times.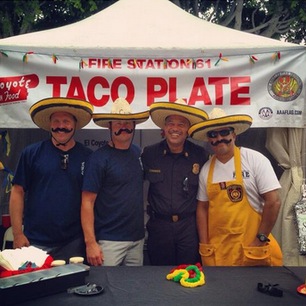 At a Fire Commission meeting Tuesday, Jacqueline Zarate, a vice president of the Los Angeles Employees Chicanos Assn., called on Cummings to tweet the apology, according to the Times.
"Had members participated in the same event cooking soul food and wearing Afro wigs, that certainly would have resulted in an investigation," Zarate said.
Public reaction to the photo was mixed. One commenter on the Times' original article criticized the newspaper for writing about the tweet in the first place.
"This is ridiculous how the LA Times continues to create negative hit pieces and stories because they have have lost so much credibility with readers. Reading the LA Times is more like reading TMZ blogs. Chief Cummings no apology necessary," EyeonLA continued.
But Angeleno @BenOgaz15h on Twitter disagreed, tweeting, "Apologize is the least he can do an investigation should be done!"
Battalion Chief Armando Hogan, a LAFD spokesman, told CBS, "The chief plans to meet with community members so that we establish a dialogue so that situations like this do not happen again."

SUBSCRIBE AND FOLLOW
Get top stories and blog posts emailed to me each day. Newsletters may offer personalized content or advertisements.
Learn more