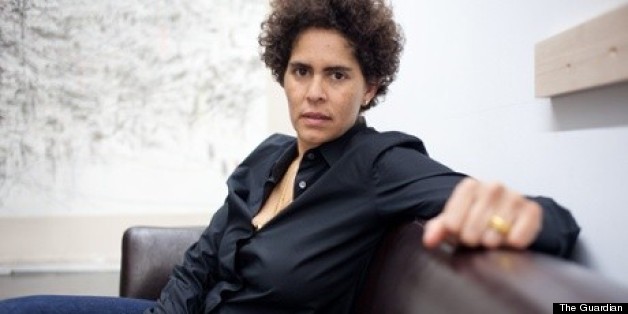 Buildings, streets, and entire cities crash into one another. Countless urban details – housing block windows, city maps – overwhelm your field of vision. Black squiggles race across the surface surrounded by flashes of colour: a beam of yellow, a red parallelogram.
The world Julie Mehretu paints is bogglingly chaotic. Yet when I meet the American artist in her light-soaked workspace overlooking New York's Hudson River (Martha Stewart has her office a few storeys below), the mood in the studio is the exact opposite: calm, collected, in total control. She is preparing for not one but two major solo exhibitions – one in New York, one in London – and a pair of assistants quietly help her apply the final painstaking touches to her latest paintings. Bird's-eye views of cities in the Middle East are taped to the walls. The bookshelves groan with volumes on everything from French genre painting to Ethiopian history; her studio is as much a think tank as a laboratory. And Mehretu's wife, the artist Jessica Rankin, has stopped by – they're preparing to leave town, and they have two sons' schedules to get in order.
SUBSCRIBE AND FOLLOW
Get top stories and blog posts emailed to me each day. Newsletters may offer personalized content or advertisements.
Learn more