University of Georgia freshman Chelsea Chaney says she did not give her former high school permission to use a photo of her in a two-piece swimsuit, so now she's suing for $2 million, WSB-TV reports.
Chaney claims in a lawsuit filed April 29, 2013, against the Fayette County Public School District in Georgia that school officials improperly used an image they ripped from her Facebook page during an October 2011 district seminar about Internet safety.
The photo used in a PowerPoint presentation shows a then-17-year-old Chaney in a bikini standing next to a cardboard cutout of hip-hop artist Snoop Lion (who was then known as Snoop Dogg). The photo appeared in a slide with Chaney's full name and the tag "Once It's There - lt's There To Stay," according to the complaint. The Chaney slide was shown immediately after a slide in which a cartoon daughter confronts her mother over the mom's old Facebook page that lists the mother's hobbies as "bad boys, jello shooters, and body art," according to court papers.
By using Chaney's photo in this way, the lawsuit contends, the school district publicly branded the teenager as a "sexually-promiscuous abuser of alcohol (or, in today's vernacular, an alcoholic slut) who should be more careful about her Internet postings."
A printout of the slideshow was offered to every student and parent in attendance at the seminar.
Curtis R. Cearley, director of technology for the Fayette County Schools, presented and planned the seminar, the court complaint said, and was responsible for choosing the photo of Chaney. A letter that Chaney received from the school said the photo was picked at random, WSB-TV reports. Cearley did not return a request for comment from The Huffington Post.
Chaney told WSB-TV that she cried a lot over the incident and felt bullied by the school district.
"I was embarrassed. I was horrified," Chaney said. "It never crossed my mind that this would ever, ever happen to me."
There would not be a need for legal action if the school had agreed to hold an assembly on "respecting the rights of others on the Internet," Pete Wellborn III, Chaney's lawyer, told HuffPost. "Moreover, had the school district not completely ignored my written request for a conference prior to filing suit, suit may well have been avoided," he said.
Melinda Berry-Dreisbach, a spokeswoman for the school district, said, "Because this is pending litigation, the school system cannot comment at this time."
While expressing little sympathy with the lawsuit itself, Chris Matyszczyk, a CNET blogger, noted that the photo was allegedly taken on a family vacation and that Chaney appears to be completely sober in the picture. So Matyszczyk wondered why Cearley "chose the image to allegedly scare parents and others into talking to their wayward children about their public displays of, um, wantonness."
"This seems like a perfectly innocuous image of a perfectly pleasant human being, experiencing something that might be described as 'fun,'" Matyszczyk wrote.
Medha Chandorkar at PolicyMic also called into question the viability of the lawsuit, but labeled the use of Chaney's photo "slut-shaming of the worst kind."
See the slide that featured Chaney's photo and her full name: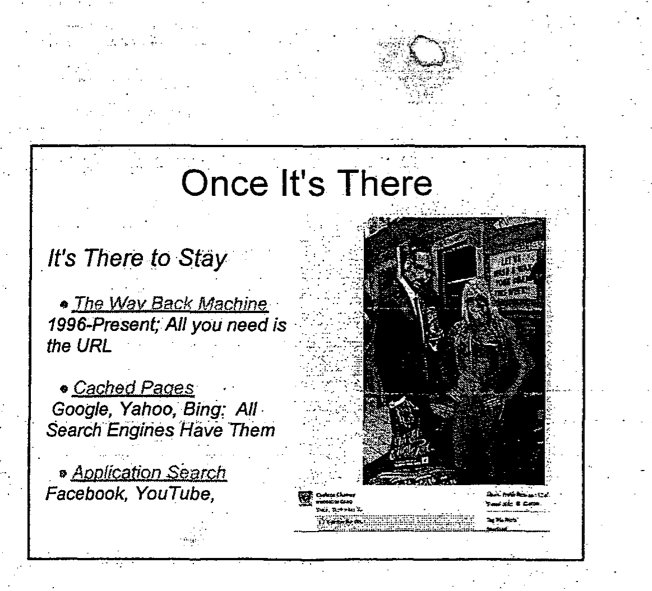 Also on HuffPost:
Loading Slideshow
You're Right. Mom Does Not Have As Many Friends As You

Bar graph displays the average number of Facebook friends by generation.

Facebook Friend Count

On average, Facebook users have 229 Facebook friends. The average user makes seven new Facebook friends a month. They friend request three of those new friends and accept the other four.

Can't Escape High School Online

On average, 22 percent of users' Facebook friends are from their high school.

The Kevin Bacon Effect

The sample found that with two degrees of separation - Facebook friends of friends - they <a href="http://pewresearch.org/databank/dailynumber/?NumberID=1502" target="_hplink">could reach an average of 156,569</a> other Facebook users.

Facebook Users Really Do Have More Friends

According to the study, a Facebook user who uses the site several times daily is 43 percent more likely than other internet users and more than three times as likely as non-internet users to feel that most people can be trusted. These individuals also have closer relationships with 9 percent more "close, core ties" in their social network than other internet users. They are also more likely to receive emotional support and companionship offline, says the study.

Acceptance

The study reports that 80 percent of friend requests are accepted. While 40 percent of the surveyed sample sent a friend request, <a href="http://pewinternet.org/Reports/2012/Facebook-users/Summary/About.aspx" target="_hplink">63 percent received one</a> within the same month-long period.

When Did You Last Update Your Status?

Millennials update their Facebook statuses more frequently than any other age group.

Gender And The Social Network

According to the study, female participants averaged 21 Facebook status updates monthly. Meanwhile, the men who were surveyed reported updating their statuses an average of six times.

Post-to-Post

The study asked its sample population to determine how often they comment on a friend's page. Over the course of a month, half the sample commented on a friend's page, and half also received a comment from a friend.

Facebook Users Are More Politically Savvy

According to the study, those who use Facebook instead of other internet or social media sites are significantly more vocal and engaged with politics. The study says that a Facebook user who uses the site multiple times per day is two and half times more likely to attend a political rally, 57 percent more likely to persuade someone on their vote and 43 percent more likely to say they'll vote.

Friend Posts Something Cool. Reaction: 'Like!'

On any given day, 26 percent of Facebook users will "Like" another user's content. Over the course of a month, the study's users "Liked" friends' content an average of 14 times, and they received an average of 20 "Likes" on their content.

Not Bothering To Hide Others' Thoughts

The study reported that less than 5 percent of its participants blocked content from another user in their newsfeed.

Privacy and Reputation Management

Bar graph shows the increase in users' policing of information on their social network. Most Facebook <a href="http://www.pewinternet.org/Reports/2012/Privacy-management-on-social-media.aspx" target="_hplink">users restrict access to their profiles</a> (58 percent), and women are more likely than men to utilize privacy settings.