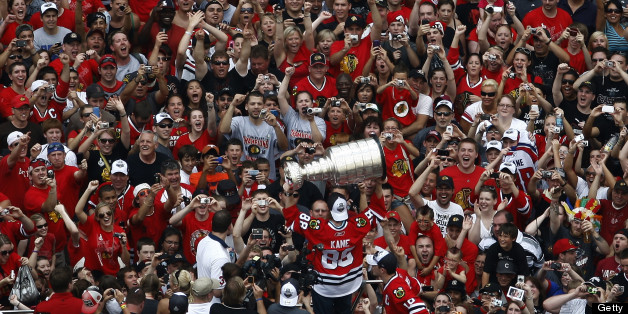 City officials released specifics of Friday's events during a press conference Wednesday afternoon.
After the Blackhawks leave the United Center, the parade will kick off at 10:30 a.m. at Washington and Des Plaines and will head east on Washington until it arrives for a victory rally at Grant Park's Hutchinson Field set to start at 11 a.m. The rally will last about 45 minutes.
Officials said those attending the rally can enter the park at Jackson and Michigan or at Congress and Michigan, both of which will have manned checkpoints to search bags. Officials said anyone with coolers, alcohol, backpacks or large bags will be turned away at the rally.
Chicago Police Supt. Garry McCarthy warned revelers not to go north of Washington during the parade due to road closures.
"Friday will be a great day for the Blackhawks fans in the city of Chicago," McCarthy said during the conference, before noting police will have tight security measures in order.
In addition to bag checks, an array of uniformed and plainclothes officers on the streets and bomb-sniffing dogs, McCarthy said CPD will have a zero-tolerance policy for alcohol in the public way to keeping things "family-friendly."
McCarthy and other city officials advised parade and rally-goers to hydrate on a day expected to see temps near 80, though he warned revelers to leave the hooch at home.
"If you're drinking in the street, you will be arrested," McCarthy warned. The city's top cop said the same team that planned the city's NATO response will work on the Blackhawks event Friday.
"There were some folks who jumped barricades in 2010," McCarthy said. "Anyone who goes over them will be arrested. [The barricades] are there for public safety."
Officials also said bomb-sniffing dogs will be out, only as a precaution based on "things we've learned from the past," and not on account of any threat related to the Blackhawks parade.
Officials said to expect "heavy, heavy" traffic and advised people to use public transit.
Earlier on HuffPost:
PHOTOS: 2013 Stanley Cup Final
SUBSCRIBE AND FOLLOW
Get top stories and blog posts emailed to me each day. Newsletters may offer personalized content or advertisements.
Learn more