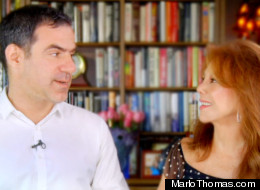 Being flexible and staying alert are key when you're looking to save money on your vacation. When he appeared on Mondays With Marlo, Frugal Traveler columnist for The New York Times Seth Kugel said that you should sign up for airfare alerts and act quickly when deals become available. Cities within your desired country can also be cheaper than more popular destinations. For example, when in France, travel to Toulouse instead of Paris.
For more on Seth's adventures around the world, follow him on Twitter and Facebook.
Click here to watch the full interview.
And for more advice on affordable globetrotting, see Seth's frugal travel tips:

Seth Kugel's Frugal Travel Tips
Take online reviews with a grain of salt. If you keep coming across reviews that say the Wi-Fi signal is terrible in a certain hotel, you can probably assume that it's true. But when it comes to service or cleanliness, the reviews really depend on the individual. For a person who usually stays in luxury hotels, a clean roadside motel may seem filthy. Always compare these reviews with guidebooks and professional reviews from places like Lonely Planet, Fodor's or Frommer's.

The times have changed! Instead of waiting for the best day to purchase plane tickets, be aware of bargains as they pop up. Set up alerts on the major travel websites -- put in your desired airports and you'll get an email when flash sales or windows of good deals pop up. You should also sign up for each of the individual airlines' emails. Luckily, there are not as many airlines as there used to be. If you do need to book on a specific day, do it three to four weeks in advance for the best price.

Don't be surprised by a huge cell phone bill when you return home from an international trip. First and foremost, enable the button on your phone that blocks international roaming. Wi-Fi works without international roaming, so you'll still have Internet access. If you really need to use the Internet and you can't find Wi-Fi, turn the button on and turn it off immediately when you're done.

If you're looking to save money and aren't afraid of taking risks, try booking your hotels through opaque travel sites, like Priceline.com and Hotwire.com. Pick your destination, down to the specific neighborhood, and name the price you're willing to pay. The sites will try to find a match that meets your criteria. Though the process may be a little nerve-wracking, opaque travel sites mostly deal with good, name-brand hotels and can save you up to 50% on your stay.

Consider less touristy entertainment options when traveling abroad. For instance, instead of seeing an international version of a Broadway play, opt for the international off-Broadway version. Use local magazines to navigate the country's cultural offerings -- if they're not in English, you can go to the magazine's website and there will usually be an English option. If not, Google Translate is a valuable tool that can help decipher the basic facts about the attraction or event.

Be flexible and look for deals when you're searching for an affordable vacation spot. Sometimes, certain cities within a more expensive country can be reasonably priced. When in France, fly to Toulouse instead of Paris. University towns are often very affordable, because they're filled with students who are looking to save money.

The safety of a country really depends on how you perceive risk. You can check the U.S. State Department's warnings about the country to see how the government rates it. Oftentimes, the warnings are exaggerated – they'll tell you to avoid the country even if it has minor problems. Go to the equivalent British and Australian sites to compare the warnings, as they're usually less risk-averse. Remember that certain areas within a country may be dangerous, but others could be perfectly safe.

Don't ignore hostels. Sometimes, you can get the equivalent of a pretty decent hotel room at half or a third of the price. Hostels usually cost $20 per night for a shared room, but you can often get a private room for around $50, depending on what country you're in. And don't worry about being surrounded by younger people – they're often fascinated that an older person is staying in the hostel with them and will invite you to join in on their activities.

To avoid crippling jet lag, don't drink on the flight and drink a lot of water while you're in the air. Don't plan too much on the day you arrive – but don't give in to the temptation to take a nap. Try to make it through the first day without napping and you'll adjust to your new time zone much better.

When you're flying domestically, sites like Kayak.com are great bets. Look through a number of price comparison sites to find the best deals in the U.S. But for international flights, these sites don't always show the cheapest options. Instead, use Vayama.com, which is great at identifying the most affordable flights around the world. You should also go to Wikipedia and look up the list of airlines that fly to your destination. Go to the individual websites of these airlines and you'll find the best deals.

To avoid overpaying for goods and services overseas, find out what things are supposed to cost before you go. Guidebooks are great resources and the staff at the front desk of your hotel should also be able to give you a good estimation of how much something should cost. That being said, don't worry if you pay $1.00 more for a meal than the locals – it's part of traveling and not worth stressing over.

Believe it or not, GetARoom.com offers cheaper rates if you call them to book a room, instead of reserving one online. Ask for unpublished rates, which can be around 20% cheaper than those listed on the website.
Add Marlo On Facebook:
Follow Marlo on Twitter:

Weekly Newsletter

Sign up to receive my email newsletter each week - It will keep you up-to-date on upcoming articles, Mondays with Marlo guests, videos, and more!

Sign up here