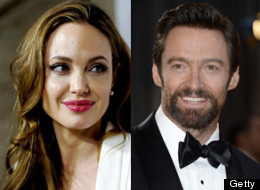 Angelina Jolie is the most powerful actress in America, joined by Hugh Jackman on the men's side. The two superstars topped the list of the Most Powerful Actresses and Most Powerful Actors, published by Forbes this week. (It's unclear what the Forbes metric is for ranking these stars, though the magazine references "power" as the leading source.)
Jolie takes the No. 1 spot on the list, beating out Jennifer Lawrence at No. 2, Jennifer Aniston at No. 3, Kristen Stewart at No. 4, and Gwyneth Paltrow at No. 5; Jackman beat out some big-name actors for his No. 1 spot, including Robert Downey, Jr., Leonardo DiCaprio, Channing Tatum and Dwayne "The Rock" Johnson.
Earlier this year, HuffPost Entertainment (via Statista) revealed that Eddie Murphy was the most overpaid actor in Hollywood, with Katherine Heigl topping the list of overpaid actresses.
For more on the most powerful celebrities, head over to Forbes.
The Richest Self Made Women in America
With now-ex-husband Steve, Elaine Wynn founded a casino empire that included The Mirage, Bellagio, Wynn and Encore resorts, among others.

With late husband Johnnie, Johnelle Hunt founded J.B. Hunt Transport Services in 1969 and grew the company into one of the largest truckers in the nation. Pictured: Jane Hardin, daughter of Johnelle Hunt, accepts a volunteer of the year award from John White, chancellor of the University of Arkansas at Fayetteville on behalf of her mother.

Meg Whitman made her fortune as CEO of online marketplace eBay Inc. After a failed bid for California governor, the tech exec has taken on the challenge of turning around Hewlett-Packard.

In 1979, Judy Faulkner founded electronic health records company Epic Systems, which will be used by over 40 percent of the U.S. population by next year.

Andrew & Peggy Cherng came from China in 1966 and together founded the Panda Express restaurant chain, growing it into a $1.6 billion business that operates 1,500 locations.

Lynda and Stewart Resnick own POM Wonderful, Fiji Water, the flower delivery service Teleflora and some of the nation's largest nut and citrus farms.

The nation's only African-American billionaire, Oprah Winfrey came from meager beginnings to build a television empire with massive influence on what people around the globe read, eat and think.

Marian Ilitch and husband Michael opened a pizza shop in 1959 and grew it into the Little Caesar's Pizza chain.

Diane Hendricks is chairman and co-founder, with late husband Kenneth, of Wisconsin-based ABC Supply, the largest roofing, window and siding wholesale distributor in the country.

Doris Fisher and her late husband Donald founded the Gap in San Francisco in 1969. Gap Inc. has grown to include Banana Republic and Old Navy brands, among others, and operates over 3,000 stores across the world.

Gayle Cook and her late husband, William, created the medical device company Cook Group in Indiana in 1963. Gayle continues to serve on the board. (Chris Howell, Hoosier-Times, Inc.)

Immigrating from South Korea in 1981, Jin Sook and husband Do Won created the Forever 21 clothing chain, which now spans nearly 500 stores. The couple is No. 79 on this year's Forbes 400 list of richest Americans.