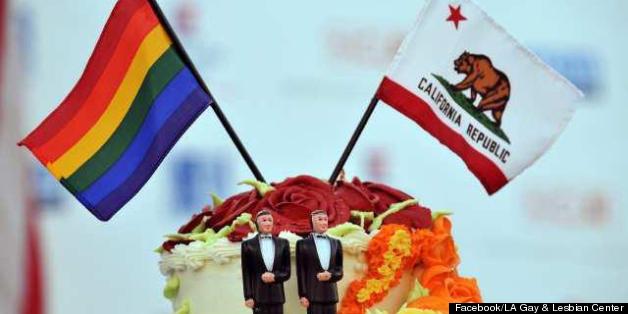 "A grievous wrong has finally been righted," Lorri Jean, CEO of the LA Gay & Lesbian Center, said in a statement. "Justice has prevailed and the freedom to marry for California's same-sex couples has been restored. Now no one can take it from us!"
The Supreme Court decision makes California the 13th U.S. state where same-sex couples can marry. One Angeleno tweeted a message to those states that still hadn't granted equal marriage rights:
As a Californian, I'd like to make a deal with the Red States: You give us your gays, and we'll give you everyone who voted for Prop 8.
Despite renewed threats from ProtectMarriage, the sponsors of Proposition 8, it appears that gay marriage is now secure in California.
"Supporters of Prop 8 will try to argue that Judge Walker's ruling [that Prop 8 is unconstitutional] is limited to the two couples [in the case]. But that was not his order and no one challenged it," UC Irvine Law School Dean Erwin Chemerinsky said to HuffPost. "My sense is that Proposition 8 is now unconstitutional and same sex couples will be able to marry."
"I think within a couple of months gay marriages can begin in California," Chemerinsky said.
"I would expect to see them by the end of the summer, and quite possibly sooner," John Culhane, professor at Widener University School of Law, said to HuffPost. "Today's decision is just catching up to where people are in the country's most populous state."
• States that have legalized same-sex marriage: 12 plus Washington, D.C.
• Same-sex couples living in California: 98,153
• Same-sex couples raising children: 15,698
• Same-sex couples who identify as spouses: 28,312
• Percent of CA voters who chose "yes" on Prop 8 in 2008: 52.3
• Percent of CA voters who support same-sex marriage in 2013: 61
Check out LA's reaction on Twitter to the ruling:
Angelenos React To Prop 8, DOMA
SUBSCRIBE AND FOLLOW
Get top stories and blog posts emailed to me each day. Newsletters may offer personalized content or advertisements.
Learn more