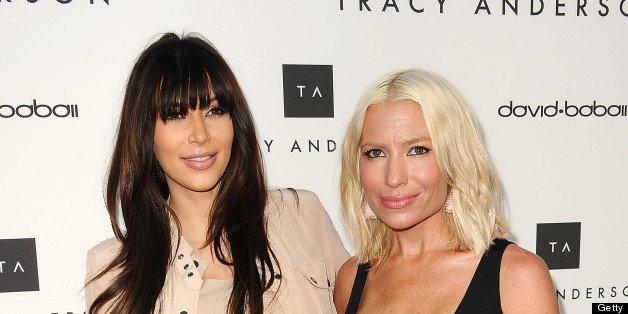 Tracy Anderson tells Us Weekly that Kardashian, who gave birth to daughter North West on June 15, is taking some time to be in mommy-mode before hitting the gym hard to regain her famous figure.
"It's a tough time, and a lot of women feel like it's a huge mountain to climb to get back, but Kim, surprisingly, has had the totally opposite reaction to other moms," Anderson tells Us. "She's like, 'We're going to be so good. It's fun, I feel great!' She just loves the whole process. From our talks during her pregnancy, I thought she was going to be really concerned [about her weight] once the baby was out, but she's just not," Anderson adds. "She's in baby heaven. She's excited to get started, but she's really calm about it all."
Reports have been flying that Kardashian wants to shed 30 pounds in 30 days, but Anderson's comments make us believe otherwise. The fitness guru, who trains Gwyneth Paltrow and Jennifer Lopez as well, is going to wait at least five weeks before getting Kardashian to work on strengthening her "abdominal muscles." She'll start the 32-year-old off with four-day-a-week workouts before moving toward five or six days.
"Kim is super motivated. She's all in," Anderson admits. "Pregnancy is actually an opportunity for women to look better than ever. And [Kim] will."
Also on HuffPost:
Before/After Pregnant Stars
SUBSCRIBE AND FOLLOW
Get top stories and blog posts emailed to me each day. Newsletters may offer personalized content or advertisements.
Learn more