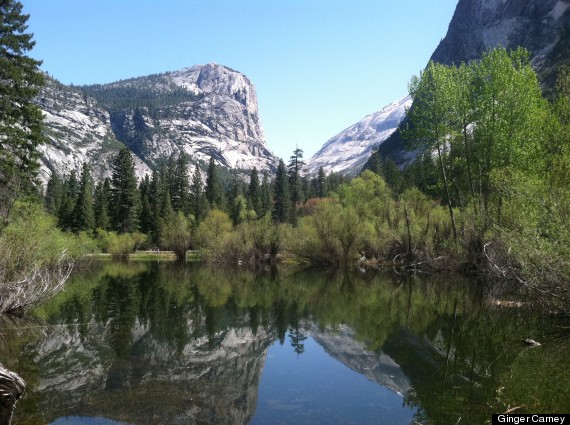 This week's Moment of Travel Zen comes to us from Ginger Carney, a soon-to-be travel blogger, of Mirror Lake in Yosemite National Park.
"The serenity and quiet was only momentary as I sat out on a promontory 20 feet off the shore at Mirror Lake. I was immensely grateful to be able to walk on my own two feet and carefully maneuver myself out onto this spot for quiet reflection. I took a few moments, sat there contemplating the turns my life had taken in the previous 6 months. Recovering from a broken leg and ankle, confined to a bed, wheelchair or on crutches for 3 months, then 3 more months of physical therapy to learn how to balance again was painstaking and painful. I felt a quiet triumph settle over me, having walked the mile from the accessible parking near the bathroom on a trail which was somewhat uneven at times. Many trails in Yosemite are paved, but this wide, popular trail presented challenges to my psyche and my ability to slowly plod on over rough conditions, with a press of other people quickly passing me. All the difficulty I had to overcome melted away upon reaching the end and seeing the breath taking magnificence of the back side of Half Dome looming over this still lake. Victory!"
Where have you traveled for a moment of zen? Email travel@huffingtonpost.com with your travel zen or submit below.
Look: America, The Beautiful
The Bixbee Creek Bridge on CA-1 Highway in Big Sur, is one of the marvels of Architecture and human Triumph over the nature to connect two hills and pave a way for such spectacular scenic drive. -Samyak Kaninde http://www.samyakkaninde.com/

Horse Tail Falls is a yearly phenomena that occurs in Yosemite National Park where the sun is at a perfect angle to light up (or fire up) the small fall making it a completely spectacular sight to see. -Samyak Kaninde http://www.samyakkaninde.com/

Shot this last month. I still get goosebumps when I see this island that I call home. -Ashley Instagram: nyroamer

One of the most fascinating moments of my life! A humpback whale, feet from us! Everyone stepped back on our small little boat, when it appeared...shocked and a little uneasy (including my brother, the DAREDEVIL). But, me...I ran towards this giant! -Ashley Instagram: nyroamer

Southern tip of Manhattan -Ashley Instagram: nyroamer

Another walk into a Monet painting -Ashley Instagram: nyroamer

All depends on your perspective. -Ashley Instagram: nyroamer

-John Beeler

My husband and I took a trip to Yosemite in April. It was a great trip, just 4 nights, we stayed just outside the park near Groveland and travelled in each day. I broke my leg and ankle in November last year so it was a great place to visit that had many accessible trails. We were even able to see the "moonbow" at Yosemite Falls in the light of the full moon. The path was paved and I rode a little "knee scooter." All in all a beautiful, inspiring experience, without the vast multitudes of crowds that are surely there now. -Ginger Carney The Veracious Voyager @truebluegin

And to see our past featured Moments of Travel Zen...
-Casi http://heynoobz.com/

The Picture was taken in March at Big Maho Bay, St John, USVI -Robin Andersen @TravelRobin www.travelingwild.org

-Abby O'Neal

-Abby O'Neal

-Abby O'Neal

From April 2013. Rio mar beach resort and spa, Puerto Rico. -Erika Fields

From April 2013. Rio mar beach resort and spa, Puerto Rico. -Erika Fields

-Carol Marks http://girlgadabout.com http://editorialistblog.com

-Casi http://heynoobz.com/

-Charles Wolfe http://followmeroaming.wordpress.com/

-Charles Wolfe http://followmeroaming.wordpress.com/

-Charles Wolfe http://followmeroaming.wordpress.com/

-Charles Wolfe http://followmeroaming.wordpress.com/

-Charles Wolfe http://followmeroaming.wordpress.com/

-Charles Wolfe http://followmeroaming.wordpress.com/

-Charles Wolfe http://followmeroaming.wordpress.com/

-Charles Wolfe http://followmeroaming.wordpress.com/

-Charles Wolfe http://followmeroaming.wordpress.com/

-Charles Wolfe http://followmeroaming.wordpress.com/

-Charles Wolfe http://followmeroaming.wordpress.com/

-Charles Wolfe http://followmeroaming.wordpress.com/

-Charles Wolfe http://followmeroaming.wordpress.com/

-Charles Wolfe http://followmeroaming.wordpress.com/

The beach is called Santai Beach. Santai means relax :) enjoy! -Priskilaka Stanya

-Miranda Carruthers http://www.endlesslychanginghorizon.com

-Casi http://heynoobz.com/