Bill Cosby's sweaters are an American treasure. For eight years on "The Cosby Show," Cliff Huxtable redefined '80s (and future ironic hipster) style with fantastic, ridiculous and transcendent knit garments that have left a lasting cultural legacy.
Now, Bill Cosby's official website has launched an online tournament to anoint the greatest Cosby sweater of all-time. In an online bracket comprised of 32 sweaters in 4 divisions (The Cardigans, The Pullovers, The Argyles, and The Cashmeres), fans can vote for their favorite Cosby sweater ever.
The sweater tournament has 5 rounds, whose names are reminiscent of the rounds of the NCAA basketball tournament: The Crew 32, The Sweat 16, The Fleecy 8, The Warmest 4 and The Champion Stich.
Voting is currently in The Crew 32 stage, and will advance to the Sweat 16 in less than two days. Check out the bracket below, and head over to BillCosby.com to get your votes in now!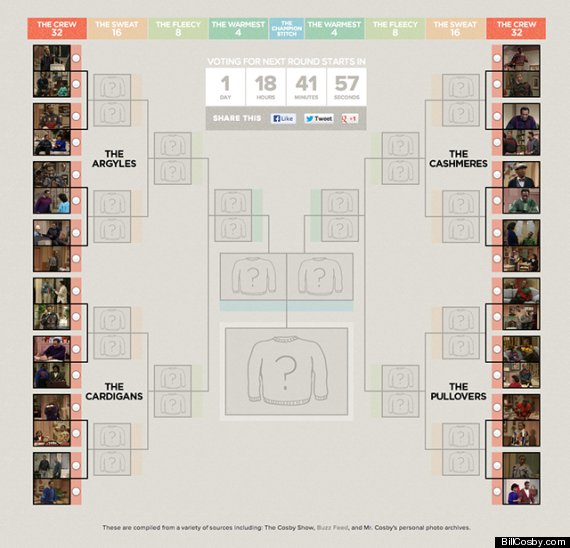 Loading Slideshow
Throughout his extensive line of work in comedy, writing, and acting, Cosby has always placed childhood at the center of his work. "What do I need if I am a child today? I need people to guide me. I need the possibility of change," Cosby said in a <a href="http://www.theatlantic.com/magazine/archive/2008/05/-8216-this-is-how-we-lost-to-the-white-man-8217/6774/" target="_hplink">2008 interview with <em>The Atlantic</em>.</a> "I need people to stop saying I can't pull myself up by my own bootstraps. They say that's a myth. But these other people have their mythical stories -- why can't we have our own?"

"The lower-economic and lower-middle-economic people are not holding their end in this deal," said Cosby, during his controversial "Pound Cake" speech at an NAACP awards ceremony in 2004.

"These are people going around stealing Coca-Cola. People getting shot in the back of the head over a piece of pound cake," said Cosby in his infamous 2004 "Pound Cake" speech. "Then we all run out and are outraged: 'The cops shouldn't have shot him.' What the hell was he doing with the pound cake in his hand?"

"Are you not paying attention, people with their hat on backwards, pants down around the crack?" Cosby asked audiences during his 2004 "Pound Cake" speech. "Isn't that a sign of something, or are you waiting for Jesus to pull his pants up?"

"My problem is I'm tired of losing to white people. When I say I don't care about white people, I mean let them say what they want to say," said Cosby while addressing his alma mater, the University of Massachusetts. "What can they say to me that's worse than what their grandfather said?"

"We are not a pitiful race of people. We are a bright race, who can move with the best. But we are in a new time, where people are behaving in abnormal ways and calling it normal," said Cosby, speaking at Detroit's St. Paul Church in 2007. "When they used to come into our neighborhoods, we put the kids in the basement, grabbed a rifle, and said, 'By any means necessary.'"
Related on HuffPost: