Los Angeles bakeries are jumping to fill the cronut-shaped holes in our heart with their own versions of the trademarked pastries.
The most recent LA shop to try their hand at New York chef Dominique Ansel's flaky, deep-fried dessert is the donut franchise Spudnuts in Canoga Park. The shop, which started selling their "doughssants" last weekend, only made enough to sell them on Saturdays and Sundays, reports Eater LA, and they've been selling out in about 90 minutes.
To keep up with demand, Spudnuts confirmed to HuffPost that it is going to start selling them on Fridays too, starting at 8 a.m. Here's a photo of the doughssant from Spudnuts' Facebook page: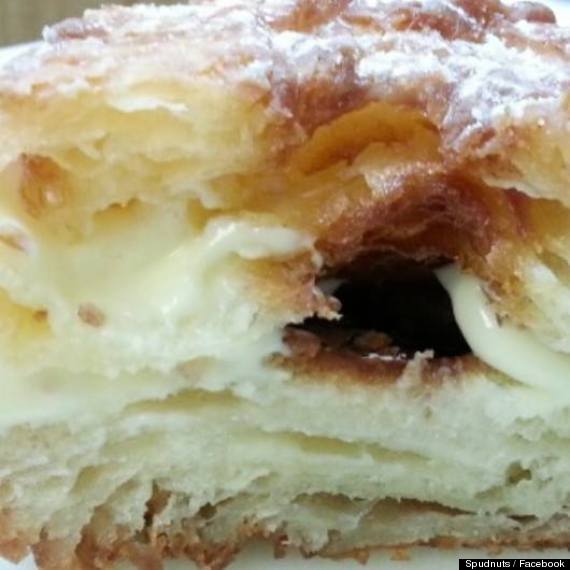 The doughssants cost $3 and come in two toppings: chocolate hazelnut or powdered sugar. Both types are filled with whipped custard.
If Spudnuts is too much of a trek for you, there are few other bakeries with their own cronut knockoff.
In downtown LA, Semi Sweet Bakery is selling their "crullant" at $3.95 every day, starting at 8 a.m. Unlike cronuts, Semi Sweet's crullants are baked, not fried. And for now, they're also forgoing the custard filling, notes the Los Angeles Times.
Another downtown LA bakery, Frances Bakery & Coffee in Little Tokyo, is selling chocolate, strawberry, lemon custard or cream flavors of their cronut knockoff, notes Eater LA.
Tony's Donut House in Huntington Park is also selling a bunch of different versions: CroNut ice cream sandwiches, bananatella CroNuts, Boston CroNuts and filled CroNuts, to name a few. We doubt that playing with letter capitalization will help Tony's avoid a cease-and-desist letter from Ansel, who has trademarked the name, so hopefully they can come up with a better term for their cronut riffs.
Here's a photo of the CroNuts from Tony's Donut House: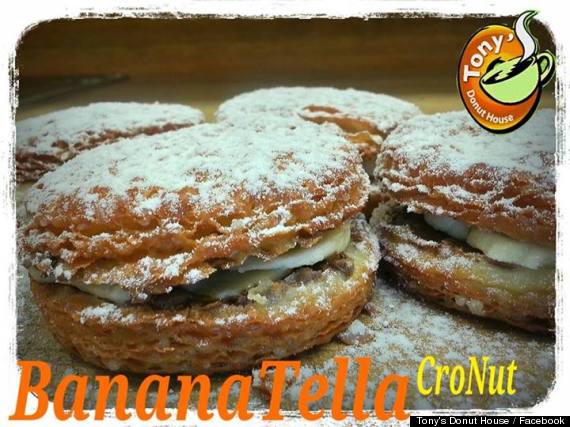 For those who have been living under a pastry-less rock this past spring, cronuts are the crossaint-donut hybrid taking New York by storm. Invented by chef Ansel, the desserts are filled with flavored pastry cream and topped with glaze. They go for about $5, but because Ansel can only make a limited supply every day, customers are limited to just two and the treats sell out every day, just minutes after the bakery opens. New Yorkers or tourists have only a few choices: wait in line for at least two hours, buy cronuts from scalpers at marked up prices or shell out $100 per cronut to get them delivered.
Of course, you could always try to make them at home yourself.
Have you tried the original cronut from the Dominique Ansel Bakery in New York, or any of these cronut imitators? Let us know how they are in the comments below.
Also on HuffPost:
Loading Slideshow
Dominique Ansel Bakery

At 6 a.m. on a June Wednesday, a line began to form outside Dominique Ansel Bakery in Manhattan. By 6:30 a.m., it stretched down the block.

The Cronut Craze

People are waiting to buy "cronuts," the croissant-doughnut hybrid that has become New York's latest food craze.

Tired Customers

Tired customers take a break from standing.

The Bakery Opens

Renowned pastry chef Dominique Ansel opens the doors to his bakery at 8 a.m.

Customers File Into The Bakery

"I read a post on the Trump Soho's Facebook page," says Jisoo Oh, a tourist from South Korea. "It said cronuts were to die for ... so I had to try it."

Cronut Scarcity

The bakery produces a limited number of cronuts each day. Ansel told <a href="http://nymag.com/daily/intelligencer/2013/05/cronut-business-has-a-scaling-problem.html" target="_blank">New York Magazine</a> that he does not want his bakery to become a "cronut store."

Dominique Ansel Bakery Employees

Employees help prepare pastries for the influx of customers.

Cronuts

Cronuts cost $5.00 each.

Pastry Chef Dominique Ansel

Ansel helps prepare orders for customers.

Customers Try A Cronut

"Sugary," says one woman trying the lemon-maple flavor.

Worth The Wait

"I once waited in line for nine hours to see Liza Minelli," says Emily Oakley (left). "This is nothing."

Cronut Scalpers

Moments after purchasing four of the flakey treats, Joe and Danny Bird were approached by a woman who wanted to buy them. They flipped the pastries for $20 a piece.