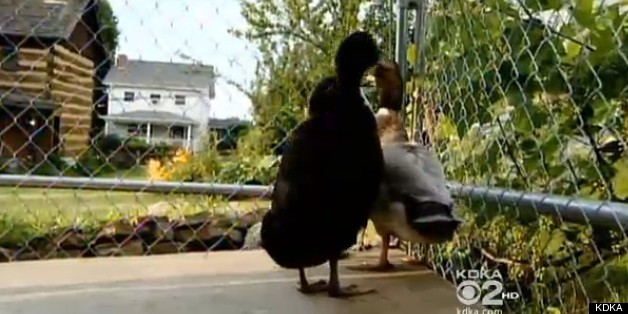 This law is for the birds, according to a Pennsylvania man facing steep penalties for his pet ducks.
Authorities are threatening James Kistler of Delmont, a town east of Pittsburgh, with fines of $500 per day because his four pet birds violate local zoning rules, reports TV station KDKA. He got his first warning in May.
Owners cannot keep swine, goats, sheep, insects, reptiles having a venomous or constrictor nature, bovines, quadrupeds and poultry -- such as ducks -- in the living quarters of a residential structure.
To Kistler, it's a bird-brained rule that says his blue Swedish ducks -- named Larry, Curly, Moe and Fred -- have to go.
And talk about a big duck bill; if Delmont officials impose the penalty it will quickly cut into Kistler's nest egg.
But he and his wife Dawn decided to fight for their fine-feathered friends, Fox News reports. They're going to file a $400 appeal which they hope will allow the ducks to continue to live in their backyard in a large cage and wooden birdhouse.
Town officials have not commented about Kistler's case.
"It's not easy to deal with," Kistler told FoxNews.com. It is absolutely ridiculous. I am very upset about it."
SUBSCRIBE AND FOLLOW
Get top stories and blog posts emailed to me each day. Newsletters may offer personalized content or advertisements.
Learn more