5 Ways Thomas Jefferson Changed Our Homes, Inside And Out (PHOTOS)
July 4th marks two Thomas Jefferson-centric anniversaries: The ratification of the Declaration of Independence in 1776 and Jefferson's death in 1826. In between those events, Jefferson became the Governor of Virginia, an author, a member of the Continental Congress, minister to France, Secretary of State, Vice President, President and founder of the University of Virginia. In his negligible amounts of downtime, he invented and innovated, especially around his main home, Monticello.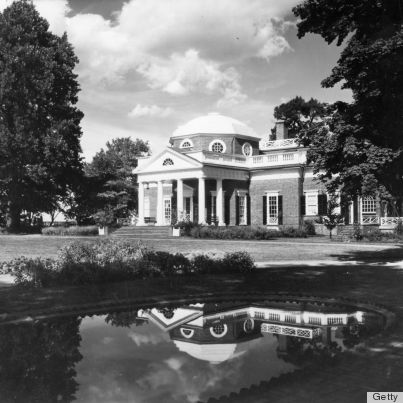 Jefferson had strong opinions on design, especially when it came to our homes. He believed that good design could influence citizens and that a national architectural style communicated independence from Europe. As a result, many of his ideas changed the way people lived then -- and even now. Here are a few things we can thank Jefferson for:
- Swivel Chairs
Not just a comfortable way to get through one's workday, but an invention of Jefferson's. We're sure he would be appalled by those weird "balance balls" that many of our coworkers sit on.
-Space-Saving Furniture
Jefferson thought of furnishings as a waste of space. His dining room table was designed to be fold away when not in use, while beds were often positioned in alcoves.
-Skylights
A concept imported from France, along with floor-to-ceiling windows and far too many assumptions about his fellow countryman's expectations about design.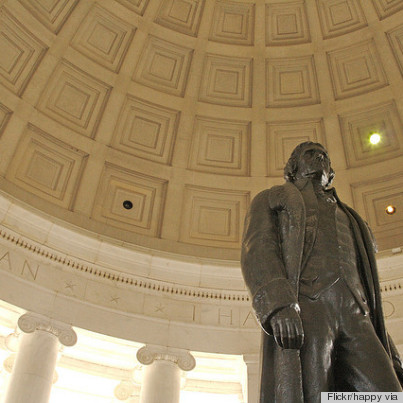 -Interesting Ways To Transport Wine
Want to transport wines from one area of the house to the other, without calling upon a small army of your servants? Enter the dumbwaiter, which relies on a pulley system to move the items in question.
-Vegetable Gardening
Jefferson grew over 330 types of vegetables on his estate, obsessively monitoring the best ways to grow them.
Thomas Jefferson might have approved of these latest home gadgets.
PROBLEM: There's dog poop all over the yard, and you're not looking forward to picking it up. SOLUTION: Try the Pooch Power System, a vacuum that sucks up pet waste.

PROBLEM: You have a huge window that's difficult to clean. SOLUTION: The Winbot Window Cleaning Robot will scroll across the glass, even where you can't reach, and get it sparkling. Watch the video for more info.

PROBLEM: You're having a get-together, but those typical red plastic cups just won't cut it for your festivities. SOLUTION: Check out the options by Red Cup Living, which diversifies the classic party staple line with designs for coffee, wine, martinis and more.

PROBLEM: You have an entire Girl Scout troop coming over in an hour and you forgot to make snacks. SOLUTION: This Popcorn Baller will help you make adorable treats in fun shapes.

PROBLEM: Your glassware has spots from the dishwasher, but you can't reach them with a sponge. SOLUTION: This Magnetic Spot Scrubber allows you do drap the wand on the outside of your vessels, so the scrubber will reach those hard-to-get-to spots.

PROBLEM: You're having an impromptu picnic, but have no place to toss your garbage. SOLUTION: Hang the Trash-Ease, a clip that will cling to any table edge and holds a trash bag open for easy use.

PROBLEM: You's like to tote a bottle of wine to a friend's housewarming party, but have nothing to bring it in. SOLUTION: Use a Bottle Net , a woven felt mat that expands and wraps around a bottle, making a funky carry-all.
Have something to say? Check out HuffPost Home on Twitter, Facebook, Pinterest, Tumblr and Instagram.
**
Do you have a home story idea or tip? Email us at homesubmissions@huffingtonpost.com. (PR pitches sent to this address will be ignored.)