Between suit-wearing twenty-somethings who take their jobs too seriously and hemp-wearing twenty-somethings who perhaps don't take their jobs seriously enough, avoiding annoying young people in your city, if you're so inclined, isn't easy. Finally, Yelp has a new tool to pinpoint these two opposite types of urban young adults: yuppies and hipsters.
With its "Wordmap" tool, the online review site has mapped out precisely where a series of keywords that appear in reviews for businesses -- like "pricey," "patio" and "PBR" -- occur in 14 different cities. We looked at how reviews mentioning "hipsters" and "yuppies" were distributed around the most prominent U.S. metropolises. (You can check out all the cities here.) Though both hipsters and yuppies are young, they tend to frequent different neighborhoods.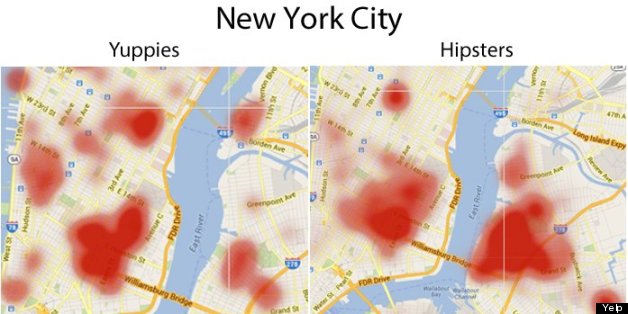 As The New York Times (and pretty much everyone else) have pointed out ad nauseum, New York's hipsters generally reside in Williamsburg, Brooklyn. There is also an abundance of hipster joints in the East Village, and a curious pocket of hipsterdom in normally uptight Midtown. Yuppies tend to hang out in NoHo, Nolita, Hell's Kitchen and Murray Hill -- but watch out, hipsters. Yelp's data shows yuppies are encroaching into Williamsburg.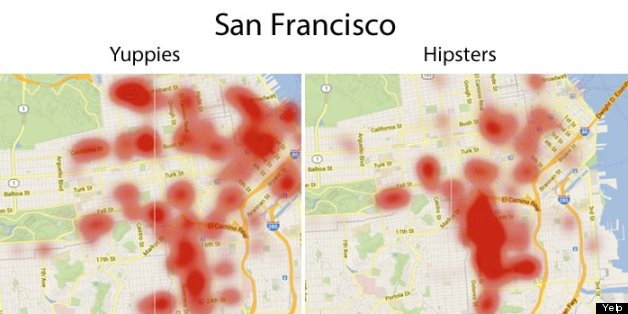 In America's high-income, high-tech hub, yuppies are pretty much everywhere. They're in the Marina, Pacific Heights and the Financial District, but they're also creeping into San Francisco's No. 1 hipster den, the Mission. The hipsters are sticking together in the Mission, no doubt trying to fend off the briefcase-carrying invaders.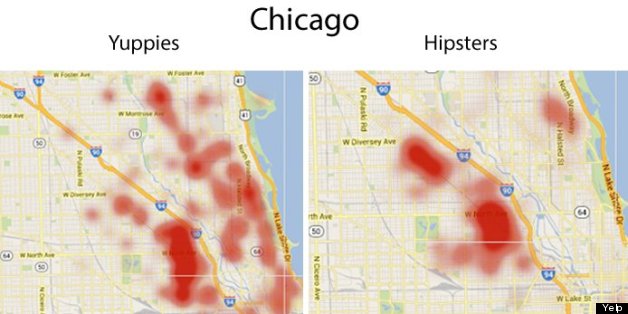 Chicago's hipsters have two main bunkers: Wicker Park and Logan Square. The yuppies, as per usual, are more spread out. Their hangouts are in Wicker Park, Lincoln Park, Roscoe Village and Ravenswood.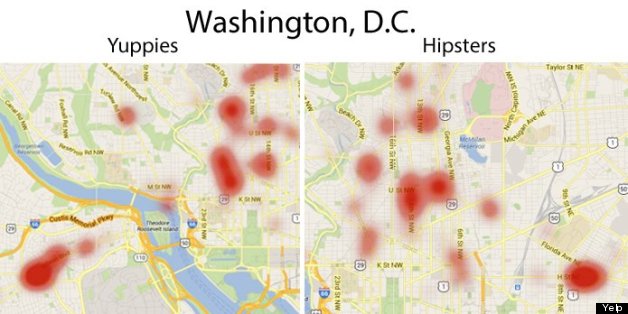 There's been a rigorous debate about exactly how "hip" D.C. is, but at the very least Yelp reviewers are comfortable calling many of the capitol's bars and restaurants "hipster." Hipsters' No. 1 area is H Street, named America's sixth hippest neighborhood by Forbes last year, and they also venture to the U Street neighborhood. Many of the yuppies, on the other hand, are all the way out in Arlington, Va., home of the Pentagon and presumably many of the straight-laced military types who work there. They also hang out around in Dupont Circle and Adams Morgan.
Earlier on HuffPost:
Loading Slideshow
Yelp Calls Lying "Personal Opinion"

A blog post on the SFWeekly website this week brought <a href="http://blogs.sfweekly.com/foodie/2011/09/yelp_lying_about_working_for_s.php" target="_hplink">a troubling Yelp-related incident</a> to light. A Yelper claimed, falsely, to be a writer for SFWeekly in a restaurant review. <em>SF Weekly</em>'s Food editor caught the lie and contacted the reviewer; she admitted that she actually wrote for <em>SF Weekly Voice</em>, and said she'd ask Yelp to change the review. But the website refused to amend the review -- a representative told SF Weekly that the lie in question was "personal opinion."

Yelp Is Known To Be An Outlet For Shilling

So many restaurateurs and publicists post glowing reviews of their own restaurants that Eater has a whole column dedicated to <a href="http://ny.eater.com/tags/adventures-in-shilling" target="_hplink">sniffing out shilly reviews</a>.

Yelpers Are Totally Anonymous

People do all sorts of weird things when they know they're unidentifiable -- which can throw off the average on sites like Yelp, which rely on the forthrightness and honesty of strangers.

Yelpers Can Rate Restaurants They Haven't Visited

Because of said anonymity, there's not even any guarantee that a Yelper has visited the restaurant they're reviewing. One infamous case of this sort of fraud took place in Graham Elliott's <a href="http://www.grahamwich.com/" target="_hplink">Grahamwich</a> restaurant in Chicago -- one Yelper gave it <a href="http://eater.com/archives/2010/09/01/graham-elliots-grahamwich-gets-negative-yelp-review.php" target="_hplink">a vicious one-star review before it even opened</a>.

Yelp Sorts Its Reviews In Mysterious Ways

Yelp has been <a href="http://techcrunch.com/2010/02/24/yelp-class-action-lawsuit/" target="_hplink">criticized in the past for the byzantine methods</a> it uses to sort reviews on a given restaurant's page. According to the site's FAQ, <blockquote>"Yelp's default sort order takes a number of factors into account and reflects our own attempt to present reviews in a meaningful order. For example, we'll favor reviews from your friends and the users you follow. The sort algorithm does not take into account whether the business is an advertiser or not."</blockquote> Thanks, Yelp. That clarifies literally nothing.

Yelp Bullies Restaurants

According to some reports, the "Yelp sort" has an insidious monetary element. Yelp salespeople have been known to<a href="http://www.eastbayexpress.com/ebx/yelp-and-the-business-of-extortion-20/Content?oid=1176635" target="_hplink"> call restaurants offering to push bad reviews far down in the list</a>, if they'll agree to pay to advertise.

Yelp Doesn't Give Guidelines About Stars

There are no guidelines on Yelp for what different star ratings mean -- one person's five star experience could be a jaded gastronaut's three star. Yelp does release the distribution of stars actually given out -- and they're definitely slanted toward the positive.

Only A Tiny Minority Of Yelp Users Rate Restaurants

Many more people <a href="http://bits.blogs.nytimes.com/2008/05/12/why-yelp-works/#?wtoeid=growl1_r1_v5" target="_hplink">read Yelp than actually write reviews</a>. Most reviewers fall into two categories: people who review every restaurant they visit (see the next slide for more on the "Yelp Elite") and those who have an extreme reaction. People probably won't review a restaurant if they thought it was just OK -- but they are likely to review it if they have very good or very bad experiences, making it hard to trust any given review.

Restaurants Throw Special Parties For The "Yelp Elite"

If you're one of those people who writes a Yelp review of every nail salon and yakitori joint you visit, you can become part of the "<a href="http://www.yelp.com/elite" target="_hplink">Yelp Elite</a>." Once you're part of this creme-de-la-creme, you can get invited to <a href="http://www.msnbc.msn.com/id/43344769/ns/business-local_business/t/yelps-elite-epicurean-force-totally-free-labor/" target="_hplink">special "Elite-only" parties that restaurants</a> throw to attract good reviews. Sounds nice, right? It may be, for the "Yelp Elite" -- but it's bad for the general public, because these events often translate into glowing, misleading reviews for the party-throwing restaurants.