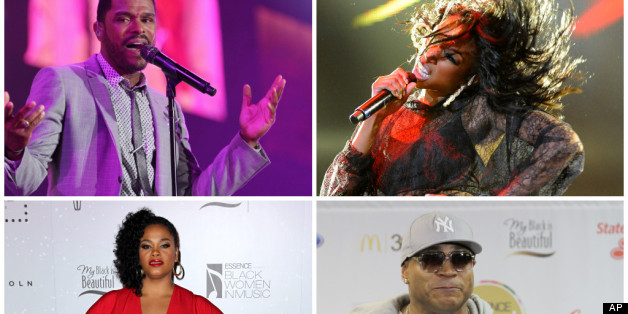 NEW ORLEANS -- As the concert portion of the 2013 Essence Music Festival kicked off on Friday night, The Huffington Post was live on hand to take in one of the country's most important -- and fun -- festivals.
Brandy, LL Cool J, Jill Scott, and Maxwell got the party at Essence Fest started right with four stunning performances.
Brandy, whose first album came out almost twenty years ago, kicked things off with awesome renditions of her classics. From some of her earlier hits like "I Wanna Be Down, and "Sittin Up In My Room" to the more recent "Two-Eleven" offerings, Brandy's show did more than just warm up the crowd.
While she clearly has plenty of hits of her own, the highlight of her show was without a doubt the three song medley she did covering her favorite Whitney Houston tunes. No one will ever be able to perform "How Will I Know," "I Wanna Dance With Somebody," and "I'm Your Baby Tonight" better than the legend who originated them, but based on the crowd's excited reaction, Brandy did a great job paying tribute.
Next up, LL Cool J brought a rare bit of Hip-Hop to the mostly R&B/Soul music festival with an hour long set of rap classics. Backed by super-dj, Z-Trip, LL's set kept the crowd on its feet the entire time. There aren't many DJ's that can keep up with the pure, unadulterated energy LL puts into his performance, but Z-Trip, the 2009 recipient of America's Best DJ award, matched LL's energy with masterful precision and technique on the ones and twos. Together, the legendary DJ and rapper brought new life to LL's "I Need Love," "My Radio," "Doin' It," and "Loungin'."
In an unexpected twist at his set's denouement, LL brought out Eric Sermon and Parrish Smith -- better known as EPMD -- for a bit of a reunion as they performed their 1990 collaboration, "Rampage." In one of the night's more fun moments, LL also brought 10 women from the crowd onto the stage to participate in a little dance off as the Commodores' classic "Brickhouse" blared through the Super Dome speakers. LL ever-graceful, hugged, kissed and thanked each individually as they exited the stage, demonstrating how he earned the "Ladies Love" portion of his name.
Only at Essence Fest could the kinetic enthusiasm LL brought to the stage be followed by the smooth, sultry stylings of Jill Scott without missing a single beat. Jill's performance, while decidedly less bombastic than LL's, provided a wonderful, and necessary, change of pace for the audience.
With her hometown Philadelphia's skyline as her set's backdrop, Jill weaved a loose narrative with the themes of songs like "A Long Walk," "Golden," and "He Loves Me," to create an immersive experience for the audience. She'd pull the crowd in with the story-telling and then blow their minds with her soaring vocals. And while Jill's aura kept the audience transfixed, nearly to the point of hypnosis, her set's highlight came when she and her back-up singers switched places to perform the H-Town classic "Knockin 'Da Boots".
But this night belonged to Maxwell. The crowd gasped a bit as the singer almost took a spill coming down the stairs at the show's start, but that slight misstep was but a minor imperfection in an otherwise perfect show. From the set's beginning until its end, the audience sang along to every note, every lyric, and every riff as the 40-year-old balladeer performed some of his biggest hits and crowd favorites. There aren't too many things in life similar to hearing a stadium full of people attempting their best falsetto as Maxwell leads the way singing "This Woman's Work," the Kate Bush classic he gave new life to.
Maxwell teased the audience a bit as he transitioned from the last few bars of "Sumthin' Sumthin'," into the first few classic bars of "Ascension" only to abruptly stop just as the crowd picked up the song. "Y'all want that?" he asked. "I got something better," he responded as he dove right into "Fortunate." Saved for the show's end, Maxwell turned the mic to the crowd, motioned for the band to stop playing, and let the crowd sing acapella the first verse of his biggest hit, the aforementioned "Ascension." The singer took a bow after that and exited the stage only to return for an encore performance of yet another crowd favorite "Pretty Wings."
As the crowd spilled out of the Superdome onto New Orlean's Poydras Ave. everyone seemed to be singing the tunes of one of the most legendary artists to take the stage. And to think - this was only the first night's performances at the 19th annual Essence Music Festival.
The Huffington Post's Jermaine Spradley (@MrSpradley), Julee Wilson (@MissJulee) and Jessica Anderson (@MrsJessCC) live tweeted last night's show. Check out some of their real-time thoughts below and check back for more updates on Essence Fest 2013:

Brandy, LL Cool J, Jill Scott, And Maxwell Shine At Essence Music Fest
SUBSCRIBE AND FOLLOW
Get top stories and blog posts emailed to me each day. Newsletters may offer personalized content or advertisements.
Learn more