Well, that's one way to celebrate the 4th of July!
Former playmate Kendra Wilkinson stripped down in salute last Thursday in Big Bear Lake, Calif. as she went skinny dipping with her girlfriends. But it wasn't only America's birthday Wilkinson was celebrating, but her friend's 30th as well.
Lucky for us, we got a photo out of it (NSFW, below) which shows Kendra and a friend in cheeky undies, ready to hop in the water.
Wilkinson first came to public attention as one of Hugh Hefner's many girlfriends, and she stayed in the spotlight following their split by starring in her own reality series and marrying NFL footballer Hank Baskett III. Recently she made headlines for quitting the diving show competition "Splash," and for publicly expressing her desire to expand her family of three (Kendra and Hank have one son).
"Right now, we found the key to happiness," the 28-year-old told People magazine. "We have the key to marriage, we have the key to parenting, why not right now bring a new life into this world while we're happy. It just makes sense."
PHOTO: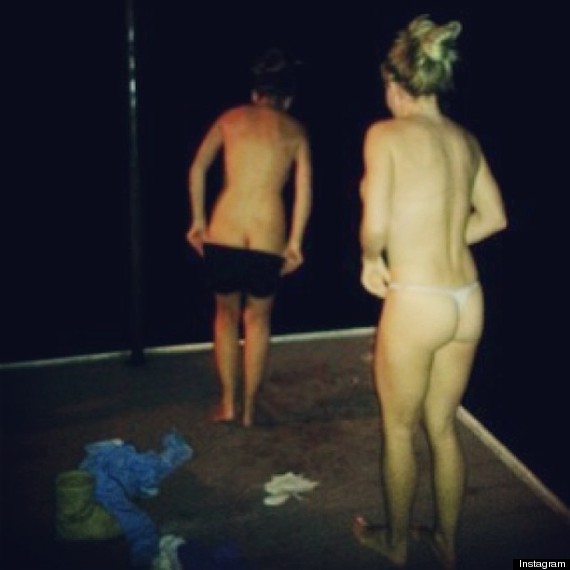 Also on HuffPost:
Loading Slideshow
2004

2004

2005

2005

2005

2005

2006

2006

2006

2006

2006

2006

2006

2006

2007

2007

2008

2008

2008

2008

2009

2010

2011

2011

2011

2011

2012

2012

2012

2012

2012

2012

2013

2013

Kendra Wilkinson Hospitalized Following Car Accident

Kendra Wilkinson is hospitalized following a car accident. Former Playboy playmate Kendra Wilkinson recently landed in the hospital. The 27-year-old mom and wife reportedly got into a bad car wreck in Los Angeles. She was seen going into a nearby medical center on April 21st. She was discharged not long after her arrival, but she was said to be extremely sore and in shock following the accident. However, the medical staff determined her injuries were not serious and that she had no broken bones.