Our beauty IQ got quite the boost when we bumped into Stephanie Pizzo on the street. The baby-faced teacher recently returned from Seoul, South Korea, where she was giving private tutoring lessons to adults. But she divulged all of her secrets to us for free.
Pizzo's pared-down beauty look is built on tried-and-true skincare products. She uses an all-natural turmeric soap to cleanse her face, and cocoa butter keeps her lips moisturized. Mineral face powder and a Korean brand of mascara (check out those lashes!) add the finishing touches.
As far as hair care, Pizzo reaches for a men's styling cream to achieve a "natural-looking hold" with her boyish haircut. And she mixes up her own shampoo at home. Pizzo explained, "Just take a little scoop of baking soda and scrub it in your hair and rinse it out with apple cider vinegar when you're in the shower. Then, you can follow it with an essential oil if you want to smell good." Duly noted.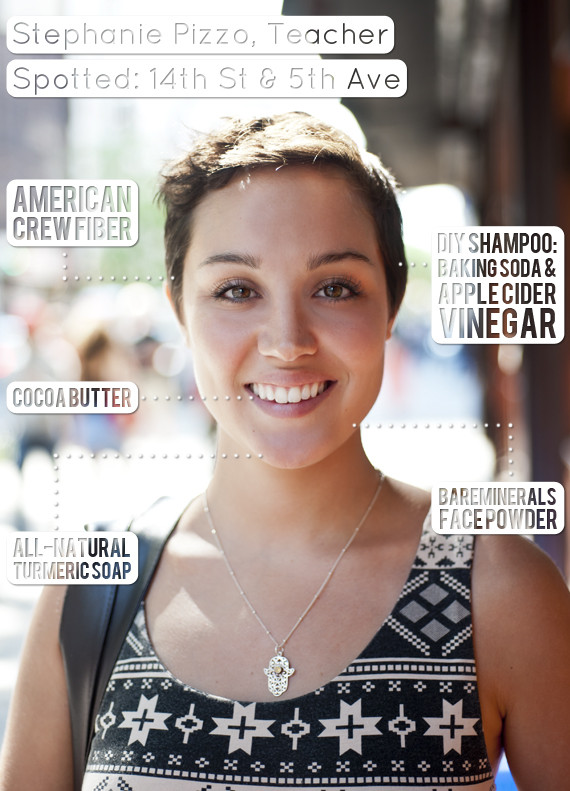 Photo/Art: Raydene Salinas
Loading Slideshow
Auromere Ayurvedic Bar Soap Sandalwood -Turmeric

$2, <a href="http://www.drvita.com/p-12294-auromere-ayurvedic-bar-soap-sandalwood-turmeric-275-oz.aspx?CAWELAID=1916423419&catargetid=1920410748&cadevice=c&gclid=CImqooe8nrgCFcee4Aod9x8Axg" target="_blank">drvita.com</a>

BareMinerals Mineral Veil

$20, <a href="http://www.sephora.com/mineral-veil-P61004" target="_blank">sephora.com</a>

Palmer's Cocoa Butter Formula Swivel Stick

$3, <a href="http://www.drugstore.com/palmers-cocoa-butter-formula-swivel-stick/qxp73227" target="_blank">drugstore.com</a>

Bragg Apple Cider Vinegar Organic Raw

$5, <a href="http://www.vitacost.com/bragg-apple-cider-vinegar-organic-raw-32-fl-oz-2?csrc=GPF-PA-074305001321&ci_gpa=pla&ci_kw=&ci_src=17588969&ci_sku=074305001321&gclid=CP-Tv_2-nrgCFY2d4AodKh8Axw#" target="_blank">vitacost.com</a>

Arm & Hammer Pure Baking Soda

$5, <a href="http://www.walmart.com/ip/11027507?wmlspartner=wlpa&adid=22222222227000000000&wl0=&wl1=g&wl2=c&wl3=21486607510&wl4=&wl5=pla&wl6=19880599990&veh=sem" target="_blank">walmart.com</a>

American Crew Fiber

$11, <a href="http://www.target.com/p/american-crew-fiber-1-75-oz/-/A-14225633?ref=tgt_adv_XSG10001&AFID=Google_PLA_df&LNM=|14225633&CPNG=Health+Beauty&kpid=14225633&LID=PA&ci_src=17588969&ci_sku=14225633&gclid=CM6tncS8nrgCFUqf4AodoTIAtg" target="_blank">target.com</a>

Scarlett Johansson Reveals Her Beauty Secrets

If you have ever wondered what Scarlett Johansson's secret is to always looking beautiful, we finally found out what it is!
Want more HuffPost Style beauty content? Check us out on Twitter, Facebook, Tumblr, Pinterest and Instagram at @HuffPostBeauty. (For everything else check out our main HuffPost Style Twitter, Tumblr, Pinterest and Instagram @HuffPostStyle.)
---
Do you have a beauty story idea or tip? Email us at beautytips@huffingtonpost.com. (PR pitches sent to this address will be ignored.)