Jennifer Lopez lives a lavish life nowadays, but as teenager, her situation was a lot different.
In a new interview with W Magazine, the Bronx-born actress, singer and dancer reveals that she was homeless following her high school career. Lopez wanted to pursue a career in show business despite her family's disapproval, which caused her to move out and attempt to make it on her own at the age of 18.
"My mom and I butted heads," Lopez tells W's August issue. "I didn't want to go to college -- I wanted to try dance full-time. So she and I had a break. I started sleeping on the sofa in the dance studio. I was homeless, but I told her, 'This is what I have to do.' A few months later, I landed a job dancing in Europe. When I got back, I booked 'In Living Color.' I became a Fly Girl and moved to L.A. It all happened in a year."
Lucky for J.Lo, she wasn't couch-surfing for long -- although she wasn't necessarily happy with her permanent residence either.
"I hated L.A.," the 43-year-old admits. "I was asking, 'Where's the store for milk? Don't you guys walk on the street?' Now I love Los Angeles, but it doesn't give me strength the way the Bronx did. All the strength that I needed for life, I got from that neighborhood."
Now a mom herself, Lopez knows that she is setting an example for her 5-year-old twins Max and Emme, whom she had with ex-husband Marc Anthony.
"I think a lot about teaching my kids to work hard," Lopez says. "I've learned something about kids -- they don't do what you say; they do what you do. I watched my parents. My dad worked nights, and I was aware of how much he was doing for us. My mom was a Tupperware lady and also worked at the school. I always felt that I couldn't let them down," she adds. "And I had a natural discipline from early on. I was always training for something."
See J.Lo's full W cover below: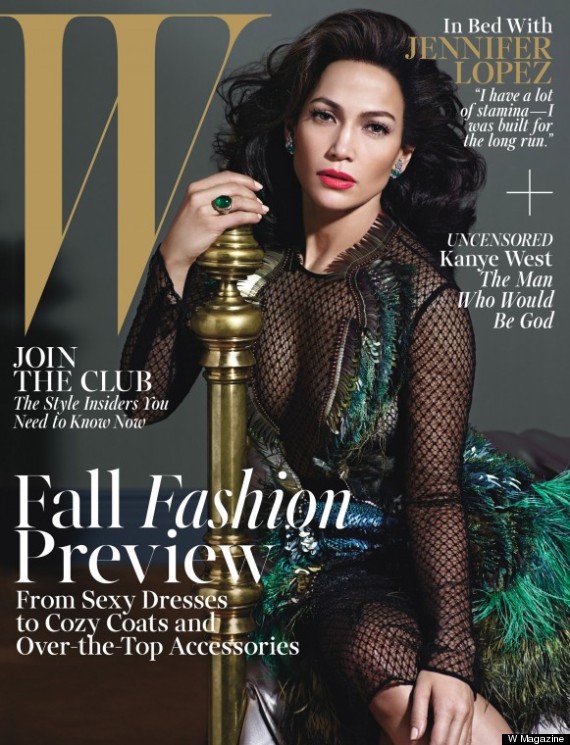 Also on HuffPost:
Loading Slideshow
Jennifer Lopez in 1997

Actress Jennifer Lopez, who plays Selena in the movie 'Selena,' performs in one of the scenes from the movie. 'Selena' is about the Tejano singer who is murdered by her fan club president.

On March 13th, 1997, Actress Jennifer Lopez (L) signs a poster for fans as she arrives for the world premiere of the film 'Selena' on in Hollywood. Lopez stars in the title role about the life and death of superstar Latina singer Selena.

Jennifer Lopez at the 1998 MTV Movie Awards. The program, hosted by Samuel L. Jackson, will be broadcast on MTV, Thursday, June 4, from 9-11 PM.

Jennifer Lopez arrives at the premiere of Columbia Pictures 'The Wedding Planner' January 23, 2001 at Loews Century Plaza Theatre in Century City, CA. (Photo by Chris Weeks/Liaison)

Jennifer Lopez arrives for the 73rd Annual Academy Awards on March 25, 2001 at the Shrine Auditorium in Los Angeles. Lopez is wearing a Chanel dress with hair by Oribe and makeup by Scott Barnes.

Actress Jennifer Lopez takes a break on the set of her upcoming movie 'Enough' on March 22, 2001 in Pasadena, CA.

Presenter Jennifer Lopez backstage at the 74th Annual Academy Awards held at the Kodak Theatre in Hollywood, California on March 24, 2002.

Jennifer Lopez arrives for the 2002 MTV Video Music Awards at Radio City Music Hall in New York City on August 29, 2002.

Jennifer Lopez arrives at the 11th annual Latin GRAMMY Awards at the Mandalay Bay Resort & Casino on November 11, 2010 in Las Vegas, Nevada.

Singer Jennifer Lopez speaks onstage during the 'American Idol' panel at the FOX Broadcasting Company portion of the 2011 Winter TCA press tour held at the Langham Hotel on January 11, 2011 in Pasadena, California.

American Idol Judge Jennifer Lopez attends Fox's 'American Idol' Finalist Party on March 3, 2011 in Los Angeles, California.

Jennifer Lopez arrives at Fox's 'American Idol' season 10 finale results show held at Nokia Theatre LA Live on May 25, 2011 in Los Angeles, California.

Jennifer Lopez on stage at UCLA Longevity Center's 20th Anniversary ICON Awards on June 4, 2011 in Beverly Hills, California.

Singer Jennifer Lopez arrives for an appearance at Pure Nightclub at Caesars Palace on September 25, 2011 in Las Vegas, Nevada.

Jennifer Lopez promotes her exclusive fashion and home collection for Kohl's Department Stores at Mohegan Sun on October 18, 2011 in Uncasville, Connecticut.

Women of the Year award winner Jennifer Lopez attends Glamour's 2011 Women of the Year Awards on November 7, 2011 in New York City.

Artist Jennifer Lopez and Atlantico Rum celebrate the upcoming Enrique Iglesias, Jennifer Lopez and Wisin & Yandel Tour at Boulevard3 on April 30, 2012 in Hollywood, California.

Actress Jennifer Lopez arrives at the premiere of Lionsgate's 'What To Expect When You're Expecting' held at Grauman's Chinese Theatre on May 14, 2012 in Hollywood, California.

Jennifer Lopez performs during the Q'Viva! The Chosen Live show at the Mandalay Bay Events Center on May 26, 2012 in Las Vegas, Nevada.

Jennifer Lopez attends her CD signing to celebrate her new album 'LOVE?' held at the Hard Rock Cafe Hollywood on May 3, 2011 in Hollywood, California.

Jennifer Lopez addresses the crowd as she celebrates the launch of her new single, 'Goin' In' at Hyde Bellagio at the Bellagio May 27, 2012 in Las Vegas, Nevada.