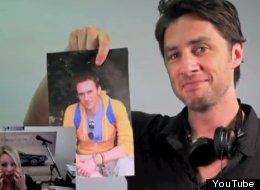 In a sensational new marriage proposal video (watch above), Matt Hulbert sings to girlfriend Janice, telling her he isn't the rock star he promised to become.
But, trust us, Matt rocks. He got "Scrubs" star Zach Braff and a cast of family and friends to help him pop the question. His song is sweet. And the way he rocks a "say yes" sequence? Nailed it.
The proposal begins with Janice sitting down at her computer. Braff shows up onscreen to offer his celebrity endorsement of Matt and essentially proposes for him. (Matt wrote in the YouTube description of the video that Braff agreed to the gig when the would-be groom, who says he and Janice are big "Scrubs" fans, contributed to the actor's Kickstarter campaign for a new film.) Then the people in Matt and Jan's life urge her, with handwritten signs, to do the right thing and say "Yes." An extra thumbs-up for granny's cheeky message and cool sleight of hand editing at the Eiffel Tower.
Naturally, Janice said "oui." How could she not?
The Internet has already said "I do" to Matt's work. He responded with a heartfelt note on YouTube: "Thank you all for sharing the love! We're both totally blown away!"
Click through the slideshow below to see the 10 best marriage proposals of all time.
Best Marriage Proposals Of All Time
Jamin brought a little Disney magic to his proposal when he organized a flash mob in Downtown Disney in 2011.

In 2011, Jim worked with an artist to create a comic strip-like history of his and Julie's relationship, which ended with a marriage proposal. He posted the drawing on a website and filmed Julie's reaction as she read it. Click here to see the adorable website, and watch the video at left to see Julie's reaction.

Do proposals get any more romantic than this? In 2011, Tyson led his girlfriend, Michelle, to a picturesque dock in Oregon, where their friends were waiting with flowers. They were serenaded by a guitarist as the groom-to-be popped the question.

Len Kendall has the entire internet to thank for helping him pop the question to his girlfriend, Katie, in 2012. Kendall posted a meme-like photo of himself (look left) proposing to Katie on Buzzfeed, and started a Facebook group, Pinterest page and Twitter hashtag #SayYesKatie to urge others to create their own memes asking Katie to marry him. Click here to see some of the best memes created for Len and Katie.

One man pulled out all the stops for his proposal in a park in 2010, including dancers, huge signs, a unicycle, and streamers. After she said "yes," the happy couple rode off in a horse-drawn carriage.

U.S. Marine Corps captain Matthew Phelps and his partner, Ben Schlock, made history in 2012 by becoming the first gay couple to become engaged at the White House. Phelps told HuffPost that he wanted to propose at the White House because they had their first date there, at the LGBT Pride Month Reception, six months earlier.

In the first viral lip-dub proposal (but not the last), Isaac Lamb had his girlfriend sit in the back of a truck as they drove through a Portland park, then played Bruno Mars' "Marry You" while dancers popped out and lip-synched to the song. The proposal, which took place in May 2012, now has more than 18 million views on YouTube.

Tim Tiah proved just how useful those popular internet memes can be when he proposed to his girlfriend, Audrey, in 2011. While Audrey was at a restaurant with friends, Tiah stood outside and held up signs containing memes that corresponded to their relationship, ultimately using the Puss In Boots meme to pop the question.

Back in 2011, Matt Still convinced his girlfriend, Ginny, to go to the movies one day -- then, he arranged to play a fake movie trailer before the movie that chronicles his journey to the theater to pop the question.

In 2011, Fox T.V. show "Mobbed" featured an epic marriage proposal. Groom-to-be Justin recruited 1,000 people to participate in an over-the-top flash mob for his girlfriend, Nikki.
Keep in touch! Check out HuffPost Weddings on Facebook, Twitter and Pinterest.