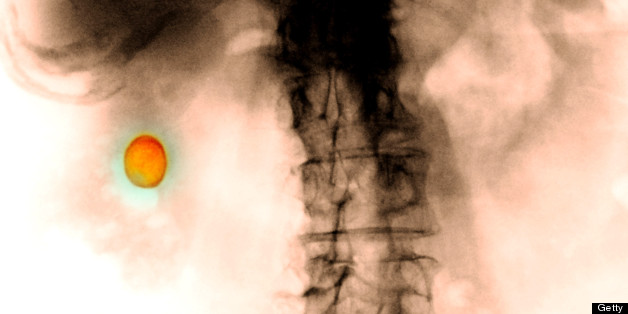 Researchers from Rigshospitalet, Copenhagen University Hospital in Denmark found that gallstone disease -- which is when people develop pebble-like gallstones in their gallbladders -- is more likely to affect older women who are not very physically active, as well as those who drink less alcohol and take hormone replacement therapy.
The findings, published in the journal Hepatology, are based on data from 77,679 people. For the study, researchers used a Mendelian randomization approach -- according to a statement, this means employing "a method using genetic variation to study the impact of modifiable risk factors as the cause of a disease" -- to see how lifestyle factors could affect risk for gallstones.
After following up 34 years later, researchers found that 4,106 of the study participants had developed gallstone disease that causes symptoms. (Gallstones don't often cause symptoms, but when they do, they can lead to pain and inflammation, as well as complications such as infection, the University of Maryland Medical Center reports.)
Researchers found that not only are women more likely to have gallstones than men, but there was also a significant link between weight and gallstone risk -- particularly, for every 1 kilogram per meter squared increase in BMI, there was a 7 percent higher risk of gallstone disease.
According to the University of Maryland Medical Center, gallstones are a lot more common in women than in men. As many as one in four women will have gallstones by the time they reach 60, and and up to half of women will have gallstones by the time they reach 75. Meanwhile, just one in five men will have gallstones by the time they reach 75.
In general, women are probably at increased risk because estrogen stimulates the liver to remove more cholesterol from blood and divert it into the bile.
The best way to prevent gallstones is to not skip meals and maintain a healthy weight, according to the Mayo Clinic. Dramatic weight loss can also increase risk.
Also on HuffPost:
The Best And Worst Foods For Digestion
SUBSCRIBE AND FOLLOW
Get top stories and blog posts emailed to me each day. Newsletters may offer personalized content or advertisements.
Learn more