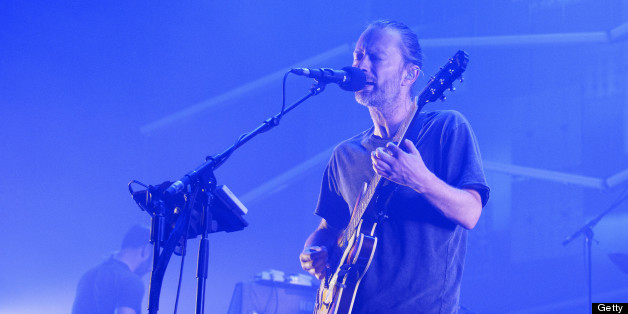 Music from supergroup Atoms for Peace will no longer be available on Spotify as band member Nigel Godrich announced the band was pulling its music in a Twitter rant on Sunday afternoon.
Godrich claimed in his extended stint on Twitter that Spotify is "bad for new music." Take a look at Godrich's tweets below.
Anyway. Here's one. We're off of spotify.. Can't do that no more man..
Small meaningless rebellion.
Someone gotta say something. It's bad for new music..
This is just eraser and amok and ultraista..
The reason is that new artists get paid fuck all with this model.. It's an equation that just doesn't work
The music industry is being taken over by the back door.. and if we don't try and make it fair for new music producers and artists...
..then the art will suffer. Make no mistake. These are all the same old industry bods trying to get a stranglehold on the delivery system..
The numbers don't even add up for spotify yet.. But it's not about that.. It's about establishing the model which will be extremely valuable
Meanwhile small labels and new artists can't even keep their lights on. It's just not right
Plus people are scared to speak up or not take part as they are told they will lose invaluable exposure if they don't play ball. Meanwhile..
Millions of streams gets them a few thousand dollars.. Not like radio at all..
Anyway. Thems the breaks. Opinions welcome.. but discussion and new thinking necessary.. If you have a massive catalogue - a major label...
..for example.. then you're quids in. It's money for old rope.. But making new recorded music needs funding.. Some records can be made in ..
.. a laptop, but some need musician and skilled technicians.. These things cost money.. Pink floyds catalogue has already generated billions
.. of dollars for someone(not necessarily the band) so now putting it on a streaming site makes total sense.. But if people had been ..
..listening to spotify instead of buying records in 1973... I doubt very much if dark side would have been made.. It would just be too ..
..expensive. Anyway thumbs hurting now... ;)
Thom Yorke Collaborations
SUBSCRIBE AND FOLLOW
Get top stories and blog posts emailed to me each day. Newsletters may offer personalized content or advertisements.
Learn more