Jimmy Kimmel is a married man!
The late night talk show host exchanged vows with longtime girlfriend Molly McNearney on Saturday (July 13) in Ojai, Calif., Kimmel's rep, Lewis Kay, confirms to People.
The wedding was attended by a dozen of Kimmel's famous friends including Matt Damon and his wife Luciana, Ben Affleck and Jennifer Garner, Jennifer Aniston and her fiance Justin Theroux, Ellen DeGeneres and Portia De Rossi, Kristen Bell and Dax Shepard, Emily Blunt and John Krasinski and Howard Stern, sources tell Us Weekly.
Kimmel, 45, proposed to McNearney, 35, co-head writer at "Jimmy Kimmel Live," last year while the two were vacationing in South Africa.
This is the first marriage for McNearney, and the second for Kimmel, who was previously married for 14 years to his first wife Gina, the mother of his two children. They divorced in 2002.
See photos from the star-studded wedding below: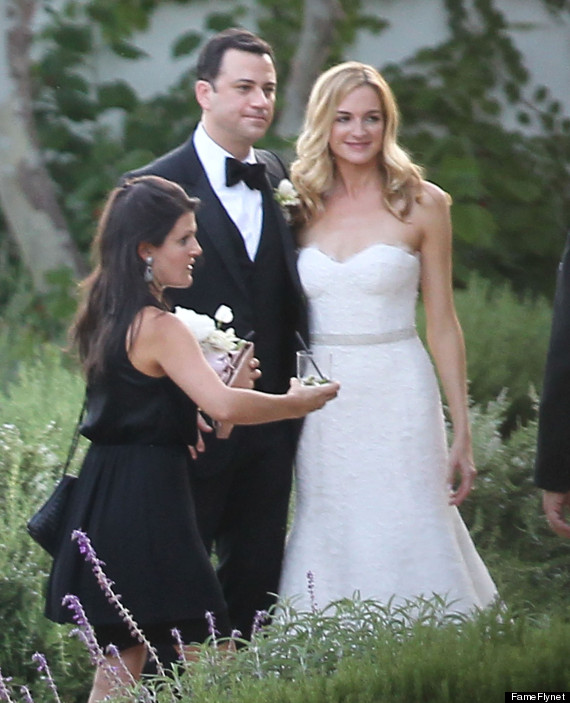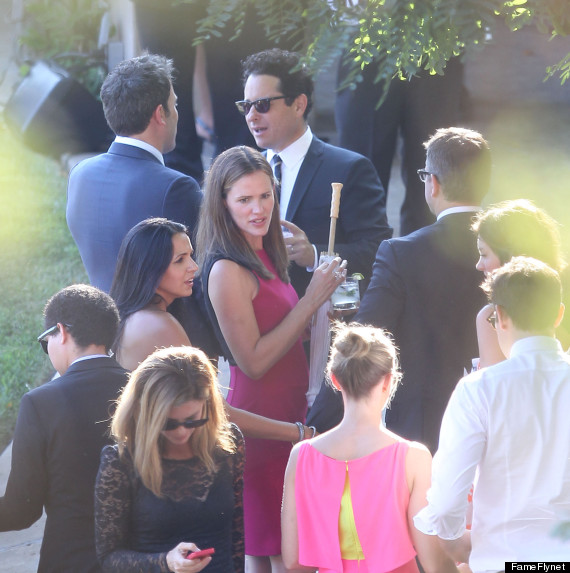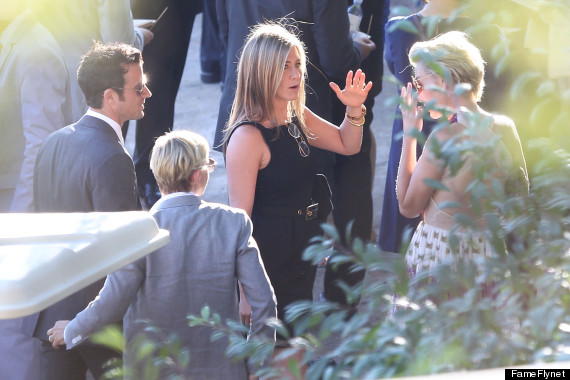 Also on HuffPost:
Loading Slideshow
Kimora Lee Simmons

The former model secretly married Tim Leissner, her ex-husband Russell Simmons revealed.

Leighton Meester & Adam Brody

The pair tied the knot in a super secret wedding in early 2014.

Christian Slater & Brittany Lopez

Christian Slater said "I do" to his longtime love Brittany Lopez on Monday, Dec. 1, 2013 at a courthouse in Coral Gables, Florida.

Jennifer Love Hewitt & Brian Hallisay

After announcing she gave birth to a baby girl, Hewitt's rep revealed on Nov. 27, 2013 that she and Brian Hallisay also tied the knot.

Megan Hilty & Brian Gallagher

Hilty and Gallagher were married in an intimate ceremony at the Venetian chapel in Las Vegas on Nov. 2.

Chris Kirkpatrick & Karly Skladany

The *NSYNC member tied the knot with his girlfriend on Nov. 2 in Orlando, Fla.

Kelly Clarkson & Brandon Blackstock

Clarkson wed Blackstock in Tennessee on Sunday, Oct. 20, 2013 at Blackberry Farms in Walland. Blackberry Farms is a 4,200-acre luxury hotel and resort situated in the Great Smoky Mountains.

Christina Ricci & James Heerdegen

Ricci married her fiance in New York City on Oct. 26, 2013.

Kristen Bell & Dax Shepard

Bell and Shepard tied the knot in Oct. 2013 after being engaged for four years. They wed recently at the Beverly Hills County Clerk office in Los Angeles, according to TMZ.

Rider Strong & Alexandra Barreto

The longtime lovebirds wed in Oregon on Oct. 20, 2013 at a summer camp-themed party.

Danielle Fishel & Tim Belusko

Fishel married her boyfriend of nearly five years in Los Angeles on Oct. 19, 2013. The couple said their "I dos" in front of over 200 guests at wedding venue Vibiana, a former cathedral, in a "short and sweet" ceremony.

Rose McGowan & Davey Detail

The pair tied the knot in Los Angeles, Calif., on Oct. 12, 2013. The wedding took place on a lawn underneath a chuppah, and the guests all sipped cocktails by the pool afterwards.

Ben Feldman & Michelle Mulitz

The couple said "I do" on Oct. 12, 2013 at Smokey Glen Farm in Gaithersburg, Md.

Pharrell Williams & Helen Lasichanh

Williams and model Lasichanh tied the knot in Miami on Oct. 12, 2013. The musician and his beautiful wife enjoyed music by pals Usher and Busta Rhymes.

Jason Wahler & Ashley Slack

The "Laguna Beach" star married Slack on Oct. 12, 2013 at Calamigos Ranch in Malibu, Calif.

Andy Samberg & Joanna Newsom

Andy Samberg tied the knot with his fiancee Joanna Newsom on Sept. 21, 2013 in Big Sur, Calif.

Chrissy Teigen & John Legend

The couple got married on Lake Como, Italy on Sept. 14, 2013.

Seth Meyers & Alexi Ashe

The "Saturday Night Live" star and future "Late Night" host married longtime girlfriend Alexi Ashe in an intimate ceremony on Martha's Vineyard on Sept. 1.

Kate Bosworth & Michael Polish

The actress and director married on a ranch in Montana on Aug. 31, 2013.

Jesse Tyler Ferguson & Justin Mikita

The "Modern Family" star <a href="http://www.huffingtonpost.com/2013/07/21/jesse-tyler-ferguson-married-justin-mikita_n_3631143.html" target="_blank">married his boyfriend</a> in NYC on July 20.

Halle Berry & Olivier Martinez

Berry and Martinez tied the knot in France on July 13, 2013 after dating for three years.

Jimmy Kimmel & Molly McNearney

Kimmel tied the knot with longtime love McNearney at a star-studded ceremony in Ojai, Calif., on July 13, 2013.

Wiz Kalifa & Amber Rose

Rapper Wiz Khalifa and his Amber Rose finally became Mr. and Mrs. after deciding to get married in a courthouse on July 8, 2013. They are planning to hold a ceremony later this year.

Elisha Cuthbert & Dion Phaneuf

The actress and the hockey player tied the knot in Prince Edward Island, Canada on July 6, 2013. <strong>CORRECTION</strong>: A previous version of this slide misstated the wedding's location.

Avril Lavigne & Chad Kroeger

The duo tied the knot on July 1, 2013 in France. Lavigne wore a black wedding dress!

Zoe Saldana & Marco Perego

The actress tied the knot with the soccer player-turned-artist in a secret wedding ceremony in London in June.

Kerry Washington & Nnamdi Asomugha

The "Scandal" star secretly wed the NFL player in Idaho on June 24, 2013.

George Lucas & Mellody Hobson

Lucas married Hobson at Skywalker Ranch, in Marin County, Calif., at 5 p.m. on Saturday, June 22.

Matt Lanter & Angela Stacy

The "90210" star tied the knot with his longtime girlfriend at the Calamigos Ranch in Malibu on June 14, 2013.

Lindsay Price & Curtis Stone

The pair wed in Spain on June 8, 2013 after an almost two-year engagement.

Kristin Cavallari & Jay Cutler

The couple went to the courthouse in Nashville, Tenn., to get their marriage license on June 7, 2013 before their Southern wedding on June 8.

Diana Degarmo & Ace Young

The "American Idol" lovebirds tied the knot at the Luxe Hotel in Brentwood, Calif., on June 1, 2013.

Lake Bell & Scott Campbell

The actress married her tattoo artist fiance in New Orleans, La., on June 1, 2013.

Aaron Paul & Lauren Parsekian

The "Breaking Bad" star married Parsekian in a Paris-themed ceremony in Malibu, Calif., on May 26, 2013.

Shenae Grimes & Josh Beech

The "90210" actress tied the knot with the model/musician at the Boys Hall in Ashford, Kent on May 10, 2013.

Keira Knightley & James Righton

Knightley married rocker Righton in an intimate ceremony in France on May 4, 2013. She wore a short tulle dress and flats.

Christina Applegate & Martyn LeNoble

Applegate and LeNoble tied the knot on Feb. 23, 2013 in a private ceremony after dating for five years. The couple have a daughter Sadie, 2.

Zach Gilford & Kiele Sanchez

The couple tied the knot in California on Dec. 27, 2012 after a 13-month-long engagement.

Kate Winslet & Ned Rocknroll

Winslet married her third husband, Rocknroll, in early Dec. 2012 in New York, saying "I do" at an intimate ceremony.

Donald Faison & CaCee Cobb

The longtime loves tied the knot at Zach Braff's home in Los Angeles, Calif., on Dec. 15. Cobb's former boss and BFF Jessica Simpson looked gorgeous as a bridesmaid.

Ashley Hebert & J.P. Rosenbaum

"Bachelorette" stars Ashley and J.P. -- who met on season 7 of the show in 2011 -- <a href="http://www.huffingtonpost.com/2012/12/02/ashley-hebert-jp-rosenbaum-married-bachelorette-couple-wed_n_2227476.html?utm_hp_ref=celebrity">tied the knot</a> in front of family, friends at the picturesque Langham Hotel in Pasadena, Calif., on Dec. 1

Mario Lopez & Courtney Mazza

The "X Factor" host, 39, <a href="http://www.huffingtonpost.com/2012/12/02/mario-lopez-married-the-x-factor-host-ties-the-knot-with-courtney-mazza_n_2227434.html?utm_hp_ref=celebrity">married his girlfriend of four years,</a> Courtney Mazza, 29, on Dec. 1 in a beach wedding in Punta Minto, Mexico.

Evan Rachel Wood & Jamie Bell

The "True Blood" star <a href="http://www.huffingtonpost.com/2012/10/31/evan-rachel-wood-jamie-bell-married-weds-true-blood_n_2053408.html">wed the "Billy Elliot" actor</a> on Oct. 30, 2012 in a small ceremony in Calif.

Justin Timberlake & Jessica Biel

The singer-turned-actor married his girlfriend of five years on Oct. 19, 2012 during a private ceremony and reception at Borgo Egnazia resort in Puglia, Italy. JT <a href="http://www.huffingtonpost.com/2012/10/22/justin-timberlake-jessica-biel-wedding-day-was-magical_n_2000357.html">called the wedding "magical"</a> with Biel adding, "It was a fantasy."

Alfonso Ribeiro & Angela Unkrich

"The Fresh Prince of Bel-Air" star wed his longtime love on Oct. 13, 2012 in Los Angeles, Calif. The couple got engaged in July. Everybody do the Carlton!

Audrey Murdick & Jeff Dunham

The model married the comedian on Oct. 12, 2012 in Santa Ynez, Calif., at the Sunstone Vineyards and Winery in front of 112 guests.

Jack Osbourne & Lisa Stelly

Osbourne and his love Stelly exchanged vows during an intimate ceremony in Hawaii on Oct. 7, 2012. The couple has a 6-month-old daughter, Pearl.

Amber Tamblyn & David Cross

"The Sisterhood of the Traveling Pants" star, 29, and "The Increasingly Poor Decisions of Todd Margaret" actor, 48, tied the knot on Oct. 6, 2012. The bride wore a yellow wedding dress and celebrated alongside her "Sisterhood" co-stars Blake Lively and America Ferrera.

Audra McDonald & Will Swenson

The "Private Practice" star wed fellow Broadway star Swenson on Oct. 6, 2012 at their home in Croton-on-Hudson, NY. The couple have been dating since 2007.

Cat Deeley & Patrick Kielty

The "So You Think You Can Dance" host tied the knot with the comedian in a top-secret wedding in St. Isidore's College Church in Rome on Sept. 30, 2012. A friend of Deeley's said she "looked like a goddess" on her special day.

Anne Hathaway & Adam Shulman

Hathaway married fellow actor Shulman on Sept. 29, 2012 <a href="http://www.huffingtonpost.com/2012/09/28/anne-hathway-married-adam-shulman_n_1923958.html">at sunset in Big Sur, Calif</a>. The couple dated for three years before getting engaged in November 2011.