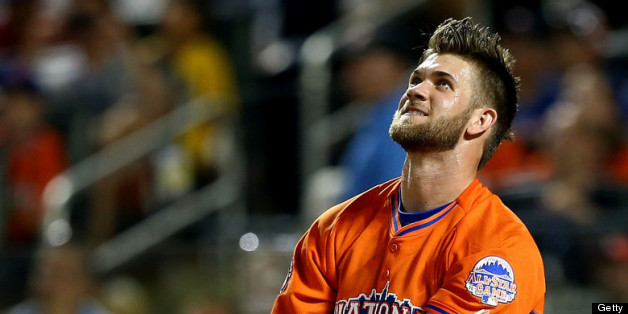 Bryce Harper had his father, Ron, pitch to him during the 2013 Home Run Derby. While he was crushing baseballs, his brother Bryan was in attendance and managed to draw some attention away (at least on the internet) with his facial hair.
Of course, plenty of those who were watching the derby on ESPN when the cameras showed Bryan Harper quickly jumped on Twitter.
My sense is that Bryan Harper's mustache already won
For about 5 mins, thought about trying to grow a mustache like Bryce Harper's brother, then realized @ShannonEncina would never talk to me.
Bryce Harper's brother's mustache is hilarious #classic
I'm offended that Bryce Harper's brother is trying to upstage Rollie Fingers's handlebar.
Did Bryce Harper's brother accidentally end up in Williamsburg today?
For what it's worth, Bryan Harper's mustache doesn't have a Twitter account but the man himself does. @BryanHarper45
Harper's bro's mustache tho
PHOTOS: 2013 Home Run Derby
SUBSCRIBE AND FOLLOW
Get top stories and blog posts emailed to me each day. Newsletters may offer personalized content or advertisements.
Learn more