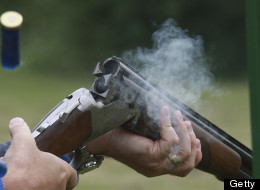 Although George Zimmerman's defense team did not request a Stand Your Ground hearing, one of the jurors told CNN's Anderson Cooper that the self-defense law was considered in their not-guilty verdict.
Florida first adopted the self-defense law that removed the duty to retreat in 2005, and local law enforcement immediately identified the trouble in providing citizens with a shoot-first-ask-questions-later right.
"Whether it's trick-or-treaters or kids playing in the yard of someone who doesn't want them there or some drunk guy stumbling into the wrong house," former Miami police chief John F. Timoney told the New York Times, "you're encouraging people to possibly use deadly physical force where it shouldn't be used."
In the eight years since, the law has been invoked to protect drug dealers and gang members from murder charges, and it's allowed personal disputes over lovers, possessions, and yes, trash bags, to escalate into bloody murder scenes without consequences.
"What in the hell is our state government doing passing a law encouraging our citizens to solve disputes with guns?," Arthur Hayhoe, executive director of the Florida Coalition to Stop Gun Violence, told the Tampa Bay Times. "This is the right-to-commit-murder law."
Click below for some of Florida's more shocking Stand Your Ground cases in which the shooter walked free:
Florida's Shocking Stand Your Ground Acquittals
Michael Palmer and Timothy McTigue got into a fight in Rivera Beach, during which McTigue claimed Palmer tried to drown him. McTigue then fatally shot Palmer in the back of the head while Palmer was climbing out of the water. McTigue was acquitted.

Greyston Garcia saw Pedro Roteta stealing a stereo from his truck in Miami. He pursued Roteta, who swung a bag of car stereos at Garcia, according to surveillance video. Garcia chased, then fatally stabbed Roteta, went home, hid the knife, and sold two of the stolen stereos. A Miami-Dade judge cited the Stand Your Ground law in dismissing the case against Garcia. Months later, Garcia was killed by a stray bullet in a random Liberty City shootout.

In Brandon, 70-year-old Ralph Wald walked in on former neighbor Walter Conley having sex with Wald's wife. After fatally shooting Conley, Wald claimed that although Conley had lived nearby, he did not recognize him and thought a stranger was raping his wife. Wald was acquitted after a two-hour deliberation. His defense team invoked Stand Your Ground, according to the Tampa Bay Times, and noted that "Wald had 'no duty to retreat' when facing perceived danger within his own home."

Kenneth Allen was upset that Clearwater neighbor Jason Rosenbloom had placed eight rather than the allowed six trash bags on their curb. The two men got into a verbal dispute. As Rosenbloom approached, Allen shot him once in the stomach and once in the chest, claiming Rosenbloom had tried to enter his home. Allen was not charged, police believing his self-defense claims. "Had it been a year and a half ago, he could have been arrested for attempted murder," Rosenbloom said of how the then-new Stand Your Ground law affected the case.

Jackson Fleurimon shot and killed Lucus Termitus, claiming that Termitus had shown up at his Orlando apartment brandishing a gun. Fleurimon's girlfriend told police that Fleurimon shot Termitus because he told him not to "sell dope on my side of the complex." Fleurimon was granted immunity under Stand Your Ground.

Tony Hayward was delivering newspapers in West Palm Beach when, he said, Jyron Miles approached him. Hayward claimed he thought Miles was reaching for a gun so he shot him. Hayward was acquitted.

In Hudson, Anthony Boglino, 64, was in an argument with Haigh Frank Kopain, 36, when he said he felt threatened. He claimed his arthritis prevented him from otherwise defending himself, so he shot his pistol, wounding Kopain. Boglino was acquitted under the Stand Your Ground law.

A neighborhood dispute over dogs in Homosassa turned deadly when Oscar Delbono shot Shane Huse as Huse's two young children watched from his truck. Witnesses say that Huse had turned to walk away when Delbono fire his gun. Delbono was not charged with a crime. "It is a tragic, unfortunate set of circumstances that occurred, but given the state of the law there's no criminal prosecution," said Assistant State Attorney Pete Magrino, according to the Tampa Bay Times, citing Citrus Daily.

Tampa neighbors said that Carlos Ibanez, a Seventh Day Adventist, had been acting out, pounding on car windows and apartment doors when Marcos A. Trujillo shot and killed him. Trujillo was not charged.

A Miami mother told her 14-year-old son, Jack Davis, to "get the gun" when they spotted a man trying to steal their waverunner from the dock, according to 911 calls. Davis shot and killed Reynaldo Munoz, who the family claimed had threatened them. A former teacher of Munoz said that was impossible because Monuz was deaf and could not speak clearly. Davis was not charged.

Anthony Gonzalez Jr. fatally shot Sujaye Henry in a Miami marijuana deal dispute that led to a car chase and shootout. Gonzalez pleaded guilty to manslaughter and was sentenced to three years in prison. "The limitations imposed on us by the 'stand your ground' law made it impossible for any prosecutor to pursue murder charges," said a spokesman for the Miami-Dade prosecutor's office.

A gang shootout in Tallahassee left 15-year-old Michael Jackson dead. Two rival gang members were granted immunity under Stand Your Ground. "A spokeswoman for Florida's Attorney General says in this case, the court made a decision about whether the defendants had a right to defend themselves regardless of whether they were gang members," according to WCTV.

Miami's Ernesto Che Vino fired at two Florida Power & Light workers who had entered his yard to cut power due to unpaid bills. A judge tossed out two counts of armed assault and one count of improper exhibition of a firearm, saying that under Stand Your Ground, Vino had a reasonable fear for his life.

Seth Browning, a 23-year-old security guard in Palm Harbor, was concerned about Brandon Baker's driving and followed him to get his tag number. Baker pulled over and confronted Browning, who police say sprayed Baker with pepper spray. Browning said Baker then reached in and punched him, prompting Browning to pull out his company-issued gun and fatally shoot Baker. Browning was not charged. "The bottom line is, this was justifiable use of deadly force," Assistant State Attorney Bill Loughery told Palm Harbor Patch.

Tyrone Anthony Jackson was in an altercation with Etti Miezan at a Tampa birthday party. Jackson reportedly went to his car to get his gun and came back to start randomly shooting into the street. Miezan was injured while trying to evade his shots. Jackson was acquitted on the grounds of self-defense.