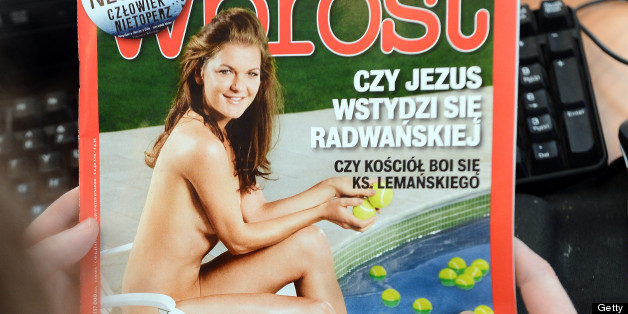 The Catholic youth group Krucjata Mlodych (Youth Crusade) is based in her native Poland, and they dropped Radwanska last week for what they considered "immoral behavior," despite the non-explicit nature of the photo. Radwanska has long been outspoken about her strong Catholic faith and appeared in a video as part of Youth Crusade's "I'm Not Ashamed Of Jesus" initiative, in which she spelled out "JESUS" using tennis balls and urged young Poles to embrace their faith.
In the picture, Radwanska poses by a tennis-ball-filled pool in a lawn chair, showing off her athletic body in an attempt to promote healthy self-image for the "Body Issue" which also featured athletes like Olympic volleyball gold medalist Kerry Walsh Jennings, San Francisco quarterback Colin Kaepernick, and Matt Harvey and Giancarlo Stanton from Major League Baseball.
Regarding the nudity of the ESPN Magazine spread, editor-in-chief Chad Millman said the athletes are "proud of the work they put into being strong and powerful and we're proud that they trust us to capture that."
SUBSCRIBE AND FOLLOW
Get top stories and blog posts emailed to me each day. Newsletters may offer personalized content or advertisements.
Learn more