Running in heels may be tricky for those of you who didn't spend your college summers interning for fashion magazines, but Catherine Zeta-Jones is pretty much a pro.
"I can kick ass in high heels," she tells Vanity Fair. The actress is, of course, speaking about her sexy spy character from her new film "Red 2." While her co-stars Helen Mirren and Mary Louise Parker claimed that they did their best to avoid running scenes, it seems Zeta-Jones was brave enough to take on the task.
"My biggest stunt was running in high heels," she says. "Have you ever tried that? It's dangerous. I prefer to skydive than actually do that."
We don't know if we would take it that far, but we can see where she's coming from. Aside from the scary things our stilettos are doing to our feet (seriously, guys), heels can just be plain uncomfortable. Just ask Amy Poehler, who recently said that she would never improvise in heels. And don't even get us started on the epic falls we've had while attempting to pick up the pace in our highest shoes.
So tell us: Would you rather skydive than run in heels? Check out Catherine rocking a pair at the "Red 2" premiere yesterday while you think it over.
PHOTOS: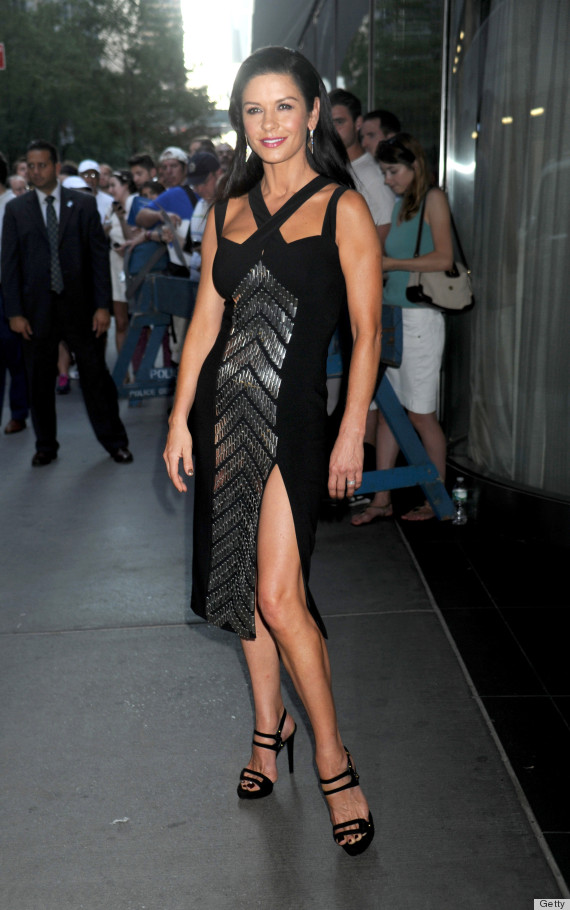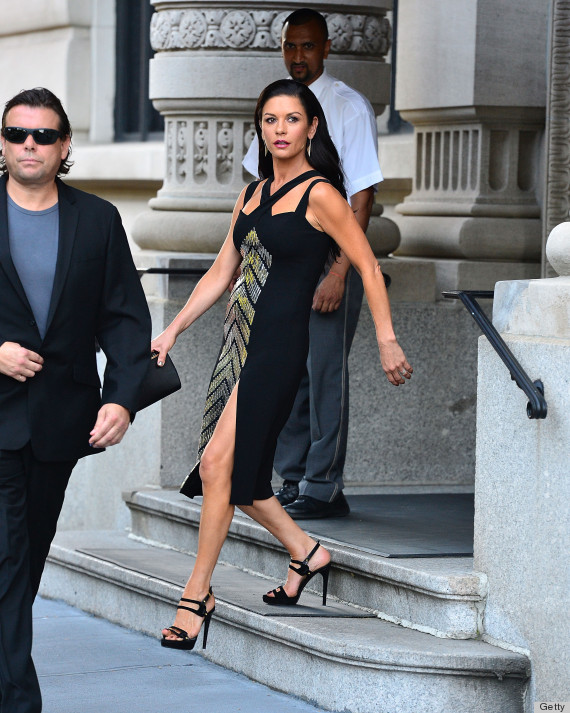 Not every situation is great for heels...
Loading Slideshow
Sofia Vergara

On the beach.

Shauna Sand

On the beach.

Shauna Sand

On a motorcycle.

Elizabeth Banks

Riding a bicycle.

Kate Middleton

Playing field hockey.

Kate Middleton

Over grates.

Kim Kardashian

In her third trimester.

Brooklyn Decker

On cobblestones.

Katie Holmes

In the rain.

Ginnifer Goodwin

In the rain.

Jessica Alba

In the rain.

Lady Gaga

On a plane.

Lady Gaga

In the airport.

Suri Cruise

In childhood.

Angela Simmons

During a snowball fight.

Coco Rocha

During a snowstorm.

Brooke Shields

On slicked-down streets.

Cory Kennedy

During a snowstorm.

Nina Garcia

During a snowstorm.

Kate Lanphear

In fresh snow.

Idil Tabanca

During a snowstorm.

The Evolution of High Heels

Unlike many modern inventions, high heels can't be traced to a single inventor. In fact, this unique form of footwear dates back into antiquity. Listen in and learn more about the evolution of high heels.
Want more? Be sure to check out HuffPost Style on Twitter, Facebook, Tumblr, Pinterest and Instagram at @HuffPostStyle.