Earlier this week, we learned that Hudson Jeans was acquired by California denim company Joe's Jeans -- but it looks like the smaller label is angling for a more global appearance. Hudson recruited British model/Rolling Stones progeny Georgia May Jagger to pose for their fall campaign... in little more than denim and a Union Jack.
Georgia models Hudson's separates with "A Single Man" actor Jon Kortajarena in sultry black and white. Ben Taverniti, the brand's creative director, told Women's Wear Daily that the campaign "[revolves] around our brand mantra of 'Let yourself go.'"
You'll note those guiding words are immortalized in a hashtag, fashion's new favorite way of inserting itself into the digital landscape. Hudson's extending their campaign to IRL "models," allowing users to tag #LetYourselfGo on photos of themselves, well, letting go.
Take a look at Georgia's decidedly British take on American denim below, and contribute to Hudson's campaign if you feel so inclined. How do you let yourself go?
PHOTOS: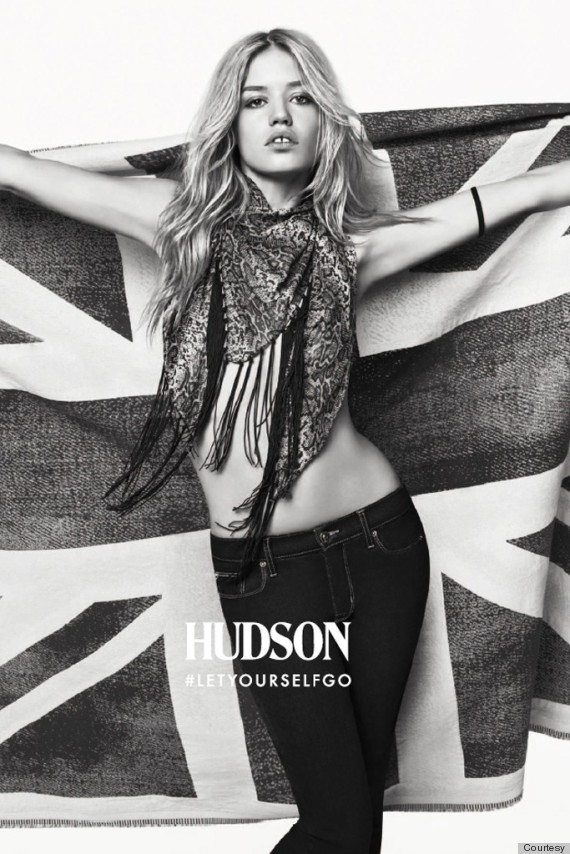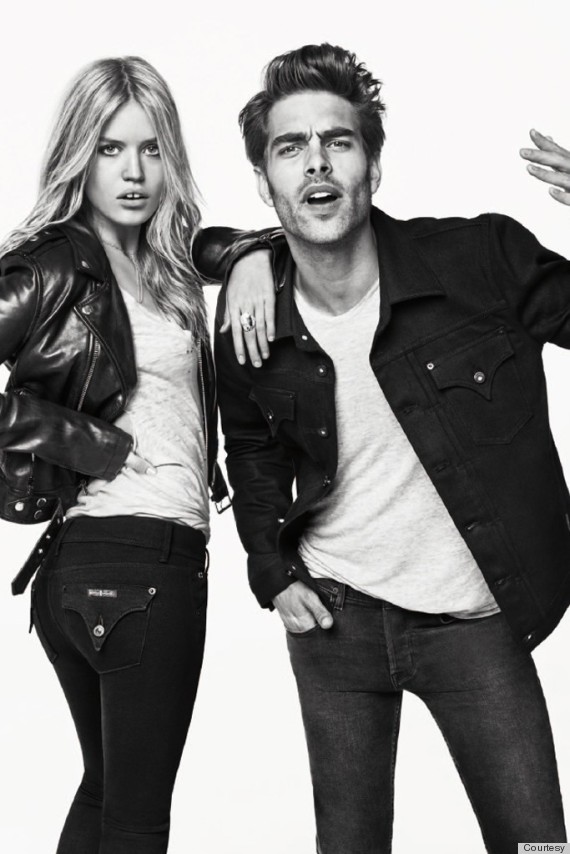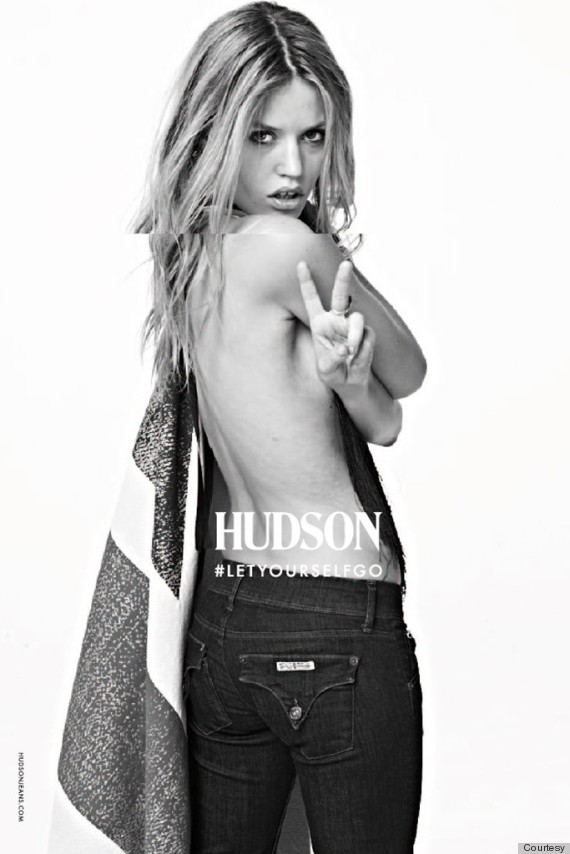 More ads that got people talking:
Controversial Celebrity Ads
When she was 17 years old, Fanning starred in this Marc Jacobs' Oh Lola! ad. The U.K. Advertising Standards Authority pulled the ad finding it too "sexual."

Moore's Bulgari billboard was taken down when it was placed near Doge's Palace in Venice after the mayor of the city deemed it inappropriate.

Beyonce's commercial for her fragrance "Heat" came under fire for being too racy in 2010. It was cut down to 30 seconds and had an "after 7:30 p.m." restriction in the U.K.

Eva's 2008 commercial for Calvin Klein's "Secret Obsession" fragrance was banned, due to the fact that it featured a major wardrobe malfunction.

Keira Knightley starred in this controversial PSA against domestic violence in 2009 for Women's Aid.

The U.K.'s Advertising Standards Authority felt Swift's CoverGirl ad was too exaggerated (aka Photoshopped) and falsely promoted the product.

ABC asked that several changes be made to Madonna's 2012 perfume ad before they agreed to run the 30-second spot, including covering more of her breasts and butt. Even with said changes in place, ABC only aired the commercial after 9 p.m.

PETA created this racy ad featuring Anderson's body as a sectioned-off piece of meat.

Kutcher's online ad for PopChips was banned after it was considered racist by the Indian-American community.

Two of Universal Studios' posters for "Wanted," starring Angelina Jolie, were banned because of her seductive pose with a gun. The ASA felt it glamorized violence.

Julia's Lancome ad was considered too heavily airbrushed to print by the ASA.

The Advertising Standards Authority banned Natalie's ad for Dior Diorshow lash multiplying mascara on the grounds that it "misleadingly exaggerated the effects of the product."

Although Kim's Carl's Jr. ad ran, many considered it to be too sexy.

Nivea ended Rihanna's campaign after the CEO said she was too sexy for the brand.

This 1992 Calvin Klein ad was pretty risque for the '90s.

A PETA ad, featuring hot women and supposed-to-be "sexy" veggies, was banned from the Super Bowl ad lineup in 2010 for being "too much" for TV.

Like Kim's, Paris Hilton's 2005 Carl's Jr. commercial was considered too racy, as well.

Alba posed for a controversial Declare Yourself ad during the 2008 elections.

The threesome came under fire after they posed naked and bloody while promoting "True Blood" on a super racy cover of Rolling Stone in 2010.

Although this cast wasn't naked, they were still slammed for promoting "Glee" with this promiscuous GQ cover.
Want more? Be sure to check out HuffPost Style on Twitter, Facebook, Tumblr, Pinterest and Instagram at @HuffPostStyle.