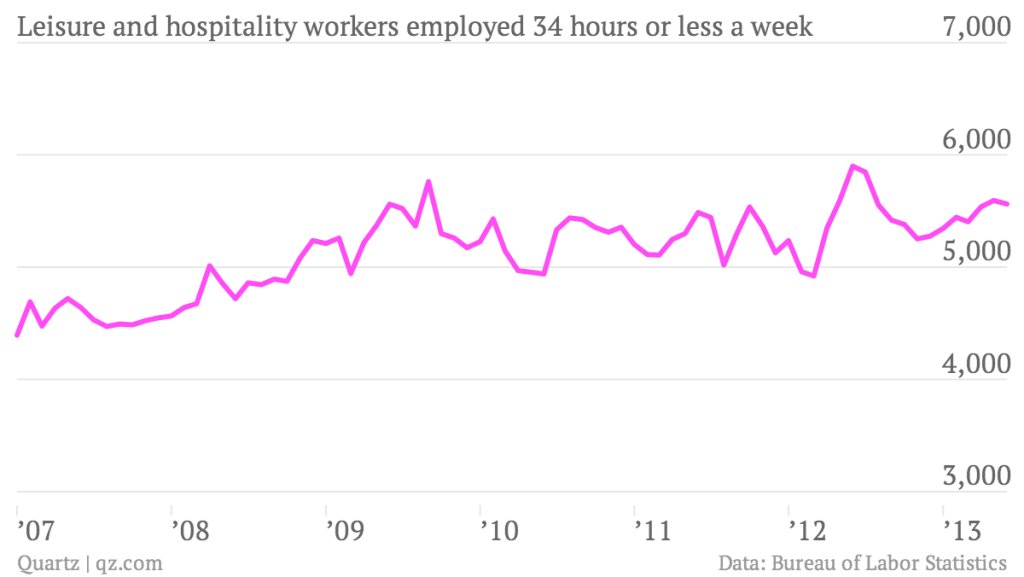 Some businesses say they are hiring more part-time workers because of a new health care law, but the real culprit behind the rise in part-time workers is the state of the economy.
The 2010 US health care overhaul will eventually make it necessary for companies with more than fifty full-time employees to offer them affordable health insurance, or face financial penalties. Challenges of implementing that rule led the Obama administration to punt on enforcing it for a year, until 2015. But some businesses are still saying they will find ways to reduce their full-time workforce to avoid the requirement, with restaurants and fast-food franchises like Subway and Del Taco in particular promising that the health care law means worse jobs.
More From Quartz:
-- Brazil Nuts Aren't Brazilian, Our Tea Isn't From China, And All The Hummus Is Made In Virginia
-- Morgan Stanley Is Having An Identity Crisis
-- Spain's Underground Economy Employs A Million People And Is Worth 20 Percent Of Its GDP
But the data say otherwise. Above, you'll see a chart showing the number of part-time restaurant workers in the United States; it spiked during the recession and has hovered at a higher rate ever since, but remains below its 2012 peak; this matches the broader trend of part-time work in general. The average work week for bar and restaurant staff has in fact increased this year, to 25.6 hours, slightly higher than in the last five. As employment recovers, economists typically expect part-time workers to be hired before full-time workers as businesses test the strength of the economy.
In that sense, the heightened number of part-time workers since the onset of the financial crisis reflects both the weak recovery and its potential improvement. Yes, some existing businesses are willing to restructure their workforces to avoid providing affordable insurance to their employees, but so far these reports are largely anecdotal.
Obamacare aside, the greater impact on restaurant workers is likely to be restaurant expansions. Forecasts predict that the number of quick-service restaurant franchises will increase by 2,600 units and 66,000 workers, while 361 new full-service franchise restaurants will be opened.
Also on HuffPost:
Loading Slideshow
McDonald's

<a href="http://blogs.wsj.com/cfo/2012/07/23/mcdonalds-cfo-sees-up-to-420m-in-new-health-care-costs/" target="_blank">Peter Bensen, McDonald's chief financial officer</a>, said on a conference call last year that Obamacare will cost the company and its franchisees $140 million to $420 million per year. (Photo by Justin Sullivan/Getty Images)

Whole Foods

<a href="http://www.huffingtonpost.com/2013/01/16/whole-foods-ceo-obamacare-fascism_n_2488029.html" target="_blank">John Mackey, CEO of Whole Foods, told NPR</a> in January that Obamacare is "like fascism." <a href="http://www.huffingtonpost.com/2013/01/17/whole-foods-fascism_n_2496603.html" target="_blank">He then told HuffPost Live</a> that he regretted making that comparison. (Photo by Mark Wilson/Getty Images)

Papa John's

<a href="http://www.huffingtonpost.com/2012/08/07/papa-johns-obamacare-pizza_n_1752126.html" target="_blank">John Schnatter, CEO of Papa John's</a>, said in August that Obamacare will cost the company $0.11 to $0.14 per pizza. <a href="http://www.huffingtonpost.com/john-h-schnatter/papa-johns-obamacare_b_2166209.html" target="_blank">But he has maintained</a> that Papa John's offers and will continue to offer health insurance to all of its employees. (Photo by Diane Bondareff/Invision for Papa John's International/AP Images)

Cheesecake Factory

<a href="http://www.huffingtonpost.com/2012/12/04/cheesecake-factory-ceo-david-overton-obamacare_n_2236673.html" target="_blank">David Overton, CEO of the Cheesecake Factory, told CBS</a> in December that Obamacare "will be very costly" and "most people will have to [raise prices] or cheapen their product" in response. Dina Barmasse-Gray, the Cheesecake Factory's senior vice president of human resources, said in a statement to The Huffington Post: "We have the highest regard for the wellbeing of our staff members, and have offered health insurance to our staff members who work at least 25 hours per week for many years. Because of our long history of providing health benefits, and based on our current analysis of the new requirements, we do not believe the Affordable Health Care Act will have a material impact on us."

Boeing

<a href="http://online.wsj.com/article/SB10001424127887324392804578358540464713464.html" target="_blank">Boeing lobbied unsuccessfully</a> against a new Obamacare fee, according to the Wall Street Journal. And it is generally concerned about Obamacare's costs. "Boeing agrees with the intent of the Affordability Care Act – to provide increased access to coverage, to improve quality, and in the long run, to help manage the overall cost of the health care system," Boeing spokesman Joseph Tedino said in a statement provided to The Huffington Post in March. "However, while the details and implications of the ACA continue to emerge, the net financial impact to Boeing since the inception of law and for the foreseeable future is negative." (Photo by Tim Sloan/AFP/Getty Images)

CKE (Owner Of Hardee's)

<a href="http://www.businessweek.com/news/2012-09-21/hardee-s-owner-ceo-says-2012-ipo-unlikely-as-costs-rise" target="_blank">Andrew Puzder, CEO of CKE, told</a> Bloomberg Businessweek last year that he plans to respond to Obamacare by selling cheaper meats and hiring more part-time workers. <a href="http://www.newsmax.com/RonaldKessler/Hardee-s-CEO-Obamacare-Puzder/2012/09/20/id/456919" target="_blank">He also told Newsmax</a> he plans to build fewer restaurants in response. (Photo by Erik S. Lesser/Getty Images)

Jimmy John's

<a href="http://www.huffingtonpost.com/2012/11/15/jimmy-johns-ceo-obamacare_n_2137679.html" target="_blank">Jimmy John's CEO Jimmy John Liautaud told Fox News</a> last year that he plans to cut his workers' hours in order to avoid having to offer them health insurance under Obamacare. "We have to bring them down to 28 hours [per week]," he said. "There's no other way we can survive it."