While we are sometimes a little skeptical of Miley Cyrus' risky fashion choices, we have to admit that the metallic gold purse she wore in London on Thursday was amazing. We actually really want it ourselves.
Below, see the aforementioned gold bag along with the rest of our favorite accessories stars wore this week. Do you agree with us?
Miley Cyrus' Céline shoulder bag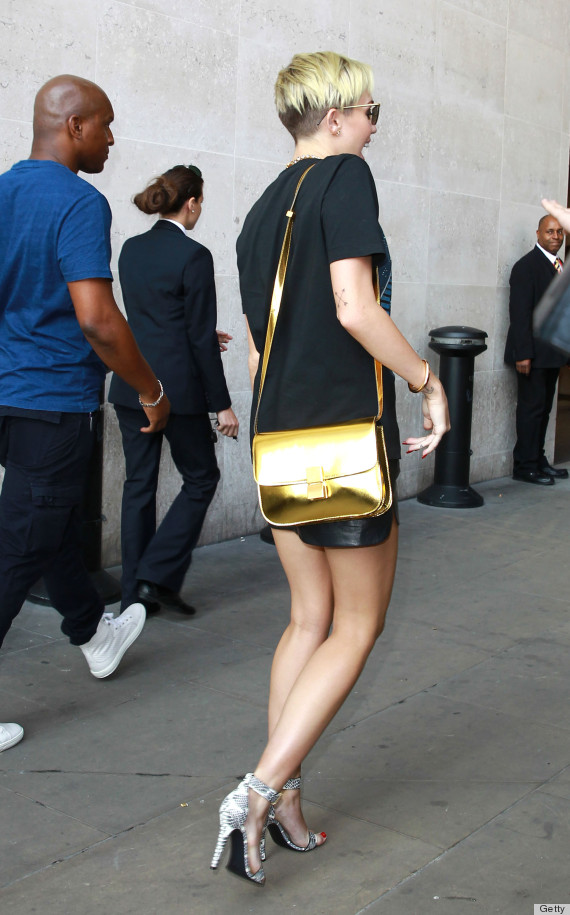 This metallic-gold bag is seriously making a statement. We love how its brightness can spark up a basic look. It makes it so easy to just throw on a simple dress or shirt and shorts and use the purse to stay noticeable.
Sharon Stone's blue-tinted tortoiseshell sunglasses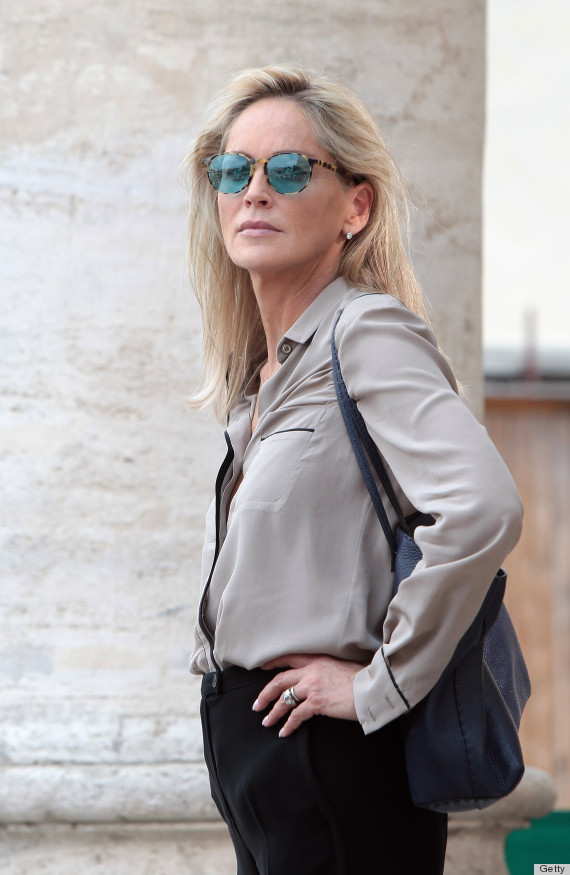 Seriously, how cool are these glasses? We love how they take the traditional retro tortoiseshell look up a notch and feature bright blue lenses. "When in Rome," right?
Olivia Palermo's Same Dress In Daytime And Nighttime Styles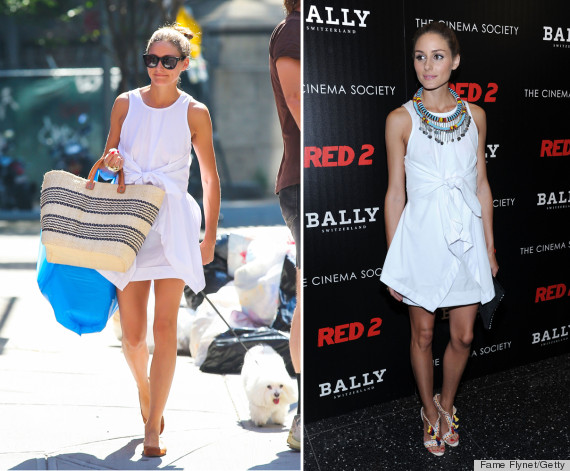 This is a prime example of how accessories can be used to transform a simple dress from day to night. Palermo kept things light and fresh during the day with nude flats and a great large summer tote bag. Then, she got funky at a nighttime event with very on-trend tribal-inspired shoes and a matching necklace.
Rita Ora's Damir Doma sandals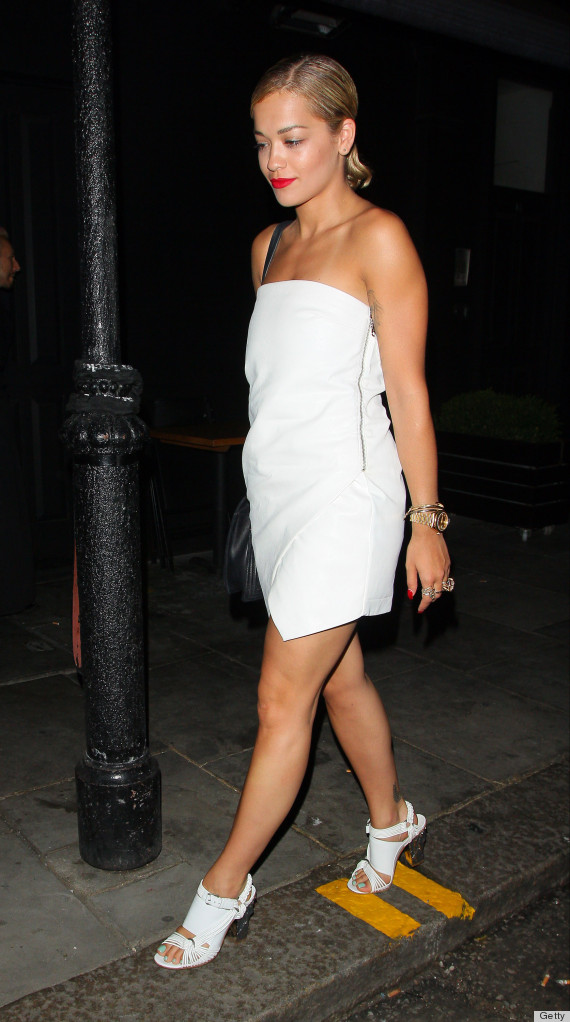 White pumps are definitely trendy right now, so we love that Ora stepped out in these intricate white leather sandals. They definitely amp up her basic dress.
Katie Holmes' Karen Walker glasses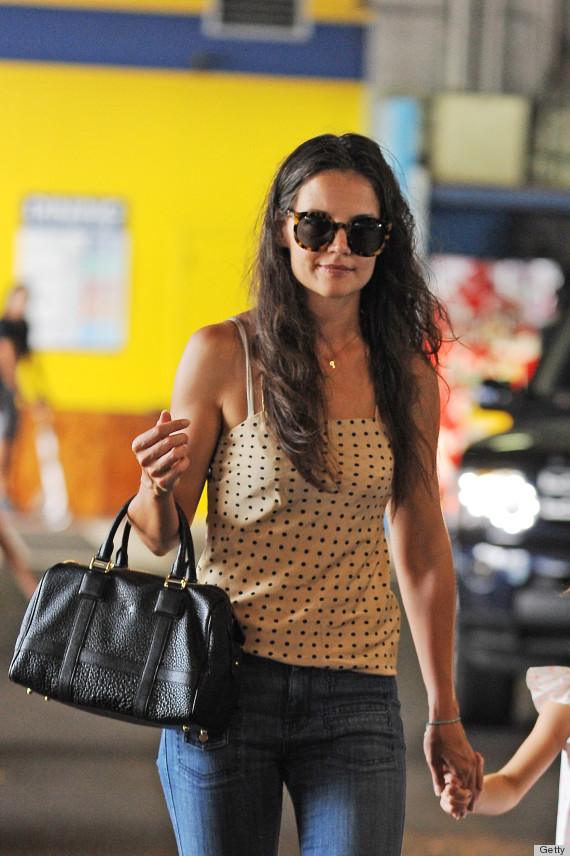 Only Holmes could look this chic while taking Suri to gym class. While her tortoiseshell sunglasses aren't as funky as Stone's, we absolutely cannot get enough of Walker's designs and love how these boast an oversized dramatic flair.
Kate Moss' Christian Louboutin sandals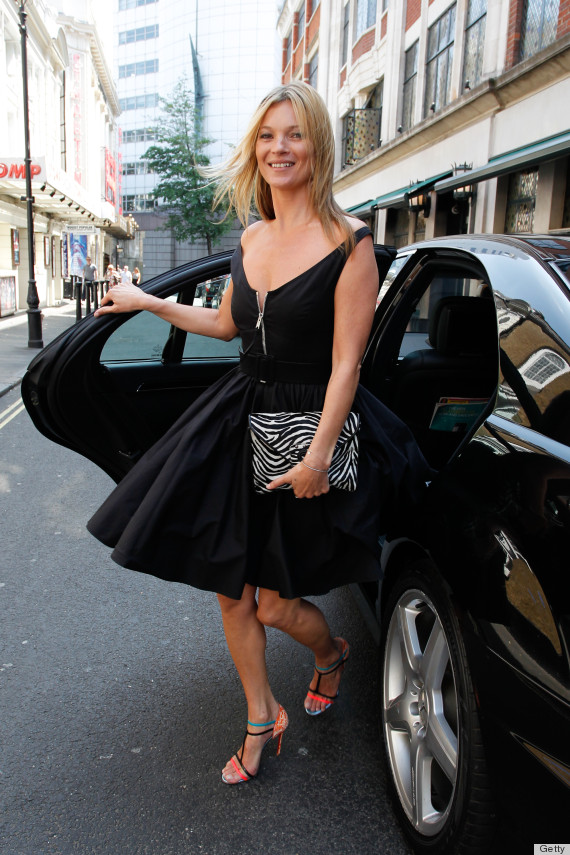 This is how you add some oomph to an LBD. Moss' Louboutin sandals steal the show and we're not complaining. The multi-colored neon shoes are seriously eye-catching and fabulous.
Vanessa Hudgens' turban and Givenchy bag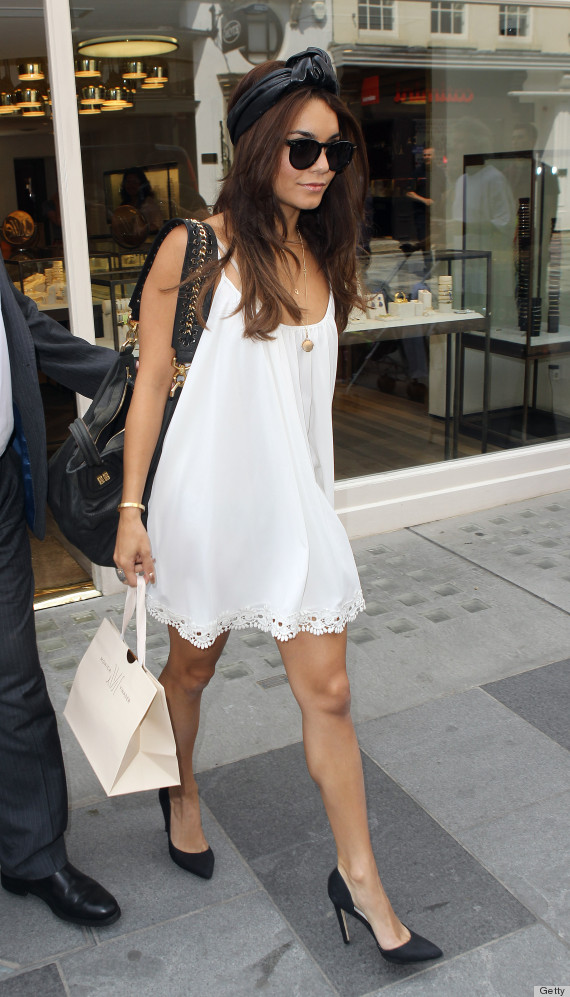 We feel as if only certain people can adequately wear a turban, and Hudgens proved that she is one of those lucky few when she stepped out with this awesome leather headpiece. Her Givenchy oversized bag is edgy and handy for running errands.
Take a look at some of the best statement necklaces:
These Necklaces Make A Statement
The star radiated at Cannes 2013 with this awesome snake-like necklace.

The singer added a dangling necklace to her all-black ensemble.

The actress donned a tribal necklace to the TIME 100 event.

She went funky at a light-hearted Disney event.

Her beaded collar necklace adds just the right touch.

The funny lady wore a series of long necklaces to the MTV Movie Awards.

The wife of Howard packed a punch with this rosy statement.

The style star went ethnic at an event.

Her cute flower-accented necklace is a great attention piece.

The singer added to her simple white dress with a Cleopatra-style gold choker.

She wore a red-jeweled necklace to an event in January 2013.

The singer wore this necklace to the 40th Anniversary American Music Awards in November 2012.

She matched her blue top with a blue-beaded necklace.

Her yellow blouse is accentuated by the flower necklace

She contrasts her yellow dress with a colorful necklace.

Phillip's low stone necklace adds a nice touch to her simple gown.

Jones adds an intricate necklace to her black blazer ensemble.

The actress dons a futuristic statement piece to her houndstooth dress.

She wears a leaf-designed necklace to an event in October 2012.

The young actress keeps things fresh with a gold-plated collar necklace.

The star brightens up a white dress with a pretty flowered necklace.

She wears an intricate pearl and diamond necklace with matching earrings in August 2012.

She keeps it summery with this light stone necklace during an event in July 2012.

The model wears a flower-shaped necklace over a simple sheer black dress.

The actress wears a unique necklace showcasing stones.

She adds even more glamour to her gown with a crystal statement necklace.

The actress adds a splash with her gold and black flowered necklace at an event in May 2012

She attends an event wearing a black jeweled necklace.

She attends the Marni at H&M Collection Launch wearing a transparant gold-leafed statement necklace.

The actress dons a beaded necklace in February of 2012.

Keys upped a basic black dress with a gold-plated statement necklace at the 2012 Grammy's.

The first lady's layered look complimented the color of her gown. (Photo credit should read SAUL LOEB/AFP/Getty Images)

The "Sex and the City" actress added a dash of glam with multiple gem-encrusted necklaces. (Photo by Jamie McCarthy/Getty Images)

The "Forgetting Sarah Marshall" actress accessorized a simple yellow blouse with a long, embellished silver chain. (Photo by Michael Buckner/Getty Images for Bing)

The supermodel wore this turquoise Lorraine Schwartz necklace to the 2012 Golden Globes. It's the same look that Beyonce borrowed for her spread in People's 2012 Most Beautiful issue. (Photo by Frazer Harrison/Getty Images)

The fashion maven known for her stint on "The City" wore a heavy, almost-over-the-top necklace with a skinny-strapped top. (Photo by Pascal Le Segretain/Getty Images)

The actress made a splash at Cannes with this embellished design. (Photo by Ian Gavan/Getty Images)

The singer wore a uniquely designed, gem-encrusted gold necklace with a plunging sequin blouse. (AP Photo/Jonathan Short, file)

The stunning actress accessorized her laid-back outfit with a heavy necklace. (Photo by Andrew H. Walker/Getty Images for Ebel)

The "Pretty Little Liars" star donned a unique necklace composed of metal shaped to her neck. (AP Photo/Jonathan Short, file)

Katherine layered multi-colored pearls and beads. (Photo credit MARK RALSTON/AFP/Getty Images)

The stylist to the stars donned a unique beaded necklace. (Photo by Jamie McCarthy/Getty Images)

The socialite and actress donned several necklaces to add more color to her ensemble. (Photo by Francois Durand/Getty Images)

The actress and singer enhanced a simple white blouse with a black-and-brown beaded design. (Photo by Ian Gavan/Getty Images)

The goth style icon accentuates her dark ensemble with a similarly dark layered necklace. (Photo by Pascal Le Segretain/Getty Images)

Kristen added an old-fashioned piece to her vintage outfit. (Photo by Charley Gallay/Getty Images for UNICEF)

Claudia added some bling to her black ensemble with a flat, angled gold necklace. (Photo by Pascal Le Segretain/Getty Images)
Want more? Be sure to check out HuffPost Style on Twitter, Facebook, Tumblr, Pinterest and Instagram at @HuffPostStyle.