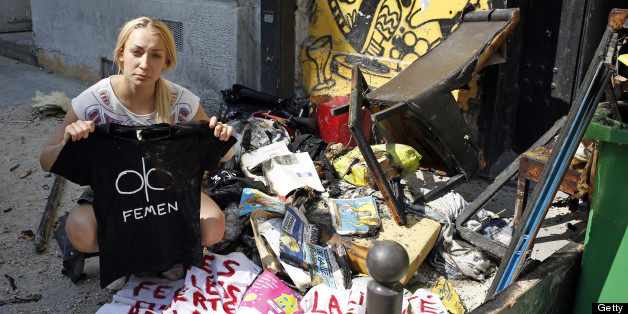 Police are calling the fire "accidental," but members of the group think it was related to threats they received on Saturday.
While Hillier told the AFP that death threats are not uncommon for the group, which is known for staging topless protests, she suggested that the timing of the fire one day after the warning is a bit suspicious.
According to local reports, the fire broke out shortly before 5 a.m. on the third floor of Femen's headquarters in Paris. Hillier and another member of the group were asleep in the building, but they woke up in time to escape the flames and notify the fire department.
The fire damaged the third floor of the building, along with some of the possessions that belong to Inna Shevchenko, Femen's leader. Shevchenko was staying at the Paris headquarters after France granted her request for political asylum earlier this month.
The group speculated that the fire may be a "political attack" following the controversial announcement last week that the drawing on a new French stamp is largely based on Shevchenko. The revelation sparked criticism from French far right groups, some of whom launched a petition to have the stamp design revoked.
Earlier on HuffPost:
FEMEN Protest Tunisia's PM
SUBSCRIBE AND FOLLOW
Get top stories and blog posts emailed to me each day. Newsletters may offer personalized content or advertisements.
Learn more